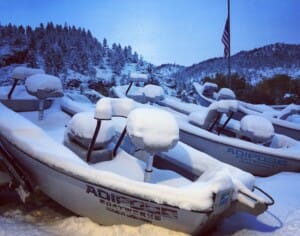 Three days in and October is giving us just what we want and just what we need for a spectacular fall season on the Missouri.
Rain, snow and a north wind made for challenging weather conditions out there yesterday as we caught the edge of the second winter storm of the young season but judging by the reports, those who braved the elements were rewarded with great fishing and we're just getting started!
Several inches of snow accumulated here yesterday and it sounds like we may see a bit more this morning before things return to more seasonal conditions tomorrow. We'll see lows in the 20's tonight but back near 50 tomorrow and in the 60's by Friday. Sunshine returns tomorrow so today may be the better day to fish but use caution if you decide to come out. The roads are fine by January standards but on the sketchy side by early October standards as drivers re-acclimate to slushy, slippery road conditions.
Thursday looks awesome with a chance of rain and snow showers and highs near 50 and then it looks like a good mix of fall weather. Expect sunshine, expect clouds, expect rain and wind and snow, expect 70 degrees, expect 20 degrees and everything in between. It's autumn on the MO' and we're loving it!
Dry fly fans are continuing to get their pseudo fix but there are whispers of big bug action happening NOW. These rumors have yet to be confirmed…today might just be the day. With any luck it's time to ditch those #20's and #22's and make the switch. Stop by the shop and restock your BWO boxes to get ahead of the game. We like the Brooks Sprout Baetis, Wilcox Micromay BWO, Para Adams (Dark Olive or otherwise), No Hackle BWO's, Black Fan Wing Baetis (great for low light conditions), BWO Flash Cripples, CDC Baetis Emergers, Nyman's DOA Cripple and Quigley's BWO Film Critic just to name a few.
Nymphing is as it should be and will continue to be your go-to  if you're into the numbers game. A lot of different bugs catching fish right now including  Missouri River fall staples like Little Green Machines, Tailwater Sows, Pscycho Mays, Peep Shows, Lightning Bugs, Ray Charles, Rainbow Warriors, Zebra Midges, Rainbow Czechs, Military Mays and S & M's. Pill Poppers, Soft Hackle Sows and Cotton Candy sows are coming on and it won't be long before the firebeads come into serious play. Wire Worms and Zirdles are still on the menu as well. It's a virtual smorgasbord out there right now so get creative and show them something they haven't seen.
We talk a lot about fall dry fly fishing on the Missouri and with good reason but perhaps the best kept secret on the MO' is fall streamer fishing which has turned on over these past few days and will continue to thrill from here on out, given the right day and the right conditions. The conventional wisdom holds true with the darker days yielding more consistent action but don't overlook the sunny days. The fish are bulking up for the months ahead and have a hard time passing up a big meal so if you commit odds are you'll move some fish regardless of the weather but then again you may not…it's all part of the streamer game.
Judging by the multitude of empty or nearly empty spots in our streamer bin the word is out. Wolf Creek Angler is your Missouri River Streamer Headquarters and we rarely shy away from commitment to the game no matter the water or the time of year. We've got some much sought after patterns you won't find in any other shop thanks to Chewy who you'll likely find at the vise for the rest of the season, doing his best to keep up with the ever increasing demand. Sparkle Minnows,  Circus Peanuts, Dirty Hippies, ZK's Inflated Ego, MK Ultra, Colonel Kurtz, Polar leeches, JJ's, Mini Dungeons, Stun Guns and many more. Whites/Greys, blacks, olives, naturals all getting noticed.
Come check out our abundantly adequate fall bug selection as well as new cold weather gear from Simms and great deals to be had during our fall rod sale.
Lodging is pretty well booked up through the middle of the month but we do get the occasional cancellation and we do have some random openings so give us a shout if you want to come out and get in on what could be the best fall we've had in years. Guides available anytime for the Missouri and Blackfoot and change underway on the dining scene with the confirmed opening day for Shotgun Annie's being this Friday, October 6th! We can't wait! It's going to be an awesome second season on the Missouri.