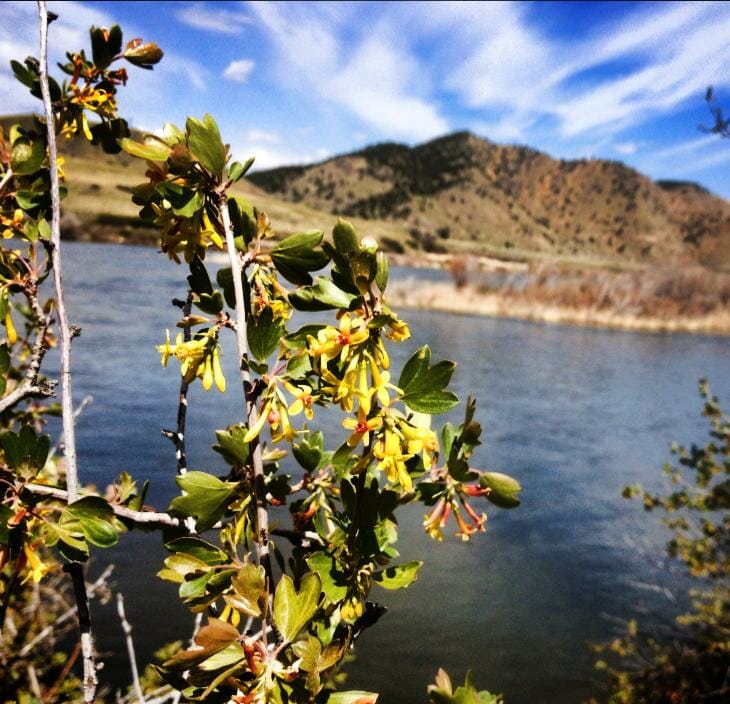 With spring just 29 days away we can't help but turn our thoughts to what's soon to come.
And while it wasn't very spring-like this morning with temperatures in the single digits, the early dawn and the sunshine and clear blue skies today have us thinking spring fishing on the Missouri.
Spring ranks high as one of our absolute favorite times to fish the MO'. As winter loosens is grip the water temps begin their slow ascent awakening our hungry trout from their cold-weather stupor and igniting the instinct to feed with reckless abandon.
The rainbows are looking to stockpile calories for the upcoming arduous spawning season while the brown trout key in on high calorie targets like baitfish. Couple this aggressive feeding with the least amount of aquatic vegetation you'll see all season long and you can see why spring is THE absolute best time to fish streamers on the Missouri River.
The fish are hungry for nymphs, they're hungry for streamers and as if that weren't enough, they're more than willing to eat a dry fly as midges and later BWO's provide great top water action and pave the way for the coming summer dry fly smorgasbord.
You might think that with all these fishing opportunities available in the spring we'd charge a premium for guide trips but if you thought that you'd be wrong. Quite to the contrary, spring just so happens to be the time when we offer the best rates of the season for guide trips and lodging.
Like trout emerging from a somewhat dormant winter existence, outfitters, guides and fly shops are also emerging from winter dormancy. As is the nature of the business, we've expended substantially more than we've taken in over the winter months and it's time to start feeding again! Spring trip specials are our way of enticing you into getting an early start on your season. Dust off those cobwebs and get dialed in for the coming season.
At Wolf Creek Angler we're thinking spring all winter long so unlike some of the other shops who make you wait almost until it's technically spring by the calendar, we offer our spring special ALL WINTER LONG! $400 FULL DAY GUIDE TRIPS and great deals on lodging. And speaking of great deals, we've got the best lodging/guide trip deal on the river hands down. Book two days of guided fishing and a night of lodging and your second night's lodging is on us. That's right – FREE LODGING at Wolf Creek Angler. Try to find a better deal…you won't. I guarantee it.
So while you might think February is a little early to start talking spring fishing, we disagree. If the weather allows for it, why wouldn't you come get an early start on your 2020 season?
Case in point – the coming weekend looks pretty darn good with temps nearing 50 each day. It will likely be breezy but not enough to prevent you from having a great day on the water.
Things have been quiet so far this week with the colder temps and snow but I'm expecting we'll see a fairly busy weekend. At this point we do have lodging available but I expect that will book up for the weekend. Guides are chomping at the bit, ready to get back to work.
The fishing has been consistently good these past couple of weeks and should continue to hold steady. Water temps are holding at around 35 which will continue to dictate winter locations/techniques but a tic or two up could make a huge difference, especially if you're itching for the streamer game.
Give us a call for real-time updates and conditions or to book your spring special lodging and guide trips.