Fish, eat, sleep, repeat.

Located just off Interstate 15 in the historic town of Wolf Creek, Montana, our Missouri River fly shop is just minutes from the Holter Dam and Wolf Creek Bridge access sights. We are the closest fly shop and on-site lodging option to one of the best stretches of trout water in the nation. Anglers who come to know the Missouri River return time and again to enjoy the river's great diversity, incredible scenery and most importantly, amazing fishery. When you put these all together, the Missouri is a destination fishery unlike any other you will find and our fly fishing services help you make the best of every moment on the Missouri River.
At Wolf Creek Angler we know every successful fishing trip begins with choosing the right fly. We're proud to have one of the largest selections of fly patterns on the Missouri River. Whether dry flies, nymphs or streamers, we have the bugs you need from the tried and true to the latest and greatest. Ready to experiment? Our patterns are as wide open as your imagination. No matter where or what you decide to cast, count on the expertise of our fly shop staff to get you pointed in the right direction.

From its headwaters on the west side of the Continental Divide near the town of Lincoln to its confluence with the Clark Fork River near Missoula, the Blackfoot River offers 75 miles of quintessential Montana trout water.
Featured in Norman Maclean's 1976 novella "A River Runs Through It" and popularized by Robert Redford's 1992 film adaptation of the story, the Blackfoot River has battled through some tough times and has rebounded to become one of the most popular rivers in Montana.
While the river suffered from the adverse effects of mining and logging in the past, the film put it on the map and was undoubtedly partially responsible for the subsequent conservation efforts that led to its recovery.
The snow- and spring-fed waters of the Blackfoot flow fast and cold through scenic wilderness landscapes and are home to thriving trout populations.
Early season can be hit or miss on the Blackfoot, which is best fished at the tail end of runoff or later in the season. Salmon flies and golden stones generally start coming off in late May and continue through June. These much-anticipated and much-loved hatches unfortunately coincide with the runoff period, which means we often miss some of the prime hatch activity due to blown water, but most seasons do afford at least a couple of weeks of fishing these big bug hatches. Summer hatches include PMDs, Green Drakes, and a variety of caddis and the hopper, and Spruce Moth fishing can oftentimes be off the charts. Fall fishing includes October Caddis and BWOs and is also a great time to fish streamers.
While the Blackfoot doesn't have the numbers or size of fish found on the Missouri, the river is host to brook, brown, rainbow, westslope cutthroat, and even the protected bull trout. So while you'll generally catch more and larger fish on the Missouri River, there's nothing better than a warm summer day floating the scenic Blackfoot and throwing big dries for aggressive cutthroats.
The sections we most commonly fish on the Blackfoot are about a two-hour drive from Wolf Creek, which makes it a long but doable day. However, if you're interested in spending more than a day on the river, we can arrange local lodging or even camping at designated sites along the river corridor.
If you haven't experienced a day on the world-famous Blackfoot River, we highly recommend it.

Formed by the confluence of the Madison, Jefferson, and Gallatin rivers in southwest Montana, the Missouri River is a world-renowned tailwater offering a prolific fishery that draws anglers back year after year. With a mix of wild rainbow and brown trout numbering anywhere from 3,000-6,000 fish per mile, with typical size of 16 inches to 22 inches, an angler would be hard pressed to find a fishery that offers the quality, quantity, and size of fish the Missouri River does.
The variety of fishing methods utilized on our area waters further adds to the call of the Missouri. Whether floating a short stretch in conjunction with a specific hatch in search of pods of rising fish or covering longer distances with nymphs or streamers, our 30-plus miles of fishable water offer something to anglers of all ages and skill levels. The question isn't whether you'll catch fish, but how you will catch them.
Whether you're a dry-fly only angler or you enjoy fishing sub-surface as well, the Missouri has something for you. Dry fly fishing is a real possibility almost year-round, starting with midges typically in February and March, BWOs in April and May, PMDs through June and July, Tricos in July and August, and caddis an ever-present possibility from April through October. BWOs make a second appearance in the fall, usually from mid-October through November.
Terrestrial fishing starts in June with significant ant and beetle activity and really heats up around the middle of July as hoppers come into play for the remainder of the summer season. Ply the cover tight to the banks but don't overlook midriver flats and riffles, the fish are everywhere.
If nymphing is your game, then the Missouri is for you. The biomass in the Missouri is beyond belief, which means that trout are always feeding beneath the surface. Whether matching the hatch or mimicking the sowbugs and scuds that are so plentiful in these waters, fishing nymphs beneath an indicator has rapidly become the method of choice for many, and just as is the case with dry fly fishing, nymphing is a go-to method all year long.
Less utilized but equally effective is streamer fishing, which has always been around but is gaining in popularity. Trout spey has become extremely popular, especially during the winter months, and traditional single-hand methods shine in the early spring and late fall.
Whether spending the day hunting heads, in search of the opportunity to execute a perfect cast and perfect presentation to that lazy giant tucked tightly to the bank, or covering miles of water eyeing that next perfect spot as the river presents herself with new and ever evolving riffles, banks, drop-offs, buckets, and pools holding the promise of that next big brown, the Missouri has something for everyone.
For those who get tired of catching trout, one can find 10 pound-plus carp in the slower waters. A 10-pound carp on a 5 weight puts up a great fight.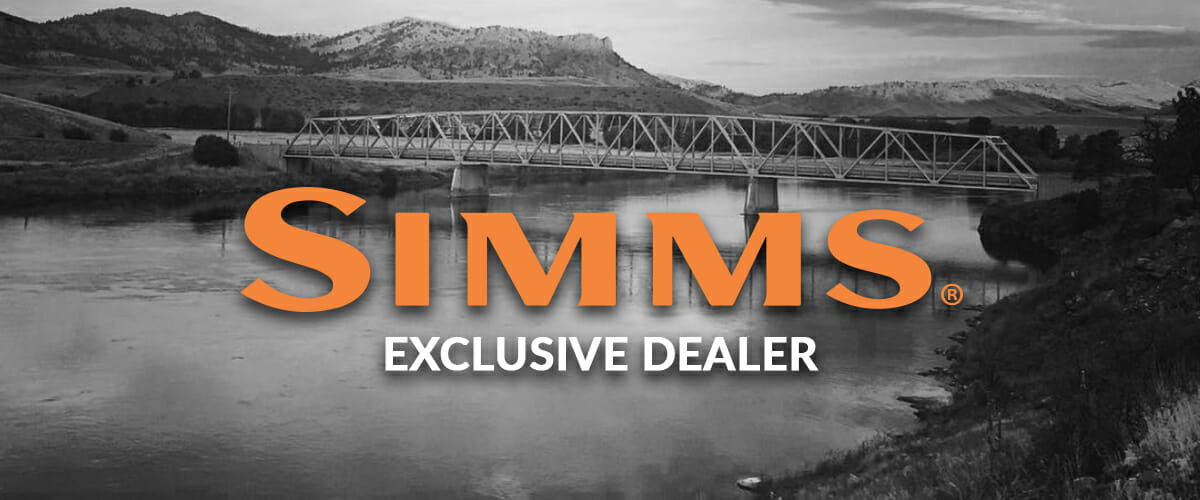 Before you hit the water, check us out.
The Missouri River is a technical fishery and we are here to help you figure it out. While we can't sell you the success that comes from years of fishing these waters, at Wolf Creek Angler we know having the right equipment is critical to your success. We carry gear from top-ranked companies, such as:
Rods from Loop, Douglas, Echo and Redington
Reels from Loop, Nautilus, Ross, Redington and Echo
Fly lines from ARC, Rio and Airflo
Trout Hunter leaders and tippet
Flies from Montana Fly Company, Umpqua, Solitude and Yellowstone Fly Goods
Tools and accessories from Dr. Slick, MFC and Loon
Packs and accessories from Fishpond, Simms and Umpqua
Wading gear from Redington and Korkers
Guidewear, outerwear, headwear, layering and gloves from Kast and Simms
Sportswear and accessories from Simms and Redington
WCA logo gear from Simms, Ouray and Strip'n Flywear
Interested in booking a trip? Call 406.235.4350 and we'll be happy to help you!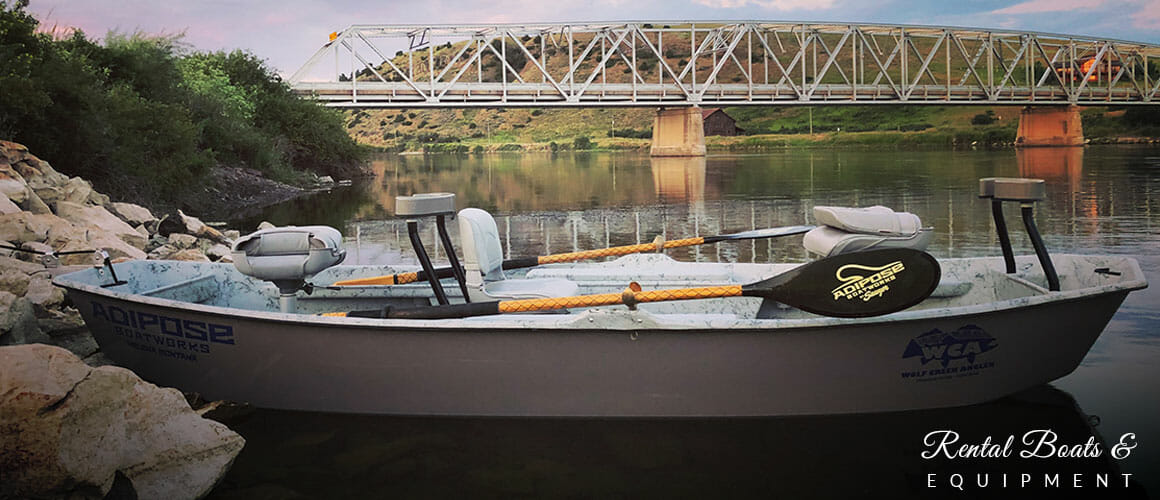 Watercraft and Equipment Rentals
Wolf Creek Angler offers drift boat rentals as well as rental of rods and reels and waders and boots. We are proud to feature made in Montana RO and Adipose Drift Boats.  16′ Deville LS Driftboat or Adipose Flow – $100/day (you tow, does not include shuttle) or $150/day (we drop off) Waders/Boots – $30/day Echo Fly Rod/Reel – $25/day P.F.D. – $5/day

At Wolf Creek Angler we pride ourselves on having the hardest working fly fishing guides you will find anywhere in Montana. We know that a guided fishing trip on the Missouri River is a dream for many and you should expect your guide to treat it that way. Our guides have spent their entire careers fishing the Missouri and other legendary waters of the West. And it shows. They understand every current and riffle on the water from Holter Dam to Cascade and beyond and they are experts at tailoring your trip to fit your expectations and skill level. Whether making your first-ever cast, or you are a seasoned angler, our guides will work with you to create amazing memories. We know you'll have a great time on the water with our guides that goes way beyond the number of fish you catch.

Every great fishing adventure begins with a plan.
We recommend you make reservations ahead of time for fishing guide trips, especially for days in the peak season though we can usually accommodate your request with very little notice. Part of the advantage of booking with Wolf Creek Angler is that we are outfitter owned and operated which gives us the edge when it comes to getting you on the water with some of the best Missouri River guides.  Your day will usually begin anywhere from 6-9am, depending on the time of year, so we recommend you arrive at Wolf Creek Angler the day before your guide trip. This way you can devote all of your attention to your fishing adventure rather than your travel time.
We want to do everything we can to make your day a success and we are happy to provide you with the gear you need. Should you want to use your own gear, we recommend packing two rods, a 5 weight for dry fly fishing and a 6 weight for nymphing or streamer fishing. Bring your favorite rod or rods and let our guides take care of the rest. A hearty lunch and assorted drinks are provided on full-day trips, lighter snacks and beverages are offered on half-day trips. Of course, you may bring along any refreshments you like. We'll supply the cooler.
The weather in Montana can change rapidly and unexpectedly so we encourage you to bring plenty of layered clothing – no matter what time of year – along with rain gear, sunscreen, a wide-brimmed hat, sunglasses, and your camera. Forget something? No worries, our fly shop will have it.
While we proudly specialize in the waters of the Missouri River, we understand sometimes you want a change of scenery. We are proud to offer wilderness fishing trips on the nearby Blackfoot, Dearborn and Clark Fork rivers, and with our extensive contacts, we can help arrange trips throughout the Mountain West.
Guided Trip Rates
Missouri River Guide Trips Below Holter Dam – Full Day Guided Trip (lunch included) 1 or 2 anglers – $550
Missouri River Guide Trips Below Holter Dam – Half Day Guided Trip (lunch not included) – $425
Land of the Giants – Full Day Only(lunch included) – $650
Blackfoot and Dearborn Rivers – Full Day – $550 *Rates do not include gratuity.
Reservations
A deposit of 50% is required at the time of booking to confirm a reservation. Balance is due prior to trip departure.
Cancellations
Our cancellation/refund policy reflects the narrow window of opportunity for guides and outfitters in a recreational business. Cancellations made prior to 30 days in advance of the trip date will receive the total deposit less $25 per guide day handling fee. Cancellations between 15 and 30 days will have their deposit applied towards a future booking within one year. Cancellations within 14 days will forfeit the entire deposit.
JULY CANCELLATION EXCEPTION:  There are no refunds for any reservation cancellations made for the month of July.
We operate in all safe weather and water conditions, therefore inclement weather, water levels or seemingly undesirable fishing conditions are not acceptable reasons to cancel or receive a refund. Failure to show or cancel in timely and acceptable manner will result in liability for the full trip cost.
Wolf Creek Angler, LLC reserves the right to cancel a trip due to weather or water safety reasons, in which case guests will receive a full refund.
We recognize that unforseen circumstances arise and we reserve the right to handle cancellations on a case by case basis.
Interested in booking a trip? Call 406.235.4350 and we'll be happy to help you!

We're proud to partner with Mo' River Eats to offer you the best lunches on the Missouri. We invite you to check out their sandwich menu and choose what you would like, or leave it up to your guide. Lunches include a sandwich, side, chips, and a fresh-baked desert. You don't have to book a guide trip to enjoy lunch from Mo' River Eats. Just contact them by 9 PM the night before, and they will deliver your lunch the following morning in time for your departure.
Mo' River Eats also offers breakfast and dinner selections, delivered to your door at Wolf Creek Angler. Order breakfast by 9 pm the night before and dinner the morning of delivery.
Interested in booking a trip? Call 406.235.4350 and we'll be happy to help you!