Fish, eat, sleep, repeat.

Located just off Interstate 15 in the historic town of Wolf Creek, Montana, our Missouri River fly shop is just minutes from the Holter Dam and Wolf Creek Bridge access sights. We are the closest fly shop and on-site lodging option to one of the best stretches of trout water in the nation. Anglers who come to know the Missouri River return time and again to enjoy the river's great diversity, incredible scenery and most importantly, amazing fishery. When you put these all together, the Missouri is a destination fishery unlike any other you will find and our fly fishing services help you make the best of every moment on the Missouri River.
At Wolf Creek Angler we know every successful fishing trip begins with choosing the right fly. We're proud to have one of the largest selections of fly patterns on the Missouri River. Whether dry flies, nymphs or streamers, we have the bugs you need from the tried and true to the latest and greatest. Ready to experiment? Our patterns are as wide open as your imagination. No matter where or what you decide to cast, count on the expertise of our fly shop staff to get you pointed in the right direction.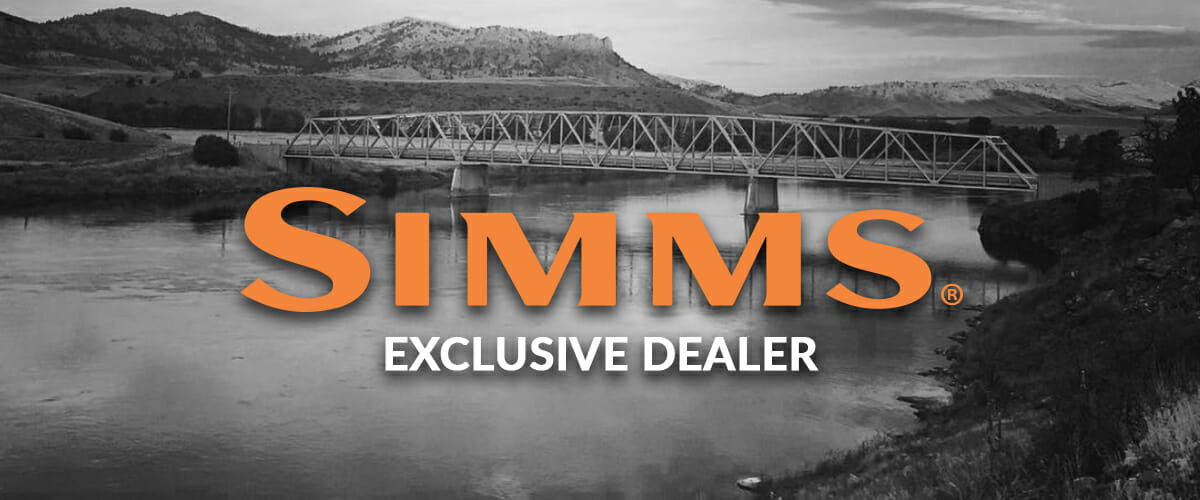 Before you hit the water, check us out.
The Missouri River is a technical fishery and we are here to help you figure it out. While we can't sell you the success that comes from years of fishing these waters, at Wolf Creek Angler we know having the right equipment is critical to your success. We carry gear from top-ranked companies, such as:
Rods from Loop, Douglas, Echo and Redington
Reels from Loop, Nautilus, Ross, Redington and Echo
Fly lines from ARC, Rio and Airflo
Trout Hunter leaders and tippet
Flies from Montana Fly Company, Umpqua, Solitude and Yellowstone Fly Goods
Tools and accessories from Dr. Slick, MFC and Loon
Packs and accessories from Fishpond, Simms and Umpqua
Wading gear from Redington and Korkers
Guidewear, outerwear, headwear, layering and gloves from Kast and Simms
Sportswear and accessories from Simms and Redington
WCA logo gear from Simms, Ouray and Strip'n Flywear
Interested in booking a trip? Call 406.235.4350 and we'll be happy to help you!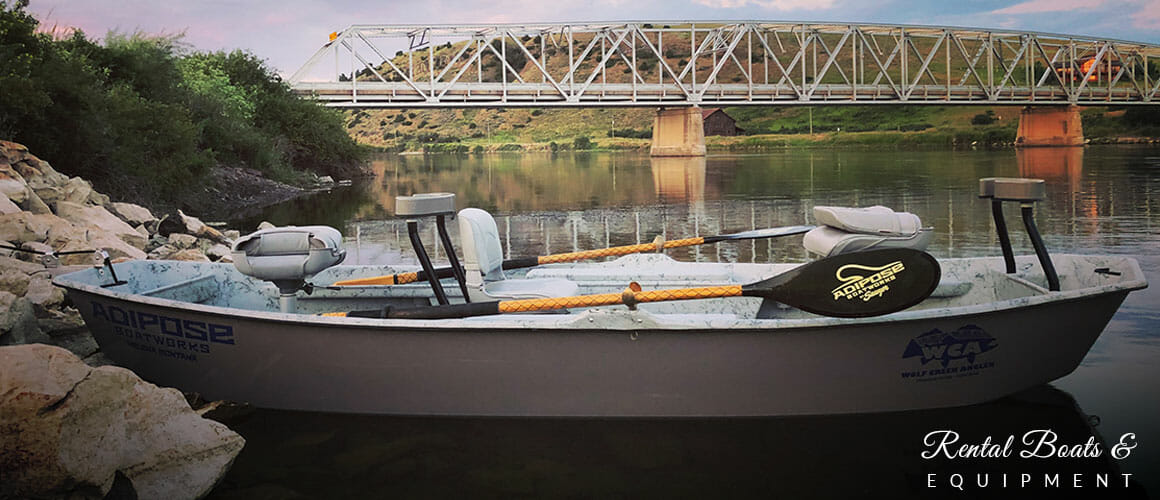 Watercraft and Equipment Rentals
Wolf Creek Angler offers drift boat rentals as well as rental of rods and reels and waders and boots. We are proud to feature made in Montana RO and Adipose Drift Boats.  16′ Deville LS Driftboat or Adipose Flow – $100/day (you tow, does not include shuttle) or $150/day (we drop off) Waders/Boots – $30/day Echo Fly Rod/Reel – $25/day P.F.D. – $5/day

At Wolf Creek Angler we pride ourselves on having the hardest working fly fishing guides you will find anywhere in Montana. We know that a guided fishing trip on the Missouri River is a dream for many and you should expect your guide to treat it that way. Our guides have spent their entire careers fishing the Missouri and other legendary waters of the West. And it shows. They understand every current and riffle on the water from Holter Dam to Cascade and beyond and they are experts at tailoring your trip to fit your expectations and skill level. Whether making your first-ever cast, or you are a seasoned angler, our guides will work with you to create amazing memories. We know you'll have a great time on the water with our guides that goes way beyond the number of fish you catch.

Every great fishing adventure begins with a plan.
We recommend you make reservations ahead of time for fishing guide trips, especially for days in the peak season though we can usually accommodate your request with very little notice. Part of the advantage of booking with Wolf Creek Angler is that we are outfitter owned and operated which gives us the edge when it comes to getting you on the water with some of the best Missouri River guides.  Your day will usually begin anywhere from 6-9am, depending on the time of year, so we recommend you arrive at Wolf Creek Angler the day before your guide trip. This way you can devote all of your attention to your fishing adventure rather than your travel time.
We want to do everything we can to make your day a success and we are happy to provide you with the gear you need. Should you want to use your own gear, we recommend packing two rods, a 5 weight for dry fly fishing and a 6 weight for nymphing or streamer fishing. Bring your favorite rod or rods and let our guides take care of the rest. A hearty lunch and assorted drinks are provided on full-day trips, lighter snacks and beverages are offered on half-day trips. Of course, you may bring along any refreshments you like. We'll supply the cooler.
The weather in Montana can change rapidly and unexpectedly so we encourage you to bring plenty of layered clothing – no matter what time of year – along with rain gear, sunscreen, a wide-brimmed hat, sunglasses, and your camera. Forget something? No worries, our fly shop will have it.
While we proudly specialize in the waters of the Missouri River, we understand sometimes you want a change of scenery. We are proud to offer wilderness fishing trips on the nearby Blackfoot, Dearborn and Clark Fork rivers, and with our extensive contacts, we can help arrange trips throughout the Mountain West.
Guided Trip Rates
Missouri River Guide Trips Below Holter Dam – Full Day Guided Trip (lunch included) 1 or 2 anglers – $550
Missouri River Guide Trips Below Holter Dam – Half Day Guided Trip (lunch not included) – $425
Land of the Giants – Full Day Only(lunch included) – $650
Blackfoot and Dearborn Rivers – Full Day – $550 *Rates do not include gratuity.
Reservations
A deposit of 50% is required at the time of booking to confirm a reservation. Balance is due prior to trip departure.
Cancellations
Our cancellation/refund policy reflects the narrow window of opportunity for guides and outfitters in a recreational business. Cancellations made prior to 30 days in advance of the trip date will receive the total deposit less $25 per guide day handling fee. Cancellations between 15 and 30 days will have their deposit applied towards a future booking within one year. Cancellations within 14 days will forfeit the entire deposit.
JULY CANCELLATION EXCEPTION:  There are no refunds for any reservation cancellations made for the month of July.
We operate in all safe weather and water conditions, therefore inclement weather, water levels or seemingly undesirable fishing conditions are not acceptable reasons to cancel or receive a refund. Failure to show or cancel in timely and acceptable manner will result in liability for the full trip cost.
Wolf Creek Angler, LLC reserves the right to cancel a trip due to weather or water safety reasons, in which case guests will receive a full refund.
We recognize that unforseen circumstances arise and we reserve the right to handle cancellations on a case by case basis.
Interested in booking a trip? Call 406.235.4350 and we'll be happy to help you!

We're proud to partner with Hub Coffee in Helena to offer you the best lunches on the Missouri. We invite you to check out their sandwich menu and choose what you would like, or leave it up to your guide. Lunches include a sandwich, fruit salad, chips, and a fresh-baked cookie. Breads are locally sourced from the Park Avenue Bakery in Helena. You don't have to book a guide trip to enjoy lunch from Hub. Just let us know by 5:00 PM the night before, and we'll be happy to have your lunch ready for you the following morning in time for your departure.
Interested in booking a trip? Call 406.235.4350 and we'll be happy to help you!