Wolf Creek Angler. Your first choice.
The Missouri River has long been considered one of, if not the, best tailwater fisheries in the country, and Wolf Creek Angler is the perfect location from which to launch your Montana fly fishing adventure. We're located just a few casts from Craig, Montana—roughly halfway between Helena and Great Falls. We offer the very best of Missouri River fly fishing with an acclaimed guide staff, a first-rate Missouri River fly shop, drift boat and equipment rentals, shuttle service and lodging. We're close to the Holter Dam and Wolf Creek put ins—closer than any other fly shop – because we think you should spend your time fishing, not driving.
The fish are here. Where are you?
The waters of Montana hold a special place in the hearts of anglers around the world. The Missouri River is a place where unmatched scenery meets water that is home to some of the most prolific insect hatches in the west. The sheer number of fish, along with the incredible average size, make the Missouri River a destination fishery the likes of which you won't find anywhere else. Wolf Creek Angler offers the kind of fly fishing adventure that's on your bucket list. This year, bring it to life.
Mending Waters Montana Fly Fishing, Inc., is dedicated to the physical and emotional rehabilitation of active military personnel and veterans through flyfishing, fly tying education, and outings, and education on the conservation, restoration, and improvements to Montana's fisheries and their habitats.

THANK YOU, THANK YOU, THANK YOU for the most wonderful fishing trips, memories, friends, service, honesty, and CARING about your clients! It is for those very reasons that Lynne and I plan on coming back next year!…..Keep up the excellent work!…
I fished the Missouri River for the first time this past October, after reading about how great the fishing can be, and how nice this part of Montana is. I was not disappointed. I spoke with Jason prior to making the trip and he was very helpful with fly and tackle suggestions and booking a room and guide. Although the weather was a bit unruly, I fished with Matt and had a great day on the river. I'd like to fish the Missouri again this fall and plan to make arrangements through this shop again!
Had a great day on the river with Jason. Wolf Creek Angler is a top flight Montana Outfitting business. Professional and knowledgeable staff, great equipment and top quality customer service. They represent the best Montana has to offer as a fly shop and outfitting business. Highly recommended.
My daughter and I planned a spring trip on the Missouri and chose Wolf Creek Angler. After talking with Jason, he set us up with Kelly for a day on the water. Kelly was fantastic. She was great with my daughter (10 yr old) and they hit it off. Kelly took the time to make bug changes and work to get my daughter on her first Missouri trout. Of all the guides we have had, Kelly is the best. We enjoyed our trip so much we decided to come back the following week. We stayed at the lodging in Wolf Creek and enjoyed ourselves greatly. Thanks, Kelly, Jason and Zach
Interested in booking a trip? Call 406.235.4350 and we'll be happy to help you!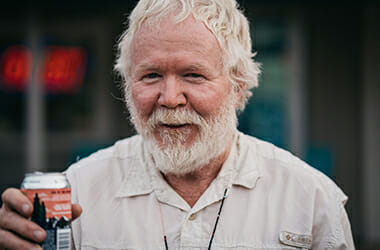 BRIAN SCOTT
BRIAN SCOTT
Entering his 32nd season of guiding on the Missouri, Brian Scott is a native Montanan who suffers from a life-long addiction to fly-fishing. He learned to fish on the Missouri and Big Hole Rivers in the 1970's and got his first guiding job in Alaska in 1981. Brian prefers the challenge of the dry fly but can nymph for numbers if required. He tailors each day to fit the client's individual needs. Brian lives on the Big Hole River near the town of Dillon, MT but you will usually find him on the Missouri during the summer season pursuing the wild rainbows and browns that make the Missouri River one of the finest fisheries on the planet. There aren't many who have been on the Missouri longer than Brian. Book a trip with him today and fish with one of the true Legends of the Missouri.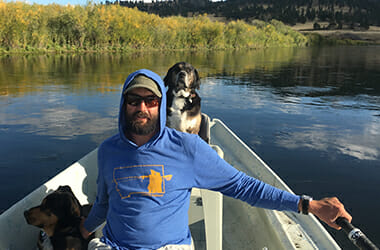 Luke Koerten
Luke Koerten
Born and raised in Wisconsin, Luke headed west in 2002 in search of steep mountains and deep snow. Originally a ski bum with a fishing habit, these days you're more likely to find Luke knee deep in the Missouri than in mountain snow, even in January. Having lived in Bozeman, Missoula, and Helena, Luke has spent countless hours exploring the waters of western, central, and southwest Montana. His knowledge combined with a flexible and upbeat attitude makes him an excellent choice whether you are a first time angler or a seasoned vet.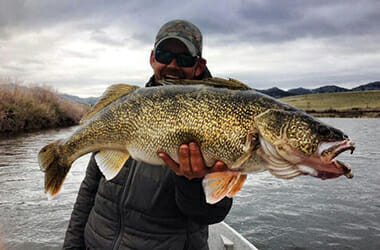 ROB WEIKER
ROB WEIKER
Life has taken Rob down many roads. From Ohio to California to the US Army to Montana. One thing he's learned along the way, through all of his experiences, is that nothing beats a great day on the water! Rob loves working hard and watching people catch fish. Nymphs, streamers, dries…it makes no difference to him. He's worked hard at mastering his skills and is at home with any technique you prefer. Rob has been fly fishing since he was 11 years old and still learns new things every season. He is a master fly tier and in his downtime he enjoys mountain biking the trails of Montana. Rob feels lucky to have the opportunity to guide some of the great waters of our state and he takes none of it for granted. Book a trip with Rob today. You won't find a harder working guide.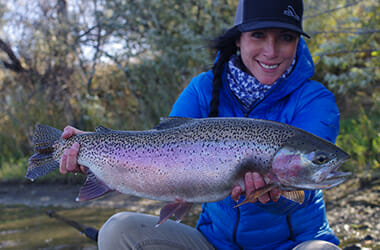 KELLY HARRISON
KELLY HARRISON
Kelly was born and raised in Missoula, Montana. As a young girl, she loved the outdoors and spent much of her time camping, hiking, horseback riding, and fishing all around the northwest part of the state. She has found success guiding new and intermediate anglers, with an emphasis on female anglers. Her positive reinforcement, guidance, and talents also benefit experienced anglers who are interested in fishing with an accomplished up-and-coming female guide. Kelly's background is on the Bitterroot, Clark Fork, Blackfoot, and Missouri Rivers. And while Kelly feels at home on any water, the Blackfoot River is her specialty. Book a Blackfoot River trip with Kelly today.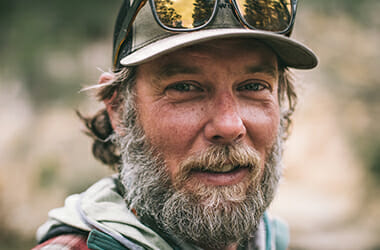 MATT HARGRAVE
MATT HARGRAVE
Matt has been obsessed with fish for as long as he can remember. Growing up he fished the lakes and streams of the Eastern Sierras and the coast of Southern California. Matt realized his goal to become a fishing guide in Montana in 2011 and since that time he has fallen absolutely in love with the Missouri River. The diversity of a day on the MO is a challenge that Matt loves to tackle. He enjoys the grace of dry fly fishing and the chess match of figuring out the nymphing game but his preference is fishing streamers for the larger fish that inhabit the Missouri.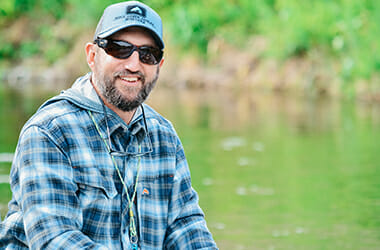 JASON ORZECHOWSKI
JASON ORZECHOWSKI
Jason left a life-long career in the metal casting industry to pursue a dream of owning a fly shop and guiding in Montana. He has been honing his angling skills for over thirty years starting at the age of 8 when he was introduced to trout fishing on Michigan's White and Pere Marquette Rivers. Jason officially began his career in the industry in 2013 as the manager of and guide for Montana River Outfitters. Following that first season on the Missouri he and his business partner purchased MRO's Wolf Creek operation and Wolf Creek Angler was born. Jason lives in Helena with his wife Sheila, their son John and their yellow lab Jake.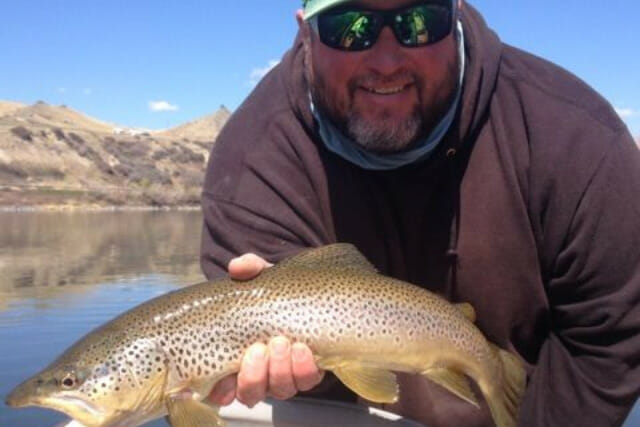 JEFF JENNINGS
JEFF JENNINGS
Jeff has been a fly fishing guide in the great state of Montana for over twenty years. In his off-seasons, he has guided in Argentina and during the winter run of native steelhead on the Olympic Peninsula in Washington. Jeff has also been a professional fly tyer for as many years and loves to share his unique creations with his clients. Feeling very fortunate to call the Missouri River his main office these days, Jeff provides a fun and relaxed environment where he teaches fly fishing basics to the novice fisherman or helps advance the abilities of even the most seasoned angler. If you are looking for a fun and memorable day on the river, Jeff is always friendly and accommodating to ensure your experience on the Missouri is exactly what you would expect.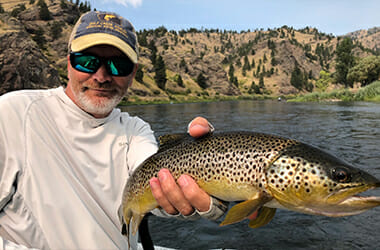 BRAD TURNER
BRAD TURNER
Brad has been guiding since 1996. He spent 2 summers in Alaska and 20+ years in Northern Michigan. Seeking a new challenge to his career, Brad & his family moved to Helena to guide the Missouri River. Brad is a true professional and angling is his life. His relaxed teaching style makes it easy to spend a day in the boat with him. Brad has experience with numerous techniques but streamers are by far his favorite. In his free time, Brad enjoys fishing the countless streams in Montana and hiking with his family.
Discover Wolf Creek, Montana

In the heart of the Big Belt Mountains, tucked away in a breathtaking canyon, is the historic town of Wolf Creek, Montana. Many who have discovered Wolf Creek return time and again to enjoy the peaceful solitude and laid back atmosphere. Just minutes from the Missouri River, located 35 miles north of Helena right off of Interstate 15, Wolf Creek is just 2.5 miles from the Wolf Creek Bridge river access and 4 miles from Holter Dam.
With two bar/restaurants, and the only gas station/convenience store between Helena and Cascade, Wolf Creek has everything you need in a classic small Montana setting. Only 8 miles from the town of Craig, Wolf Creek provides a respite from the hustle and bustle found around the Missouri River during the height of the season. Come discover for yourself the charm of Wolf Creek, Montana.
Nestled deep in the Big Belt Mountains in one of the most spectacular canyons in Montana, Wolf Creek was established as a stop along the Montana Central Railroad, which later became a part of the Great Northern Railway. Wolf Creek reportedly got its name from a local Indian legend that stated when the buffalo were being driven over a nearby cliff to their death, a wolf went along for the ride. They named the creek that flowed by the cliff "the creek where the wolf jumped too" or "the creek that the wolf jumped in." Prior to Wolf Creek being established, there was a town called Cartersville founded where Little Wolf Creek empties into Little Prickly Pear Creek. Wolf Creek grew from Cartersville to serve the railroad.
The Wolf Creek Hotel, built in 1887, still stands and early on was frequented by outdoor enthusiasts and railroad travelers. It served as a stage stop along routes from Helena to Augusta and Fort Benton and sheltered workers who built Holter Dam in the early 1900's. Two of our cabins at Wolf Creek Angler reportedly served as railroad housing during this era.
Prior to the construction of the railroad, the first road constructed through the canyon was a toll road built in 1865 by the Little Prickly Pear Wagon Road Company. By the early 1870's, the road was an important freight and passenger route in the territory. Interstate 15, which winds through the canyon, was completed in 1967.
Wolf Creek gained some notoriety over the years with celebrity visitors such as the famous American boxer Jack Dempsey who trained here in 1923 and film stars like Dinah Shore, George Montgomery, Bing Crosby and Errol Flynn who visited Frenchy's Resort in the 40's and 50's. The resort property still stands but the famous Frenchy's Café burned down in 1958.
Amongst the fishing crowd, Wolf Creek is probably best known as the hometown of Jessie Burns in Norman Maclean's semi-autobiographical novel A River Runs Through It. She was Maclean's love interest in the story and became his wife. Her ashes were scattered on a mountain she named after herself, overlooking the Missouri River somewhere near Wolf Creek.
When traveling from the south, Wolf Creek is the jumping off point to access the Missouri River and provides easy access to Hwy 434 to get to Lincoln or Hwy 287 just north of Wolf Creek which goes to Augusta, Choteau and the east side of Glacier National Park.