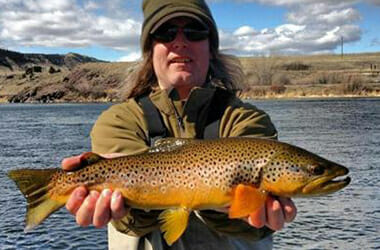 As I drove in this morning it sure felt to me like spring was in the air. 40 degrees with a mix of clouds and sun and a light rain…quintessential early spring conditions. If it wasn't for the howling wind it might be the perfect day to be on the water.
Fast forward two hours and I'm staring out the shop window at sheets of snow blowing across the horizon. And then, just like that, there's the sun again. Yes, this is spring time in the Rocky Mountains.

If it wasn't for the high wind warning I suspect there would be some traffic today. This is the kind of weather that gets people thinking about spring fishing and the forecast going forward this week is likely going to bring them out in droves.  After all, with temps expected to be in the low 60's on Friday, who can resist?Sure it'll likely be breezy but once you get into the 60's the wind is much easier to tolerate.
Lodging is starting to book up for the weekend, we'll have more available possibly by this weekend but for sure by next week so give us a call if you're thinking of coming out. And don't forget our spring guide special is in full effect. $400 Full Day guide trips for one or two anglers. Book two trips and a night of lodging and we'll throw in the second night of lodging for FREE. That's right – FREE LODGING at Wolf Creek Angler.
If you're inclined to DIY – we've got two fancy new Adipose drift boats for rent (a Runoff and a Flow) and the Mending Waters Montana boats are once again available for rent via mendingwatersmontana.org FREE to all vets and active duty military personnel.
The water is in great shape with flows currently at 4480 cfs and water temp bumping up against 36 degrees. It'll get there soon. Flows will bump over the next two days, back up to around 4900 cfs by Friday.
Nymphing and streamer fishing will be your methods of choice but don't count out dry fly fishing. Breezy conditions typically take this option off the table but you never know. Sometimes you come upon that perfect spot, shielded from the wind where the midge feast is occurring. If I were wade fishing I probably wouldn't go through the trouble of bringing the extra rig unless conditions were just right,  but you'd be a fool not to have a dry fly rod at the ready in your boat from here on out as spring fishing commences.It's on the early side but if you're fishing from a drift boat I wouldn't hesitate to spend some time prospecting with a Skwalla or chubby. You just might get surprised.
Likewise, nymphing is still in the winter zone but it's about to undergo a transformation as the water warms and the fish start to move and the spring bugs begin to emerge. I've been sticking with the Bubble Yum/Rainbow Czech/Amex/Pederson's Sow/Pill Popper/Caviar Scud point fly trailed with a tailwater sow/soft hackle sow/zebra midge/Yum Yum/Ray Charles etc but there's no reason you shouldn't start to work some baetis nymphs into the mix. Jujus', Radiation Baetis, BWO Wondernymphs, Olive S & M's, Split Case BWO's, Magic Flies, LGM's, Olive Lightning Bugs etc. would all be good options going forward but if you're happy with your winter rig's performance then by no means should you change it up. You do you!
There's been plenty of talk about the streamer action as of late and the talk has been that if streamer fishing is your thing and you're not out there, then you're missing out right now. It's been primarily a swing game but don't let anyone tell you you can't strip. I wouldn't get overly aggressive with your strip just yet but a nice slow strip with plenty of pauses in between has been very effective. Polar leeches, Mojo minnows, Kreelex, Clouser-type minnows and buggers have been steady movers out of the bins these last few weeks and will continue to be good options. Don't be afraid to go bigger, bulkier and flashier though. The big browns seem to be on the hunt and on the right day don't seem to be overly selective. Fish what you like. Again…you do you!
Reports have been good for most sections though I haven't heard much from Pelican down. It's likely on the cold side down there. Wolf Creek to Craig is a great go-to and Craig to Dearborn has been my preference as of late. I've heard decent reports from the canyon and Holter Dam will likely be a busy place very soon so go where you like and do what you like to do…it's time for spring fishing on the MO'.