Perhaps it's a little early to start talking about what we'll see for water this spring but since we've already been fielding plenty of calls on the subject here's what we know.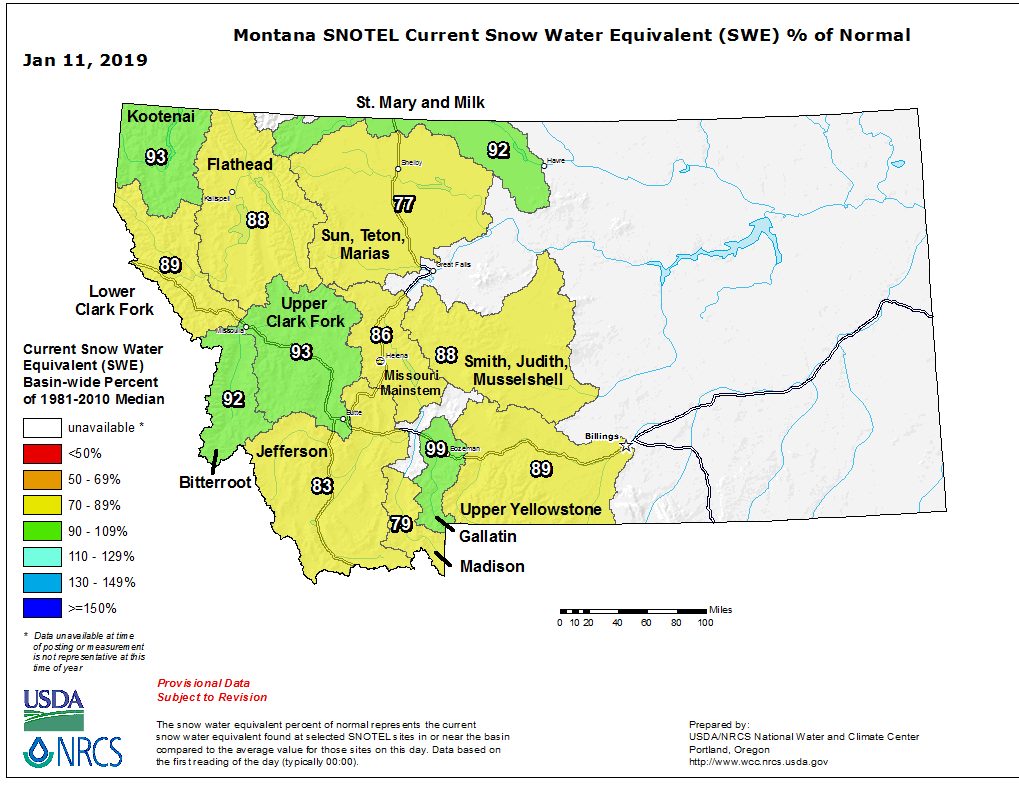 Snowpack across western Montana is currently sitting in the 80-90% of normal range. It could be much worse but the fact is we could use some precipitation. Following record precipitation last year, this winter has been a return to what has unfortunately become somewhat of the new normal.
The January long term forecast is for above average temperatures and below average precipitation which could translate into a busy month of fishing on the Missouri while those waiting for the ice to form on Holter Lake may be waiting all winter long.
We're thankful for any business we get during the long winter months so we'll take the traffic but here's hoping for some major precipitation over the next couple of months.
Regardless of snowpack, we're anticipating a great year ahead on the Missouri. River flow predictions are calling for a likely scenario of flows holding steady in the 4,500 CFS range through the winter months and peaking in the 6,000 CFS range in May and June.  This is great news to the wade anglers who missed out on fishing the Missouri last spring.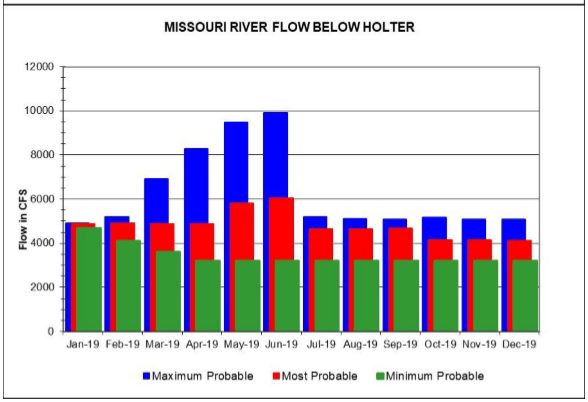 Max flow predictions show flows holding in the 4500 CFS range through February and then bumping up around 1000 CFS each month through June with a peak in the 10,000 CFS range while the minimum flow predictions show a steady drop in flow over the winter, leveling off in the 3500 CFS range beginning in April and holding there for the remainder of the season. This is not ideal. Let's hope we see the most probable scenario (or max probable) play out.
We're anxious to see what effect last season's high water scrubbing is going to have on the hatches this year. It could be an epic dry fly year on the Missouri! Will we see the caddis explosion that has occurred following high water years in the past? Only time will tell. One thing looks fairly certain however, that being that we will actually have dry fly fishing before July. We missed much of the traditional dry fly prime time last season so we're anxious for some BWO and PMD activity.
As per usual this is all speculation. We're using the best information we have available to loosely predict what we might see this spring but Mother Nature always has the last word.
We're not climatologists, we just sell fish hooks for a living so we're content to leave the actual business of forecasting to the experts. We'll keep you up to date on snowpack and flow conditions all winter long but at this point it definitely feels like it could be a return to dry fly nirvana on the MO in 2019.
In the meantime winter fishing is HOT right now. The nymphing is good to great depending on the day and streamers have been effective both on the swing and the strip. We've seen some midge activity with sporadic feeding. If we continue to see mild conditions throughout the winter expect good midge fishing as early as late January and throughout February and March.
We've been busy with lodging and have been getting a lot of calls about our winter lodging and guide trip special. The rumors are true! $500 for a full day guided float trip on the MO and TWO nights of premium lodging at Wolf Creek Angler. Our lodging options are quite limited during the winter so things tend to fill up quickly. If the mild weather persists and the demand is there we may look at opening more lodging up sooner rather than later. We'll keep you posted.
In the meantime – give us a call and book your cure to cabin fever today and while you're at it, make those spring/summer plans if you haven't done so already. Prime dates are filling fast.