It's hard to believe but we're a week out from closing the books on the first month of 2019. The coming season looms large and the December doldrums have been replaced by days filled with a lot of time on the phone booking and confirming trips and lodging.
Lately we've also spent some time shoveling snow which we haven't had to do much of so far this winter. While we're keeping a close eye on the snow pack and spending some time on the water battling ice in the guides we know that the season will soon be upon us and winters cold will be but a distant memory. After all, spring is a mere 55 days away. Can you feel it?
I've admittedly become less of a fan of winter fishing over the past several years, perhaps I'm getting soft in my old age. But I do love this time of year. There may be snow on the ground and the thermometer may be hanging south of 20 degrees but spending time on the phone much of the day talking with clients about their upcoming fishing plans has a way of transporting you to hot summer days in the rowers seat. As the rooms and the guide days fill in the season begins to take shape, once again shifting gears from contemplating what was to preparing for what's coming SOON.
Bookings for the prime season are up from last year which means a lot of you have fishing on your minds. If you're thinking of fishing and staying with us this season it's probably time to stop thinking about it and make those reservations. It feels like it's going to be a busy year on the Missouri, especially after we lost a good part of the dry fly season last year due to the high water. There are a lot of folks who skipped last year who've already secured their dates for 2019 so don't let this one get away from you.
There's so much to do to get things ready for the coming season and not a lot of time left to get things done. Time has run out on putting off winter projects…its go time for property maintenance and also for shop stuff.
The cold weather gear needs to move to make way for spring shipments which will be arriving soon. We've already received our big SIMMS wader and boot shipment and while those waders look great hanging in the shop, they'd look even better leaving the shop on you so if you're in the market for new waders this spring we'd love it if you got them from us.
It's also time to review preseason orders and make sure we didn't miss anything.
Rest assured we'll have everything ready to go come spring. Our major project is completing renovations in the motel which will commence next week. Upon completion of #11 all motel rooms will be fully renovated and while some of you have only ever stayed in the renovated version of the rooms those who have been with us from the start will appreciate what I'm talking about when I say it's nice to be able to be proud of these motel rooms because I definitely wasn't prior to the renovations.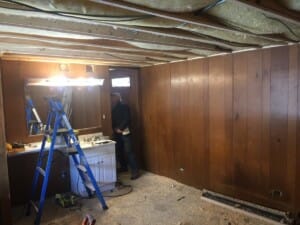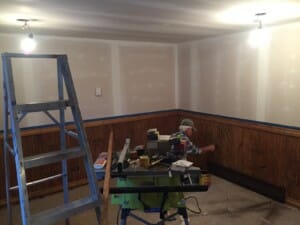 Another winter project was getting the WiFi situation figured out. This has been a constant issue and one which we've made several attempts to fix. The problem was that the WiFi signal was not reaching the bungalows (#12,#13 and #14). Well, it is now. Mind you we don't have the fastest internet in Wolf Creek but we have the best that is available to us and now that signal is covering the whole property.
As always you can expect continuous improvement at Wolf Creek Angler. It's our mission to do everything we can to provide you with an excellent experience and one which you'll hopefully remember for all the right reasons. It won't happen all at once but we're chipping away at things and judging by our annual growth and by the vast majority of the feedback we receive our efforts are making a difference.