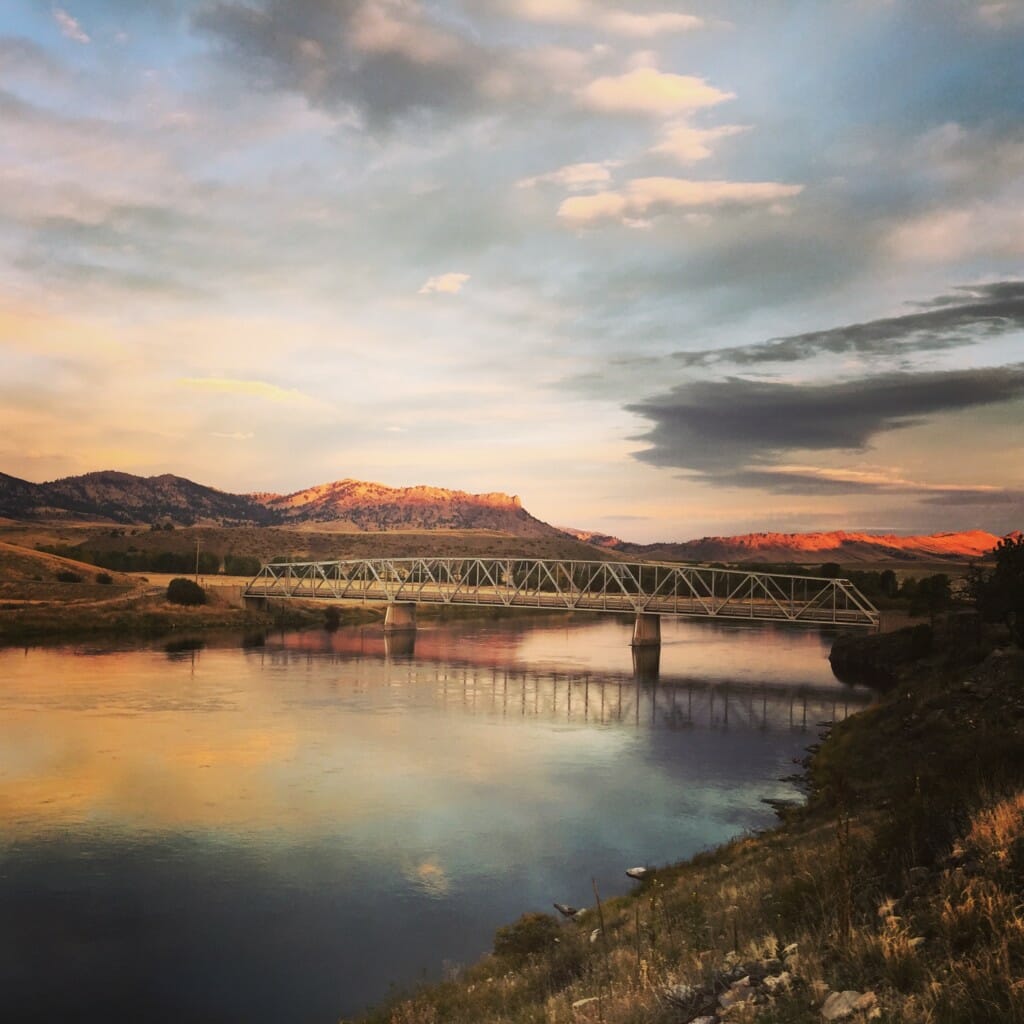 It's been a weird fall here on the Missouri.
We were robbed of fall colors and the gradual transition from summer heat to autumn chill by snowstorms and arctic air in September and early October.
October is traditionally one of our busier months and this year is no different but that being said I do get the sense that things are coming to a close a little prematurely.
The river is quiet, the streets of Wolf Creek and Craig are quiet and while we're still getting a fair amount of nice days one just gets the sense that winter is starting to take hold, at least in a psychological sense.
The fishing has been hit or miss these past weeks and while we have seen a couple of BWO events we've yet to experience an epic day of dry fly fishing. I think the best is yet to come which will work out well for those of you maintaining your Missouri River fall fishing schedules.
Nymphing and streamer fishing have been so so depending on the day but it seems like we've had more than our fair share of challenging days this fall. Maybe that all turns around this week. There's only one way to find out for yourself.
Go-to water has been Wolf Creek down with better reports consistently coming from the canyon. We're running medium depth rigs, occasionally shortening up for the shallow fast runs. Good point fly options have been Rainbow Czechs, Pill Poppers, Rainbow Weight Fly, Bubble Yum Scuds, Tungsten Tailwater Sows and Tungsten PT's all in the #14-#16 range. We're trailing soft hackle sowbugs, Tailwater Sows, Little Green Machines, Zebra Midges, BWO Magic Fly, Split Case BWO, Olive lightning bugs, rainbow warriors, olive S & M's and other miscellaneous mayfly nymphs and generally running with a single split shot.
It varies by the day and by the section you are in but we've found the fish are predominantly in medium depth, faster water. Don't rule out the slow stuff but it hasn't been great. When you hook up take note of the water you're fishing and target that type of water throughout your day. Chances are that's where you'll find them….or not.
Streamer fishing requires a lot of work and some commitment but has been worth the effort for the most part. Weeds are still an issue and will continue to be for some time but they are localized and you can find plenty of clean water in which to strip. Stick to your favorites and fish them like you mean it. Best colors for us have been olive, black, natural or gray.
Bombing the bank and stripping through the shallows has been effective for me but from what I hear they're getting them on the swing as well.
Dry fly opportunities seem to present themselves daily but you need to be ready to go at any given moment. Rig up that dry fly rod and keep it within reach while you're nymphing and/or streamer fishing. Pseudos, maybe some BWO's and the occasional caddis are all a possibility. We've had luck fishing a caddis blind when fish are up and eating but that seems to be fading so my suggestion would be to rig with your favorite BWO set up and hope for bugs.
Solitude is in abundance right now and will be from here on out. You can expect to see some boat and wade angler traffic on the nicer days but even on the busier days you shouldn't have any trouble finding a piece of water to have all to yourself.
The forecast is calling for snow tomorrow and again on Saturday. Could we be treated to an epic day of BWO dry fly fishing? I wouldn't rule it out!
In between we'll see another couple of days of Indian summer with highs approaching 65 on Friday but expect the mild temps to be accompanied by breezy conditions. And speaking of breezy conditions, a high wind warning is currently in effect through 7 pm tonight for west winds 30-40 mph, gusting as high as 60 mph. Batten down the hatches!
Next week looks chilly but definitely doable. Cold on Monday and Tuesday with highs in the high 20's/low 30's but warming into the 40's by the middle of the week.
We've still got plenty of lodging options available though we are closing the motel for winter this week and will follow suit with the cabins when it makes sense to do so. As always, our bungalows will remain open all winter long for the die-hards out there.
Guide trips are winding down and guides are beginning to disappear but there are still enough of us around that we shouldn't have any problem filling those last minute guide trips.
Great deals still to be had at the shop with our Second Annual Rod and Reel sale still going strong and we've got all the gear you need for Cold Weather fishing.
Shop hours are 8:00 AM – 5:00 PM Monday – Saturday and 8:00 AM – 4:00 PM Sundays.