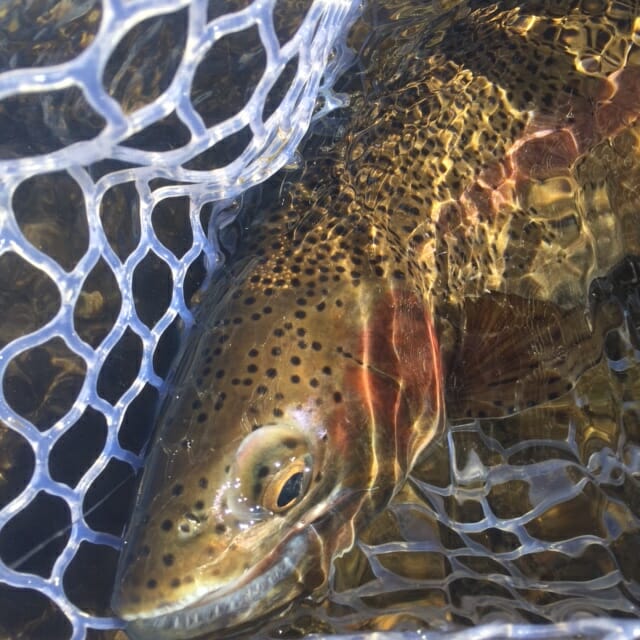 Today is Day 2 of being under a WINTER WEATHER ADVISORY which has thus far brought ideal fishing conditions to the MO.
When I took my morning drive to Wolf Creek Bridge yesterday before work, conditions were so incredibly perfect that I decided I needed to be on the water. Without too much arm twisting I was able to convince one of my regular clients to come out and spend the day on the water. It was the right call.
43 degrees, overcast, not a breath of wind and not a soul to be seen ANYWHERE! We did the go-to Wolf Creek to Craig section knowing that this time of year it's all about staying put once you find the fish. Nymphing was good from the start with the Pederson's Sow/Tailwater Sow rig continuing to produce. I haven't changed my nymph setup in weeks!
The wind came up shortly after we launched with the bridge still well in sight, blowing upstream and rapidly transforming our perfect conditions. There was a brief discussion of calling it and blowing back up to the ramp but we quickly rejected that idea and decided to power through it.
It's tough to hold a line in a north northwest blow but the upstream portion of the row around is definitely easy. The fishing actually picked up as the winds did the same and a slight adjustment from #18 to #16 on the Tailwater Sow made all the difference in the world.
We found fish in the majority of places I expected to find them and got them roughly 2 to 1 Tailwater Sow to Pederson's Sow. A solid day of nymphing in spite of the deteriorating conditions and then, just like that the wind died and we were treated to glassy water and rising fish. My client is not a dry fly angler so he invited me to take a shot at them. A quick rigging and a couple of casts later I had my first dry fly eat of 2020, followed by another, both small browns hungry for midges. These were my earliest fish on dry flies in a couple of seasons so that was definitely a highlight of the day for me.
Conditions were again idyllic for the remainder of the day though the action slowed considerably in the afternoon but overall – not a bad day to fish the Winter Weather Advisory!
Today looks like it's going to be a similar day weather-wise. Winds are calm and we're holding steady at 39 degrees though there is a steady snow falling this morning. They're calling for less than half an inch today and maybe around an inch tomorrow so it could be a good weekend to fish the Missouri though the respite from the wind looks like today only so if you're looking to fish dry flies, today would be the day.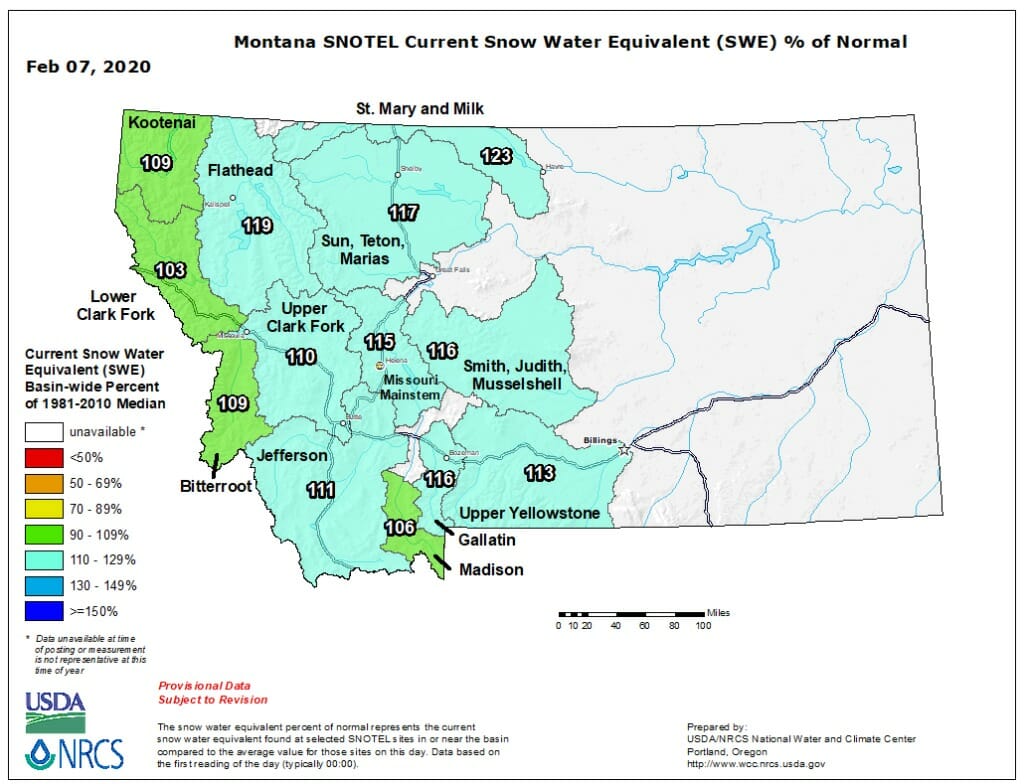 The Winter Storm Warning which was in effect through this morning for elevations above 5500 feet appears to have produced plenty of precipitation so it really is the best of both worlds with snow pack building while we enjoy spring-like weather and dry fly fishing on the Missouri.
We've seen a few people this morning but I wouldn't expect any overcrowding out there. We do have lodging and guides available this weekend so let us know ASAP if you'd like to make it a Missouri River Winter Fishing Weekend.