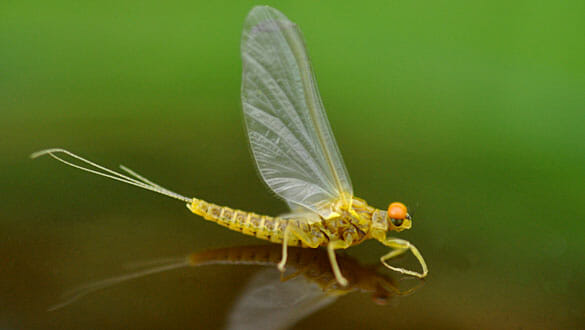 We teased you last week with some hopeful optimism.
Expectations were that following the weekend cold front and the return to normal weather conditions early in the week that the dry fly fishing could very well explode.
Prior to the cold front things were looking promising with increasing numbers of PMD's showing up on the upper stretches and an occasional caddis here and there sparking the interest of many who've been patiently awaiting a decent caddis season on the Missouri.
Mid way through the week and well into warm weather conditions the waiting continues. Those in search of surface action have had to work extremely hard to find bugs and harder yet to find rising fish. They're out there but it ain't easy.
And while the Dearborn has continued to rapidly drop, bringing the canyon into near-perfect water conditions…the dry fly game down there has been nearly non-existent this week. Nymphing and streamer fishing the lower stretches hasn't been anything to write home about either though there has been a fair amount of traffic  seeking the inevitable.
And so the wait continues.
When will it happen? It's anyone's guess but I have a feeling it will be very soon.
We're looking at daytime temps in the high 70's and low 80's for the next 10 days. Water temps are edging up, currently closing in on 57 degrees with flows at 6200 CFS. It's been a frustrating couple of days for those seeking dry fly Nirvana but it's got to be coming soon. Conditions still seem right for the convergence and creation of the proverbial perfect storm which will perhaps usher in a truly epic season of dry fly fishing on the Missouri River.
Don't give up hope. You won't know if you don't go. What better way to spend your day than floating down the Missouri on an idyllic late spring day. Blue skies, hills covered in green, warm and gentle breezes, singing song birds and the occasional rising trout….can you imagine anything more Zen than this?
Don't like Zen? There are other ways to endure the wait. As long as you're out there why not feed the fish where they are which is UNDER the water.
Nymphing has continued to generate the numbers though even the subsurface game has had its challenges as of late. You can't go wrong with a tailwater sow and a green machine but there are billions of other bugs you could be throwing as well. Sows and scuds will always find fish but the waters of the MO are teeming with a smorgasbord of fish food right now. Mayfly nymphs should most definitely be a part of your arsenal from here on out, particularly the PMD variety. PMD Magic Fly, S & M, Redemption, PsychoMay, Split Case, Crack Back…and on and on. Piles of PMD patterns filling both sides of the bins at WCA.
Likewise, you should also be representing the caddis we're all eagerly awaiting. Bloom's Weight Fly, Tung Darts, Nitro Caddis, Pulsating Caddis, UV Czech Caddis….throw the kitchen sink at them.
Streamer fishing has been hit and miss but as always, it's worth the effort. Streamer junkies aren't typically about the numbers, they're looking for that one big fish and will happily endure a day of casting for a shot at a big fish or two.
If you're thinking streamers think Sparkle Minnows, MK Ultras, Thin Mints, Clousers, Mojo Minnows, Montana Mouthwash, ZK's Inflated Ego etc and don't overlook the small stuff. Try a zirdle or a pine squirrel leech…you just might be surprised.
Start your day at WCA for shuttles and bugs and so much more.
Dry flies or not….it's Prime Time on Montana's Missouri River.