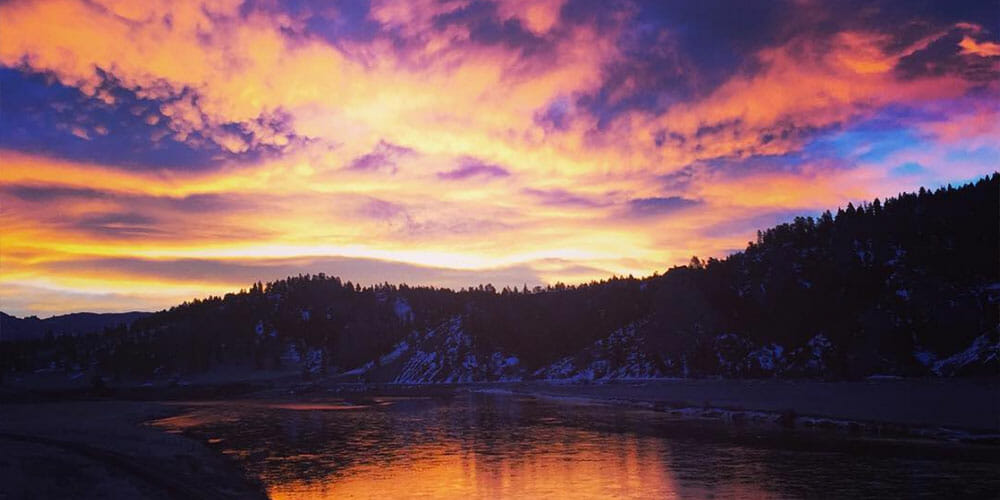 The schizophrenic fall weather has continued this week on the Missouri. We started out at 2 degrees on Monday and made it into the 30's later that day, it's been in the 50s every day since.
This weather pattern should hold through the weekend and we'll see temps approaching 60 on Sunday and Monday. Our next chance for snow will be mid-week next week when things return to more seasonable conditions.
What does this mean as it relates to fishing the MO'?
While we can't predict with any level of certainty how good (or bad) the fishing will be here's what we do know. 50 degree days in November are days you should fish. Winter is on the way so enjoy it while it lasts.
I may have jumped the gun on closing cabins for the winter as we've had to turn several people away the last couple of days which leads me to believe that there will be some traffic out there this weekend but that being said, things have all but grinded to a halt these past couple of weeks so I think it's a safe bet that you'll have plenty of water all to yourself should you decide to come out for a Missouri River fix.
Reports have been a little hard to come by as of late but Zach and I have made it out just enough to confidently report that there are indeed fish to be caught any way you like to catch them. Nymphing and streamer fishing have been good enough….not great…but definitely worth your time. Dry fly fishing has been sporadic but has definitely had is moments. Look for a decent day of top water action tomorrow with extensive cloud cover. BWO's and midges are the game. Swing by the shop and stock up on best bets for flies.
A couple of things to note for the coming weeks….
Mending Water Montana free boat rentals for vets program will be on hold for winter starting this Saturday, November 16th. The reservation system will be inactive but boats will be available again in March.
Shop Hours are getting a little weird. We're open at 8 AM EVERY DAY. Closing times vary. Sundays are a definite 8 AM – 1 PM. We'll keep you updated should we decide to nix a day or two from the weekly schedule but for the meantime count on us being here every morning and call ahead if you're coming out later in the day just to make sure someone will be around. Along these lines, we'll be closing at 1 pm this Saturday.
Lodging is full for the weekend but we do have availability beginning on Sunday.
Fall Rod and Reel Sale still going strong. 25% off all rods and reels and deeper discounts on select models.
All remaining summer sportswear 50 percent off.
Gift Cards make great stocking stuffers and are available in any amount and are good for anything and everything we sell.
We will be closed on Thanksgiving Day (November 28th).
Things are quiet most days in the shop so I'd love it if you would stop by and say hello. Jake is starved for attention and I always enjoy talking to someone other than myself!