Well TAX Day has come and gone and the spring season is really starting to take shape. We've seen our best first half of April ever thanks to adverse water conditions elsewhere though now that things have settled on the west side traffic has thinned a bit for the time being.
We're under a winter weather advisory once again today with light snow falling but it looks like we're finally going to see some nicer weather with temps approaching 70 by Friday before returning to more seasonable 50's for the weekend.I'm definitely ready for some 70 degree days but these cool spring temps are exactly what we need right now to keep things in shape going forward.
Flows on the MO are on the high side for April, currently at around 8600 CFS which isn't ideal for the wade anglers but fishing from the boat has been good most days, great some days and tough on others which is usually how it goes. Overall though spring is delivering.
As you might expect, river conditions have been the hot topic as of late. Everyone wants to know what the flows will be when they get here. The jury is still out on that.
April max flow conditions from the Bureau of Reclamation have already been exceeded with our current flows but even so, snow pack is hovering in the average to slightly above average range so we aren't expecting to see a repeat of last year's 20,000 CFS.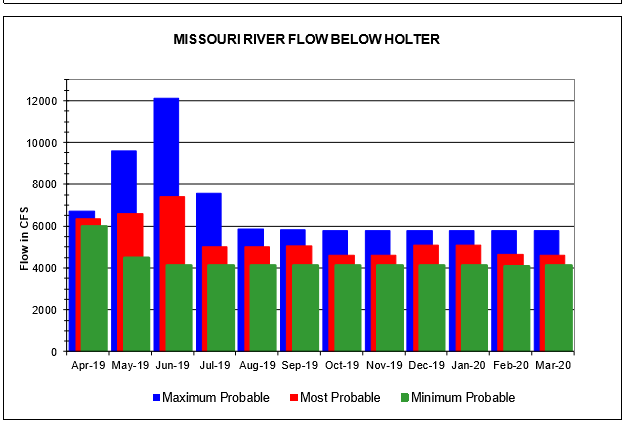 As always, the wild card will be precipitation. Snow to an extent but rain for the most part will determine where we end up.
Last year at this time we were looking at snowpack in the 180% of average range so we were expecting to see a high water event. Current snowpack isn't telling that kind of a story but again, if we see an exceptionally rainy spring then all bets are off.
On the bright side last year's high water provided a much needed scouring of the substrate and we're optimistic that the river reaped huge benefits from this scouring. Will we see Caddis Nirvana on the MO this season? Only time will tell.
Dry fly opportunities have been minimal but nymphing and streamer fishing are a go. Tailwater sows, Fish Finder Worms, Caviar Scuds, Rainbow Czechs, Amex, Firebead Rays, UV Crush, Bubble Yum Scuds, Pill Poppers, Zebra Midges and soft hackle sows have all been go to choices as of late and I certainly wouldn't hesitate to try a green machine or a BWO Magic Fly just to switch things up.
Deep and slow is still a go but transitional water is in play. The water is still on the cold side but should start to bump up with warmer days and nights ahead which will get those fish moving around and spreading out. Rainbows may be scarce as spawning is in full swing (watch those redds when wading) but this is the perfect time to target those hungry browns with a streamer….just sayin!
We're moderately busy this week with lodging and doing a fair amount of guide trips but we have rooms and guides at the ready if you'd like to come out and spend a day or two on one of the best trout rivers in North America. Look for things to steadily pick up as we hit the end of April into the heart of spring fishing in early May. You've got exactly two weeks to take advantage of $400 guide trips and $99 premium lodging. Starting May 1st that trip will cost you $550 and the rooms go up to $135/night.
Welcome to spring on the Missouri. We can't wait to see you.