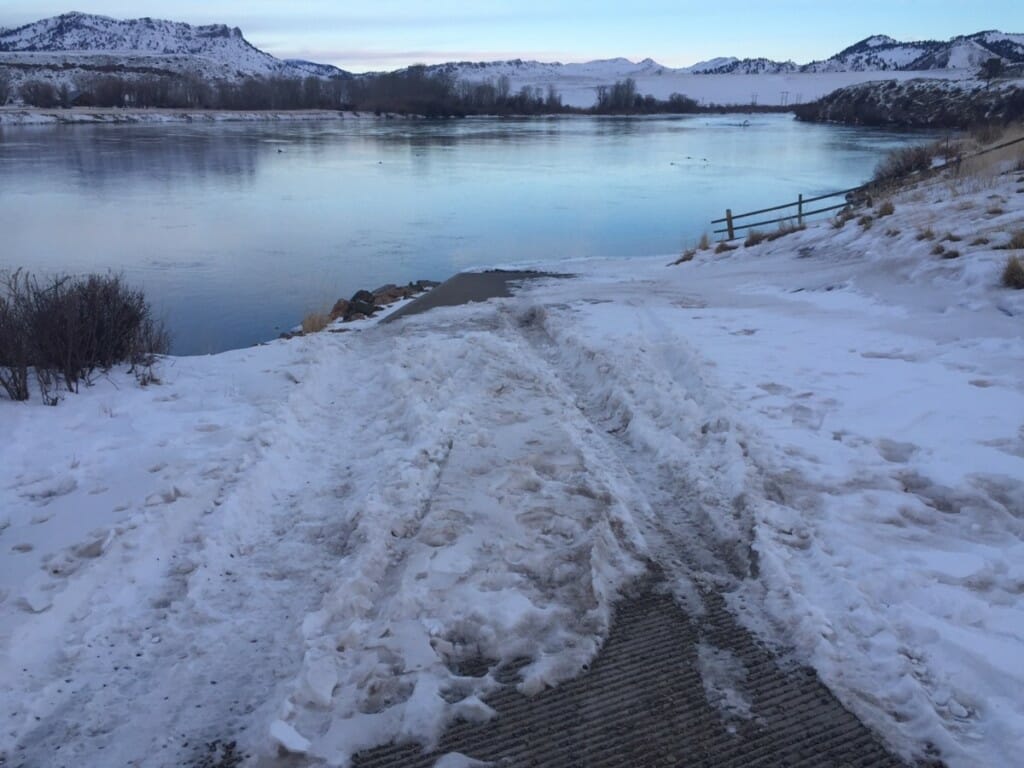 Welcome to December on the Missouri.
This is traditionally our slowest month of the year in the shop as people get distracted from fishing by the onset of winter and the busy holiday season.
Be that as it may, we're here, anxious to help you in any way that we can.
While we don't typically see a lot of traffic in the shop this time of year we are busy on the phones and busy at the keyboard booking trips and lodging for the coming season.
Prime dates are filling quickly so don't put it off any longer if you plan on booking with us for 2020, especially June and July which are rapidly approaching capacity.
The Thanksgiving winter storm pretty much shut things down out here over the weekend with folks opting for food and football and couch time rather than battling single digit temps and snow. The weather has improved and fishing could be good this week though if you're planning on coming out to float keep in mind the ramps could be a challenge. We sold a couple of Wolf Creek to Craig shuttles this morning which were abruptly changed when the guys got down there and found there was a vehicle stuck on the ramp.
It's never a bad call to have tire chains this time of year or a tow strap or rope at the least just in case the ramps are a problem.
We're currently sitting at 42 degrees with partly cloudy skies and it looks to be much of the same throughout this week. Expect breezy conditions with this warmer air but don't let that deter you. This could be your last, best week to fish the Missouri in 2019!
We've got plenty of lodging availability and we can definitely find a guide or two if you want to get in a trip before winter really sets in.
Seeing as today is Cyber Monday perhaps you're online getting all of your Christmas shopping done. If so, good for you. That leaves you three weeks to fish. If not, maybe we can help with that Christmas shopping.
We're not much for cyber shopping here. We prefer the brick and mortar and while we may not be offering cyber deals we are offering plenty of great deals nonetheless.
Now through Christmas we're offering 25 percent off all rods and reels and if you buy a rod and reel combo we'll throw in an ARC fly line and backing for free.
We've got soft goods on sale from 25% – 50% off as well as holiday deals on flies, lines, leaders, tippet and so much more.
WCA Gift Cards also make great gifts for all of the fly fishers on your list.
We're open daily at 8 AM and hope to see you this holiday season at Wolf Creek Angler.