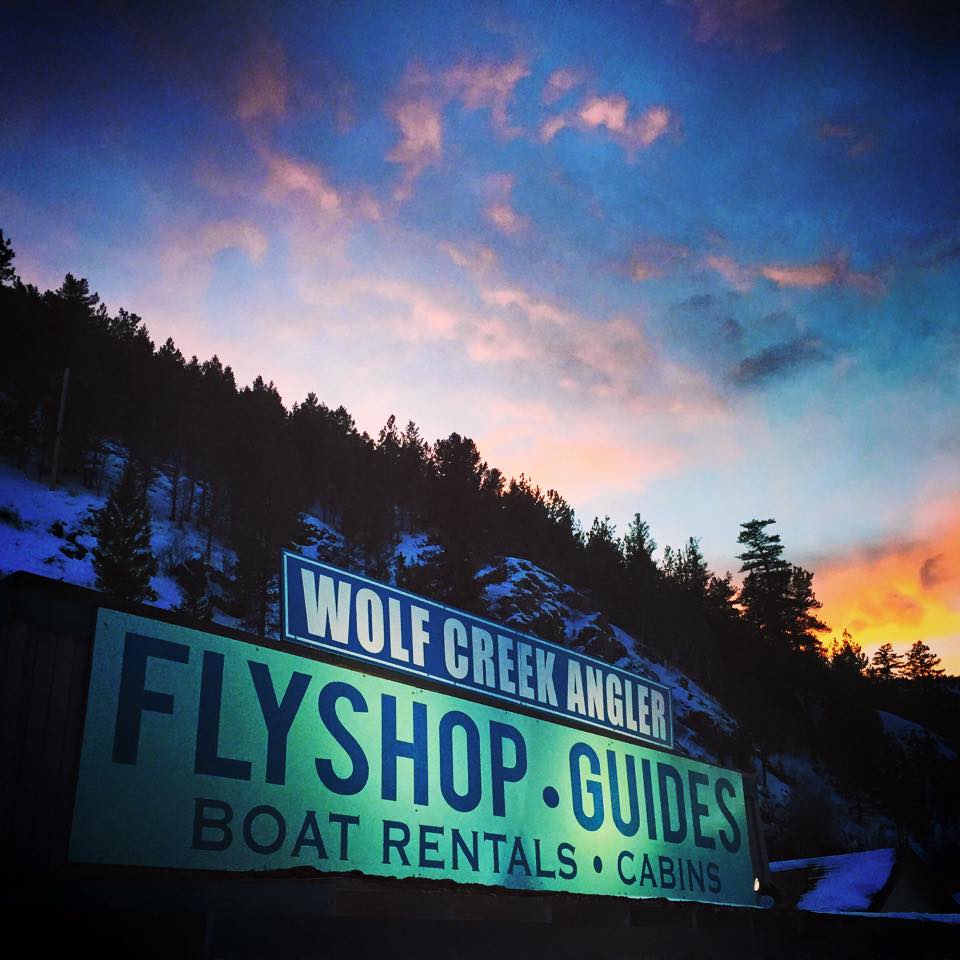 Snowy and cold this weekend on the Missouri although not nearly as cold as what they had been calling for a few days ago. We'll see highs in the mid 20's tomorrow and close to 30 on Sunday with partly sunny skies….maybe not ideal conditions but certainly fishable.
Night time temps in the single digits will keep things icy. Slush will be a constant irritation. Watch that shelf ice and be on the lookout for icebergs on the move when you're wading.
We wouldn't recommend floating the river this weekend with wind chill values as low as -10 but if you decide to do it please use extreme caution at the ramps as they can definitely be on the sketchy side in these weather conditions. Four-Wheel drive is a must.
Things are going to warm up next week with highs near 40 on Wednesday and Thursday. If you feel a couple of sick days coming on give us a call and book yourself a cozy bungalow for a night or two. $99 gets you a room for three with a full kitchen. Don't feel like cooking? The Oasis Bar and Grill is serving breakfast, lunch and dinner Thursday – Monday from 8:00 AM – 7:00 PM.
Looking for a guide? $400 gets you a full day float trip on the MO with one of our expert professional guides, a hot lunch, plenty of solitude and the chance to discover what an awesome winter fishery the Missouri can be. Book it today – if you don't like what you're seeing weather wise come game time you are free to bail. We will be out there weather permitting – you may as well be out there with us.
Need shuttles, winter bugs, hats, gloves, hand warmers, cold weather gear or anything else for a cold day on the water? Wolf Creek Angler is your Missouri River Winter Fly-Fishing headquarters. Stay with us, shop with us, fish with us. With 99% of the winter fishing taking place between Holter Dam and Craig, Wolf Creek is the place to be, just minutes from the dam and Wolf Creek Bridge.
Pay us a visit and find out why Wolf Creek is rapidly becoming the nexus of winter fly-fishing on the Missouri River. People from around the state and beyond choose Wolf Creek when they are looking for a winter fly-fishing fix. With the only restaurant and the only gas station/convenience store between Helena and Cascade and a first-rate Missouri River fly shop with comfortable and affordable lodging just minutes from Holter Dam and Wolf Creek Bridge, the choice is clear. Wolf Creek Angler, Uncle Joe's Oasis Bar and Grill and The Canyon Store provide everything you need from flies to food to fuel to night life. Keep an eye on the weather and when you see a break come discover for yourself all that Wolf Creek has to offer.