The season continues to wind down as we bid a fond farewell to the month of October.
We had our last full house over the weekend and this morning all is quiet at WCA as only a few guests remain. The motel units have seen their last guests of the season and will be winterized by week's end. The last of our long term RV guests left yesterday and we'll soon be wrapping up our guide season.
It seems as though the end of the 2018 season is looming but before we close the books on another great year we want to remind you that we're not going anywhere! The shop is open all year (not necessarily every day, but on the days that make sense) and we're open for lodging and guide trips each and every day.
Keep an eye out for our MOVEMBER special….details coming soon. In the meantime, as October draws to a close, I just wanted to take a minute and proclaim that October may in fact be my favorite month of the year.
Fall fishing is my favorite fishing period and the peak of the fall color can't be beat. October fishing on the Missouri was nothing short of spectacular with some of the best fall dry fly fishing we've seen in years.
I've also made a habit of wandering every October. It's a magical time of year in Montana.
Every year since we moved here we've made a fall getaway to Glacier NP. Often times it can be pretty gloomy in that part of the state in mid-October but this year we were treated to four straight days of blue skies and sunshine and temps in the 50's and 60's….Indian Summer at its best.
It's strictly R & R. It's sight seeing, eating a lot, sampling local brews, hiking, drinking wine on the porch on chilly nights, sleeping in etc.  and there are very few things I look forward to as much as I look forward to this annual trip. It was on the bittersweet side this year being that it is our son's senior year in high school. He was in sixth grade the first year we made the trip.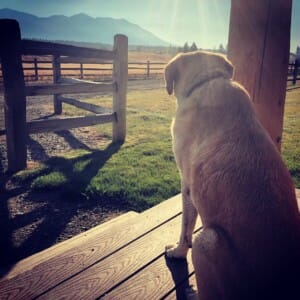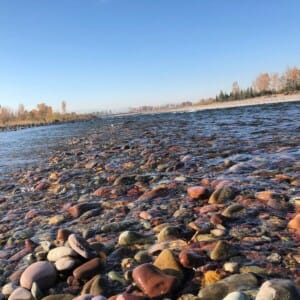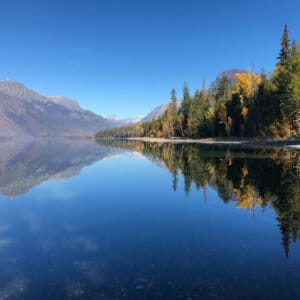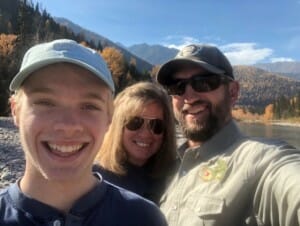 I'm certain there are more reflections on mortality and the passage of time to come (what with the empty nest now on the immediate horizon and all) but for now suffice it to say that we enjoyed the trip immensely, knowing that it may be a while before he joins us on this one again. We've had some great times over the years but we've also had some downright unpleasant trips where our mopey kid had no desire to be there and in some cases where we'd  preferred he wasn't. None of that this time! This was a great family trip and I think we all enjoyed most every minute of it.
I've also made a streamer float on the Yellowstone an annual October event. This one has evolved over the years and now includes a night of revelry with friends who live in YNP and who tolerate my obsession with hunting big browns on streamers and streamers ONLY. No behemoths for me this year though our friend Sara lost what may have been the fish of the year in my boat.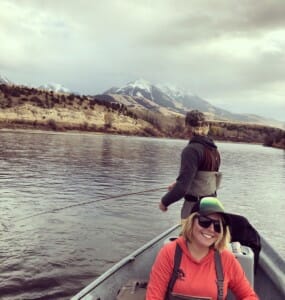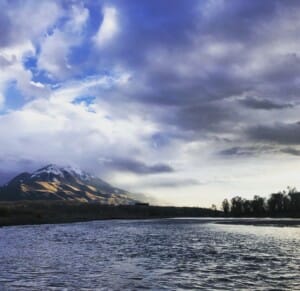 Add to these trips my first ever day fishing the Jefferson, a few days on the Blackfoot and a bunch of awesome days on the Missouri along with a steady diet of football and baseball and the chance to see a bunch of our favorite regular guests who have become friends and who have made October their annual thing at WCA and you've got the best month of the year.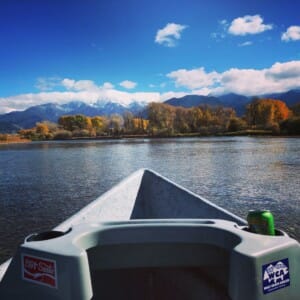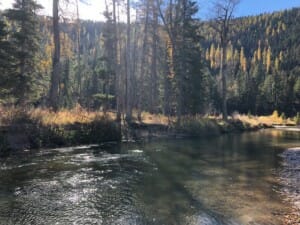 We're hopeful that with the mild forecast we'll continue to finish strong at least through the middle of November but dark winter days are looming. It's already been a month or more since the shop has seen direct sunlight and with this coming weekend's time change it's only going to get darker. But that doesn't mean the fishing won't be good. Sure the days are shorter but this slow transition to cold has delivered the best fall fishing we've seen in several years.
Dry fly fishing has been, and should continue to be strong and if streamers are your obsession this is definitely your time. Nymphing will always deliver so if you think late fall is the time to put away your fishing gear…think again. We fish all winter long when the weather allows for it and so far from what it sounds like we may see a relatively mild winter which means plenty of fishing ahead.
Once again, keep an eye out for our MOVEMBER Lodging and Fishing Special and keep us in mind for lodging whether its fish or big game you are hunting.