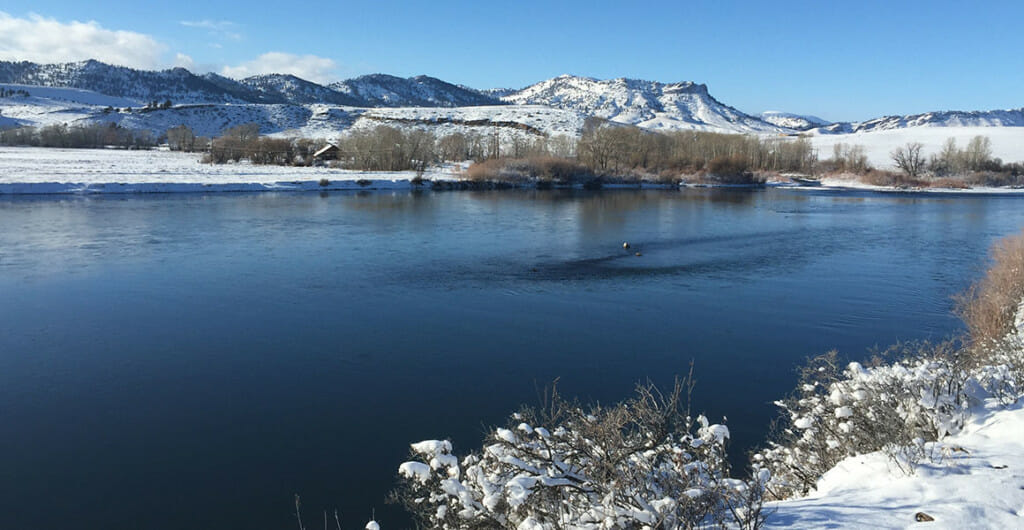 In the midst of yet another winter weather event time is rapidly running out on fall fishing 2019.
Cold and snow have kept many an angler away starting with a late September snow storm and continuing through much of October. This is our fifth significant bout of winter weather and though we have had a few nice days in between winter weather events, the unseasonably cold weather has seemingly brought our 2019 season to a premature close.
All that being said, we do live in the Rocky Mountains so it's certainly not unheard of to have some significant winter weather during the fall but if we look at the numbers it's obvious that this fall is considerably outside of the parameters which define "normal weather conditions".
Since that first winter storm that hit at the end of September we have seen well below average temps and well above average precipitation. In some cases the amount of recorded snowfall has already reached over half of the annual average and we're seeing snowfall amounts not normally reached until February or March during the average winter.
Last Friday we reveled in 75 degree highs before waking up to several inches of snow on the ground on Saturday morning.
The good news is we're well on our way to building the snowpack that will hopefully provide another great water year in 2020. Not everyone was thrilled with average flows in the 5K range during most of the season on the Missouri but it was a good year for the health of the river even if the wade fishing may have been a little more challenging and two consecutive summers with minimal Hoot Owl closures around the state is nothing short of awesome.
So while we're definitely not blind to the silver lining it has been a slow fall season on the MO'. Rightly or wrongly we've come to expect a busy October and early November. So far this has not been the case in 2019 but we could still finish strong with a couple of decent weeks ahead of us.
It will be unseasonably cold tomorrow and Wednesday but this round of snow is over for the most part and temperatures will warm by the end of the week, running much closer to average. Next week looks promising with highs in the 40's. The warm days are nice but they are usually accompanied by a fair amount of wind this time of year. The upcoming warming trend might just bring us the classic fall weather we've been waiting for. Not too warm, not too cold, not too much wind….just right for those pursuing trout as well as those pursuing big game.
Winter lodging rates go into effect this Friday….$99 for premium lodging (kitchen and private bath included). We've shut down the motel for the winter but still have cabins and bungalows available. Winterizing/closing the cabins is next on the to-do list but I would think we'll go at least another week or two after which time we will have bungalows available all winter long.
We picked up a few random guide trips last week and do have a few more on the books between now and the end of next week but it feels like we're definitely getting down to the final days. That being said, we're hopeful and optimistic that we could in fact see some downright epic days out there during these next two weeks so keep an eye on the weather and if it looks good give us a call to book an expert guide and cozy lodging and close this season out right.
Shop hours still officially 8 AM – 5 PM Monday – Saturday and 8:00 AM – 4:00 PM on Sunday but this is becoming more and more weather dependent. It wouldn't hurt to give us a shout before heading out just to make sure.