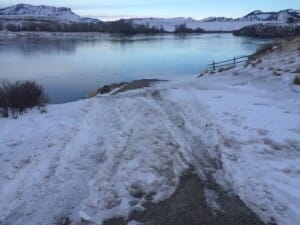 The wait is over….we're finally looking at some fishable weather for the week ahead. We're looking at a high of 33 today with light and variable south winds increasing to 9-11 mph later today.
Conditions on the water couldn't be more perfect but before you hook up the drift boat and come out for a late February float be aware that the conditions on the boat ramps are far from ideal.
Blowing and drifting snow have made a mess of things and as temps warm and the snow begins to melt expect icy conditions to prevail.
A quick tour of the Holter Dam, Wolf Creek Bridge and Craig launches this morning confirmed the reports we've heard from the past couple of days. If you're going to float come prepared with plenty of rope and don't expect a conventional launch or take out.
If ramp conditions are in any way sketchy or questionable DO NOT ATTEMPT TO BACK DOWN THE RAMP!  Four Wheel Drive is great but don't expect it to do much for you on an icy ramp. We see it every year, four wheel drives stuck on the ramp. Best case scenario you'll need someone to pull you up the ramp, worse case scenario you'll end up sliding your vehicle into the river along with your boat and trailer which is NOT the way you want to start or end your day.
When floating in the winter or spring it's always a good idea to keep a rope in your rig, in fact it's ALWAYS recommended you have a rope in your rig, why wouldn't you? I keep 150′ of 3/4″ nylon braided rope in mine at all times and keep another 100′  in my boat.
The majority of the ramps on the MO' are not steep but they are steep enough to be a problem!
All you need to do is back your trailer as close to the top of the ramp as you can safely get, attach the rope to the bow eye of your boat, dump the boat onto the ramp using your winch and strap and then unhook the strap and rope your boat down the ramp to the water. Again, most of these ramps aren't steep but it's a good idea to wrap the rope around the back of your trailer frame to keep the boat from getting away from you.
Launching is the easy part! Maybe the ramp you launched at was clear, maybe you just dumped the boat on the ramp and slid it down without using a rope (not recommended). What if you get to your take out and you can't safely back down the ramp to retrieve your boat? Now what?
It's easy to slide your boat down an icy or snow covered ramp. Pushing or pulling your boat up a ramp? Not so much!
Without a rope you could be in for trouble. The best way to retrieve your boat is to again back your trailer as close to the ramp as you can safely get, attach your rope to the bow eye of your boat and tie the other end of the boat to your trailer. Pull forward as far as you need to drag the boat safely to level ground and then back up to the boat and load it on your trailer with your winch and strap.
When pulling your boat up a ramp with a rope tell your fishing partners to stand clear and try to do it all in one smooth motion without repeatedly stopping and starting. Herky Jerky = Broken Ropes. Broken Ropes = A bad way to end your day.
You should have no problem with most of the ramps using these methods, though I would definitely avoid Mountain Palace and the Dearborn Launch for the time being. A couple of sunny warm days will go a long way in improving things. The Wolf Creek Bridge ramp is on it's way to being clear though it looks like someone backed down it recently and came perilously close to the edge of the ramp. I would recommend sliding your boat down for the time being. Just because there are tire tracks on the ramp it doesn't mean it's safe.
The Holter and Craig launches are definitely in slide/rope condition and from what I've heard conditions down river aren't much better. I'll probably take a run down river today and check them all out, which incidentally is never a bad call if you have time to do it prior to your float. The shops will generally have a pretty good idea of conditions but it's always best to check for yourself to avoid any end of day unexpected surprises at the take out.
Spring is rapidly approaching. The fish are hungry after this long, cold winter which means it's about to get really good out there.  There's no reason you shouldn't be here fishing it, just please use common sense when you do.
Stay Safe !