It's two degrees in Wolf Creek today but as we close in on just under six weeks until the first day of spring we cant help but begin to get excited about the rapidly approaching season.
Winter continues to make its presence felt with frigid temps and plenty of snow over the past couple of days. We've got more snow piled up around the shop right now than I've seen in my years here and we didn't get a fraction of what our friends in NW Montana  got over the last couple of days with some areas receiving up to 50″ of new snow.
The Montana SNOTEL Snow Water Equivalent map is beginning to transform into what we like to see and while much of the region is still below 90 percent of average we're seeing more and more green (and some blue) daily which we're hopeful will mean a good water year again on the MO' and hopefully around the region. With plenty of winter ahead we are optimistic conditions will be ideal.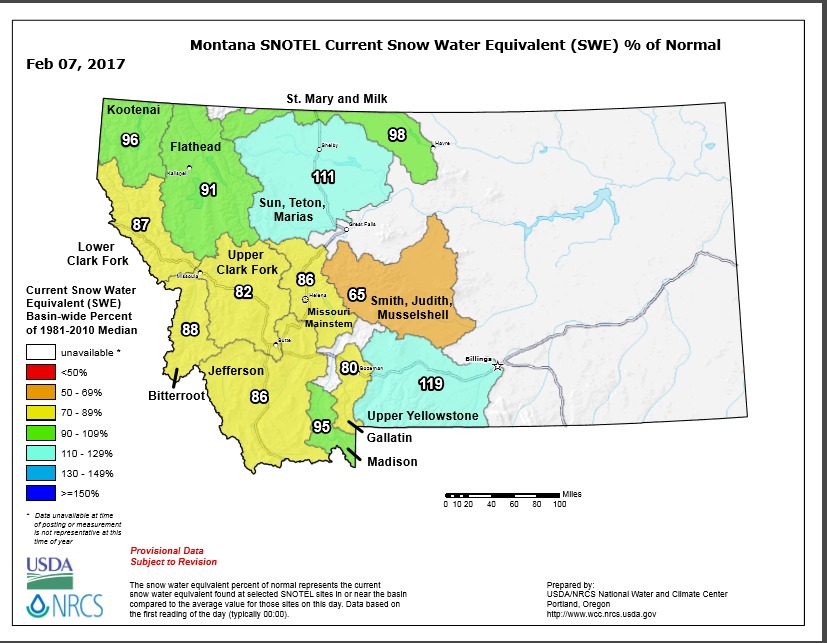 The SNOTEL Water Year map for total precipitation (% of average) looks even better but keep in mind this is total precipitation, not snow pack.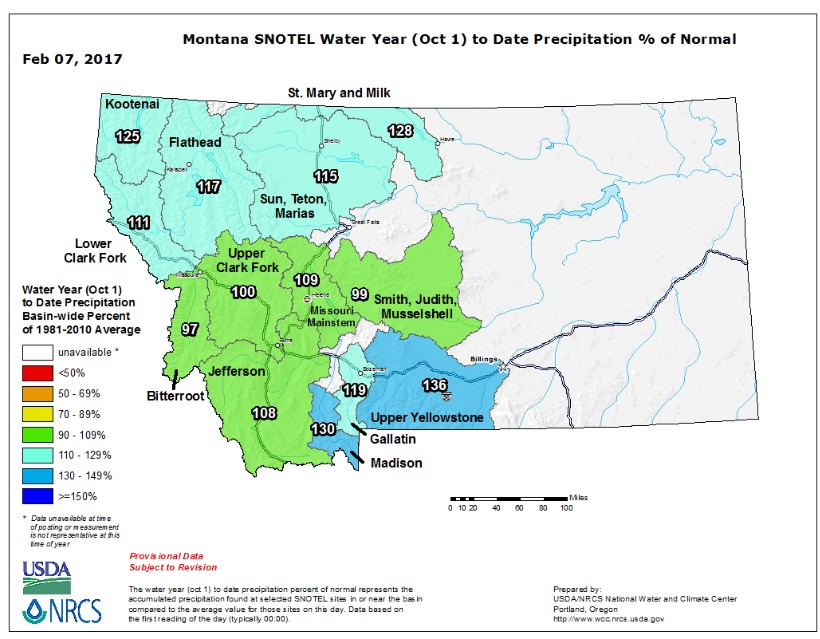 So what's it all mean?
Once again, it's still early to tell but we like what we're seeing. We will hopefully continue to accumulate snow pack in the high country but as always, the unknown is the amount of precipitation we will see in the spring which will ultimately determine what we see for water this year.
The latest predictions from the Bureau of Reclamation are calling for most probable average flows on the Missouri below Holter in the 4ooo cfs range based on current conditions at Canyon Ferry Reservoir which at this point  is 75% full which is 95% of the 30 year average for this date. Translation….good most probable flows but the Max Probable would be even better with a nice 10K flush in June.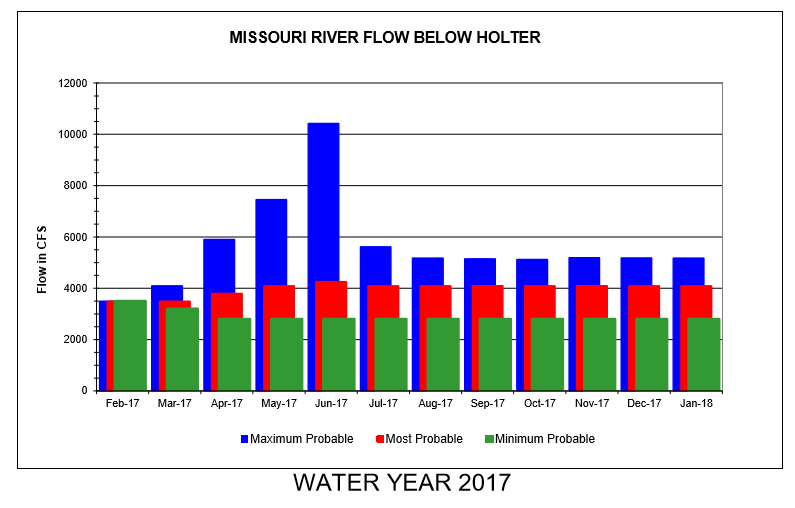 It looks like we will see a hint of spring at the end of this week with temps in the high 30's and low 40's beginning on Thursday. The 10 day is calling for plenty of sunshine and sustained moderate temps through the end of next week so we may be on our way.
As we move towards the more mild temps of mid to late winter keep in mind Wolf Creek Angler has the undisputed best deal on the water this winter with two nights lodging and a full day of guided fishing with the best guides on the river for just $500 plus tax and NO CANCELLATION FEES!
Whether you're fishing with our guides or doing things on your own, make us your first stop on the way to the MO'.
We are your Missouri River fly fishing one stop shop with clean and affordable accommodations, great guides and THE up and coming Missouri River fly shop fully stocked with anything you need for your day on the water.
Shuttles; Adipose and RO drift boat rentals; cold-weather gear from Simms and Kast; wading gear from Redington; rods from Loop, Echo and Redington; reels from Ross, Nautilus, Loop and Echo; Nomad nets and accessories a plenty from Fishpond; all kinds of great WCA logo gear and of course the biggest and best selection of bugs ever assembled under one roof in Wolf Creek Montana.