As we close out this first full week of June conditions are looking very favorable for a dry fly explosion to occur sometime very soon…..like ANY DAY NOW.
All but gone are the fears of high water. We're currently sitting at 6300 CFS with water temps currently holding in the 52-54 degree range.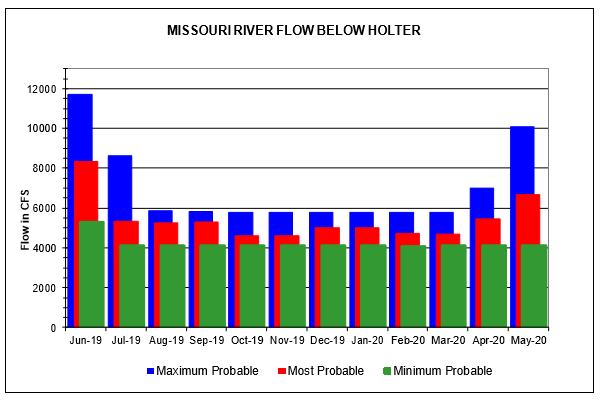 The most probable water forecast is calling for a peak in the 8,000 cfs range this month but I'm not sure we'll see it. Post-peak flows drop to the 5000 cfs range for the duration and it sure feels like we might be headed that way already.
For all of you who've been calling regularly to inquire about the water, this is the report you've been waiting for and one I'm confident with which you'll be very pleased. Yes, I'm talking to you Stan!
The planets may just be aligning to give us a truly EPIC dry fly season. Coming off a substrate scrubbing 20,000 CFS last season might we see a return to the fabled and oft talked about caddis hatches of years past? Only time will tell.
Last season we lost much of the PMD action to high flows but it doesn't look like that's going to be a problem this year.
We've been seeing bugs daily and while the approaching cold front may halt progress for the weekend there's every reason to believe next week's return to normal late spring conditions (temps in the 70's and 80's) may indeed flip the switch.
We're expecting strong storms this afternoon and evening and considerably cooler temps for the weekend with highs only reaching into the 50s and lows dropping below 40. Things turn around on Monday and next week looks pretty close to perfect.
It's both literally and figuratively the calm before the storm right now. They're calling for the possibility of golf ball sized hail this afternoon on the literal storm front and figuratively speaking we could very well see a storm of PMD and Caddis action next week. Those who rolled the dice and booked for this period early on despite the high water apprehension generated by last season's conditions in June may be in for the ultimate reward very soon.
As if that weren't good news enough, there was so much high water hesitation on the part of many of our regular guests that we've actually got some lodging availability for at least another week or so. These next six weeks are the PRIME of our guide trip season but we do still have guides on call for those last minute bookings so I wouldn't waste any time making plans if I were you. It's a rare opportunity to luck into what may very well be the hottest dry fly fishing of the season….or not.
Stock up on those Rusty Spinners and Corn Fed Caddis or your PMD and Caddis patterns of choice along with plenty of floatant and plan to be on the water next week.
Remember, we are your first stop Missouri River fly shop and we're pulling out all of the stops to make sure we have anything and everything you need to keep you from having to travel down the road. Wolf Creek is your first stop and the only one you need to make on your way to the MO. We've got affordable lodging, the best guides in the business, Adipose drift boat rentals, shuttles, bugs, ice, sun protection, fishing licenses, rain gear, tools and accessories, rods and reels, SIMMS waders and boots, lines, leaders, tippet, floatants, guide wear, and so much more. You get the picture. There's absolutely no need to go anywhere else. Wolf Creek Angler is proud to be your source for everything Missouri River fly fishing and beyond.
Give us a shot. We're confident that once you visit our shop you'll be hooked. We're the best shop you never even knew was here!
Drag Free Drifts and Tight Lines to you!