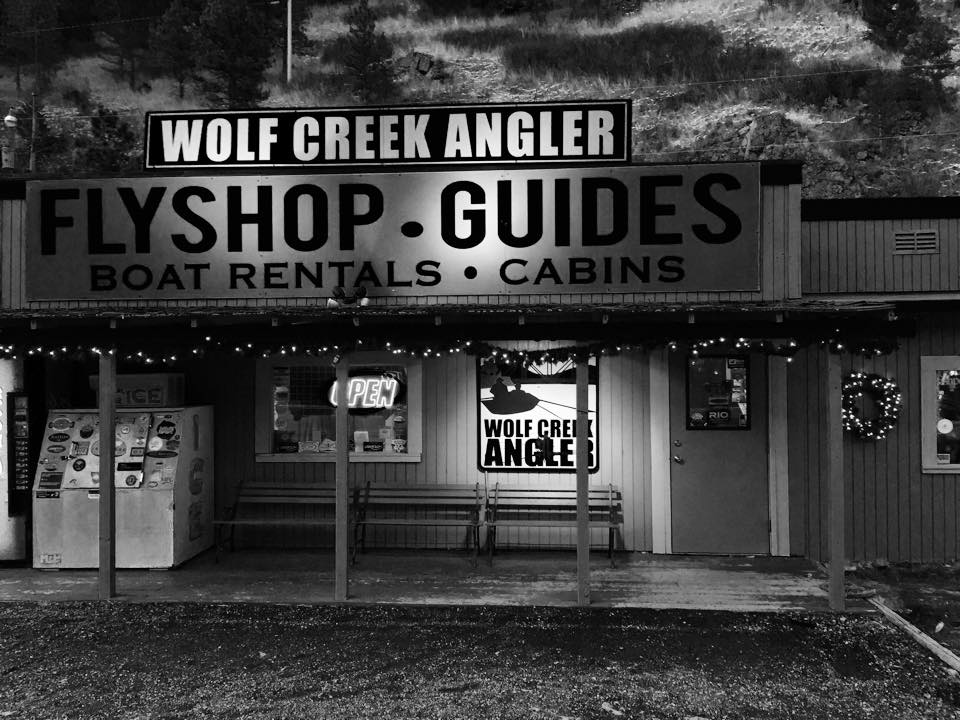 As of today there are 16 days shopping days remaining until Christmas.
Have you finished your shopping?
Have you even started your shopping?
If you're looking for some fly fisher appropriate gifts we'd love to help you out. We've got something to fit just about any budget and best of all, we've got some amazing deals happening now through the end of the year.
Deals include, but are not limited to, 20% off all fall and winter sportswear and outerwear as well as waders and boots; 25 % off all rods and reels and a free ARC fly line and backing with the purchase of any rod and reel combo (That's an $80 value); 50 % off all remaining summer sportswear and 20 % off all lines, leaders, tippet and flies.
These are just a few of the deals happening now through December 31st at WCA.
We've definitely got something for everyone on your list and we'd love to help you find that perfect gift. Here are just a few ideas.
Simms G3 Stockingfoot Guide Waders
$549.95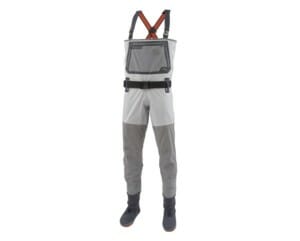 These are undoubtedly the go-to wader for the majority of our guides and are the wader by which all others are measured.
Time on the stream is time well spent. And with the G3 Guide™ Waders – Stockingfoot, those precious hours can be comfortable and well-ventilated. Utilizing new GORE-TEX® Pro Shell, the G3 provides optimal balance of reliability, breathability and all-day comfort. The G3 has all the in-river essentials you need, with legendary Simms durability that can stand up to heavy use in rugged conditions. 3 chest pockets provide ample storage and hand-warming zones, while sore feet are a thing of the past with anatomically designed neoprene stockingfeet with a funk-fighting anti-microbial finish.
• Durable, breathable & comfortable GORE-TEX® Pro Shell 3-layer upper & 4-layer lower
• Top access zippered stretch pocket plus zippered, reach-through micro-fleece lined hand-warming pockets
• Attachment zipper for flip-out Tippet Tender™ pocket with retractor docking station & tippet spool sleeves
• Built-in low-profile belt loops with 2 in. stretch wading belt included
• Patented front & back leg seams deliver articulated fit, improved mobility & increased durability
• Patented abrasion-resistant built-in Gravel Guards with boot hooks
• Anatomically engineered neoprene stockingfeet with anti-microbial finish
• Custom options available
FABRIC TECH: 3-layer GORE-TEX® Pro Shell in upper; 4-layer GORE-TEX® Pro Shell in seat & legs
WEIGHT: 45 oz. (1275.8 g)
Korkers Darkhorse Wading Boot
$189.99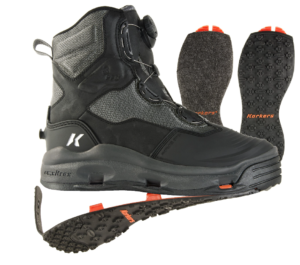 Korkers Darkhorse Wading Boot w/ Kling-On and Kling-On felt Soles is a fishing boot that is durable and functional. This boot comes with kling-on and felt kling-on soles.
• Traction: OmniTrax interchangeable sole system adapts traction on these boots to any fishing condition
• Closure System: BOA M2 lacing system for quick on/off and custom fit
• Fast Drying: Hydrophobic upper material with ultra abrasion resistance and tonal camo pattern
• Molded TPU toe cap for toe bump protection
• Protected stitching for longer thread life
• Internal Drainage: Water flows thru internal channels then out midsole ports, removing excess water and weight.
• 3PFS Achilles stabilization for the superlative fit and function.
Simms Coldweather Shirt
$119.95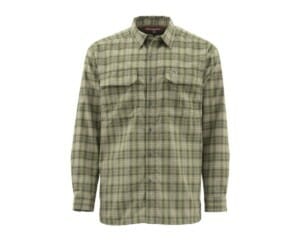 Hands down – our favorite winter shirt.
A hardworking mainstay featuring the boosted warmth of waffle-lined micro-fleece internals. Quick-dry performance and chafe-free, off-shoulder seaming for added comfort. Stash gear in two cargo top load pockets to stay on the water until last light.
• Flannel, waffle fleece‐lined shirt to keep you warm during winter fishing
• Two fly box compatible chest pockets with hook and loop closure
• Off‐shoulder seams for comfort
• Slight drop tail
• Resized in 2018 for a better fit
FABRIC TECH: 100% Polyester flannel, 100% Polyester waffle fleece
Loop Evotec Cast Rods
$475.00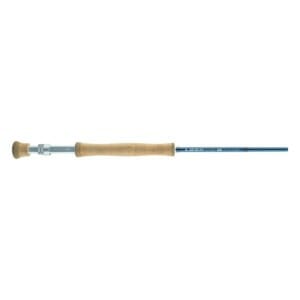 EVOTEC CAST FAST ACTION SIGLE-HAND RODS
Fast action progressive casting styles mean pushing for the limits of performance in modern day fly fishing. Finished in deep pearlised blue, Evotec CAST Fast fly rods are available in single-handed models for both fresh and saltwater fishing and double-handed models for the pursuit of anadromous fish. Evotec CAST Fast fly rods deliver flies quickly to the taking zone without compromising on the positive 'feel' response that anglers have come to expect from LOOP fly rods.
Redington Path Fly Fishing Outfit
$199.99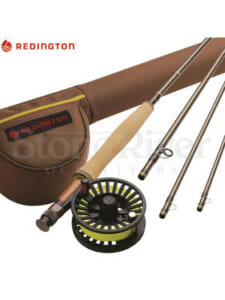 Ready to fish!
The new PATH rod is a smooth-casting, medium-fast action graphite fly rod, offering classic performance for all levels of anglers. Rods through 6 weight have a half-wells handle with a wood reel seat for a classic look and feel, and 7 weights and above feature a full-wells grip with anodized aluminum reel seat that is ready for salt or fresh water conditions.
• All water, moderate-fast action rod
• Wooden reel seats on rods weights through 6 weight models
• Durable anodized aluminum reel seat on rods 7 weight and above
• Alignment dots for easy rod setup
• Durable cordura rod tube with built in rod dividers
• Combo includes: PATH rod, CROSSWATER reel pre-spooled with RIO Mainstream WF fly line, and cordura rod tube
• Lifetime warranty *rod only
LAMSON LIQUID 3-PACK FLY FISHING REEL & SPOOLS
$169.99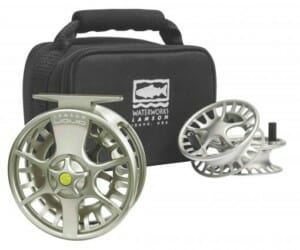 All together now. The Liquid 3-Pack includes one Liquid reel and two spare spools in a nylon carrying case all for the price of one reel and one spool. Liquid offers everything you need in a fly reel at an absolute bang for your buck—and this new combo pack opens up easy interchangeability for the multifaceted angler at even more of an extreme value.
Fishpond Cross-Current Chest Pack
$149.95
THE CROSS-CURRENT CHEST PACK IS DESIGNED TO KEEP ALL YOUR ESSENTIALS AND BOXES ORGANIZED, KEEPING THEM HIGH ON YOUR BODY AT THE READY.
When the fishing is hot there is a lot going on and you have to be able to multitask to keep up with all the activity. The Cross-Current Chest pack is designed to keep all your essentials and boxes organized, keeping them high on your body at the ready. Slide your net out of the integrated net slot, scoop your fish, release it, grab your dry shake out of the magnetic drop down workstation, and get back those moments we all love to celebrate.
FEATURES
• Compatible with all Fishpond backpacks
• 210D Nylon Cyclepond Fishpond fabric
• Front magnetic closure pocket for small fly boxes, pucks, and other quick access items
• Front main zippered storage compartment for large fly box storage
• Two small stretch mesh pockets on the front for quick access items
• Exterior VELCRO® attachment for foam attachment (foam patch included)
• Exterior Hypalon® tabs for tool and accessory attachment on each side
• Integrated net slot on backpanel holds a long handle net
• D-ring on top center back for attaching a net release for short handle nets
• One large pocket on the backpanel with a zippered entry on each side
• Magnetic front pocket has velcro interior on one side, and 4 small stretch mesh pockets for organization
• Main front zippered pocket includes one interior zippered pocket
Rising Lunker Net
Starting at $159.99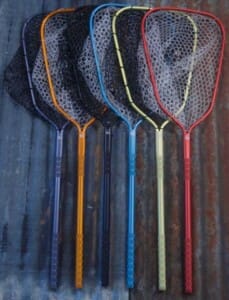 With three handle lengths to choose from and available handle extensions these nets have become the go-to amongst our guides. The 10" and 24" handles make for great wading nets and the 38" net is the perfect boat net. The 14" handle extension converts any net to the next model up so no need to buy multiple nets.
Stocking Stuffers A Plenty
$$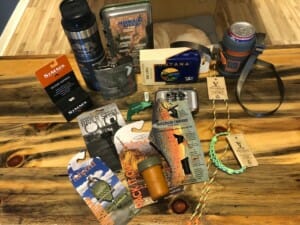 We've got piles of unique stocking stuffers…From flasks to lanyards to fly boxes to tools and accessories and more, we've got something for all the fly fishers on your list.
Wolf Creek Angler Gift Cards
$-$$$
Not sure what to get them? Wolf Creek Angler Gift Cards are the perfect option. They are available in any amount and good for anything we sell.
Can't find the time to make the trip to Wolf Creek? No problem. We're happy to ship anything anywhere. Just give us a call and tell us what you need and we'll take care of the rest.
Happy Shopping!