It's no secret. If you follow this blog and others covering the Missouri River and Montana fly fishing in general then you know that this has not been one of our better fall seasons.
The weather has been unseasonably cold and the fishing did in fact start slow. Fishing has picked up but business has remained slow. The consensus is that once we had our second or third winter weather event earlier in October people pretty much pulled the plug on fall fishing plans…and who can blame them?
Dealing with cold weather conditions when you're fishing is one thing in March when we're coming out of months of winter's Deep Freeze but when we're only a few weeks beyond the end of summer frozen guides and frozen fingers are a little tough to take.
I know, I Know…Forget the Forecast right? We've got gear to cover any and all conditions and to theoretically remove adverse weather from the equation. Maybe I'm getting soft in my old age but to me the prospect of battling through extreme weather to fish for trout becomes less and less appealing every year.
Now that's not to say that I won't fish in cold weather. I most definitely will but the cold weather parameters in which I'll fish have narrowed considerably to the point where it's a safe bet that if the temperature is less than 28 degrees it's going to need to be otherwise perfect or I'm likely not going. Throw in some blowing snow and wind, especially a north wind, and I'm out.
Part of this has to do with the fact that I'm blessed with the opportunity to pretty much fish all winter long so I can pick and choose my days. I understand that this isn't the case for everyone and I appreciate and applaud those who stick it out and fish through it, whatever "it" may be.
If you've made your fall fishing plans well in advance and it happens to be cold and snowy when your flight arrives in Montana then you've got a choice of either battling through or sitting in your room and waiting it out. I get it, and once again, I respect and applaud those who battle through it.
Two weeks ago one of our fall regulars who comes every October from Maine arrived to the coldest conditions we've seen this fall and he didn't miss a beat. Snow, Wind, Cold…nothing stopped him. He bundled up and did his thing and caught plenty of trout and was even rewarded with the "best BWO day he's ever had here". You're a legend Bob!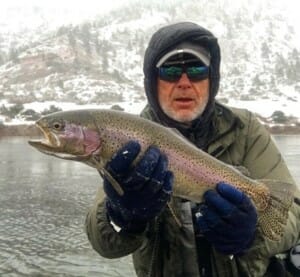 I on the other hand was content to sit in the shop and count flies and wait for a better day but as Bob proved, sometimes even the most miserable conditions can end up being amazing days on the water.
Truth be told, for me it's getting up the motivation to go. Once I do that, I'll fish through some pretty gnarly conditions. It's just a matter of overcoming the temptation to stay inside where it's warm and the wind is not beating you up.
Once out there it's rarely as bad imagined and once you throw a couple of good fish into the mix it makes it all worthwhile. But what about when it is as bad weather wise as you had imagined it would be and there are no fish in the mix? Well, as I found out recently, depending on the company you keep, it's actually possible to still have an amazing day on the water.
It ended up being a great lesson for me because when you're immersed in this industry culture you tend to drift from some of those attitudes and ideas and states of mind that brought you here. It's important to not only fish, but to connect with friends while fishing so that you can rediscover the magic that drives our business. The magic involved in planning a fishing trip with your friends and then spending amazing days with people you love doing what you absolutely LOVE doing which is fishing.
Weather be damned. An outing with your best fishing buddies has a way of emboldening no matter what the conditions to the point where you magically might not even notice the weather. Despite the fact that I have the tremendous blessing of being surrounded by this magic all season long sometimes the grind can cause a disconnect. I've said it before and I'll say it again, being a part of your fishing experience…of your Magic, is an honor and a privilege and there's no better job in the world than the one that I have. I truly believe this and any time I feel the drift I can step back and snap out of it and realize just how lucky I am.
That being said, it's one thing to acknowledge and realize how blessed I am to do what I do for a living, but it's an entirely different thing to reconnect as a participant rather than as just an observer and that's exactly what I was able to do several times this fall which has got me high on fishing again, more so than in quite some time.
I don't want you to misunderstand me. I absolutely LOVE to fish and I fish A LOT. Usually at least twice a week, and more often than not I fish alone. It's how I decompress. It's how I strategize. It's how I get my head straight and I love every minute of it but it does lack fellowship and camaraderie and while I usually don't think too much about such things any time I have the opportunity to fish with others I'm reminded of just what a critical element of the overall experience these things can be.
Two weeks ago I headed down to the Yellowstone for my annual fall streamer trip. I've been doing this trip for five or six years and the last several years it's really blossomed as it's become just as much about hanging out with friends I don't get to see often as it is about fishing.
Just prior to leaving Helena my friends sent me a picture of the river…the slushy, icy Yellowstone. For about three seconds I considered bailing but thought better of it and made my way to Mammoth. The river was full of ice flow from Livingston to Yankee Jim but looked better from Yankee Jim to Gardiner so our plan was to float the top stretch.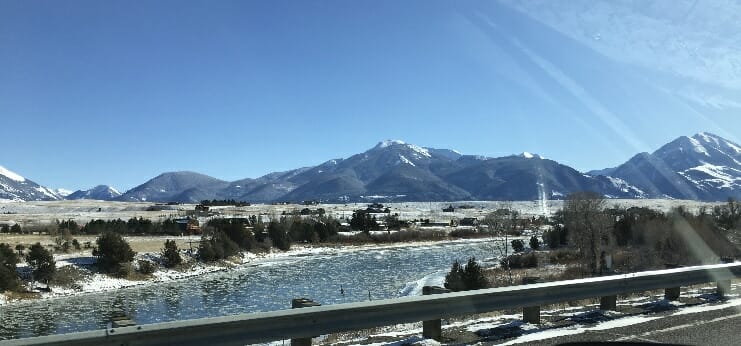 We awoke to temps in the teens but it was calm in Mammoth. As we entered the valley however the howling wind became apparent and worse yet, the river was now full of ice flow from Gardiner down leaving us with no options to float the Yellowstone.
Brent and Sara suggested we go fish the Madison between the lakes, a stretch of water I'd never fished but about which I'd heard plenty of stories of giant browns caught on streamers. We made our way through the park which was pretty well absent of any traffic. It was a beautiful ride. I'd never been in the park when it was this snowy or this empty so I thoroughly enjoyed it.
When we got to the river the temperature was hovering right around 20 degrees and snow was beginning to intensify. We suited up and hit the water and proceeded to freeze for a couple of hours. Frozen fingers and frozen gear but awesome looking water nonetheless. A few tailing fish here and there. I had a brief battle which I lost and Brent nymphed up a couple of whiteys….that was it for the fishing but disappointment was the furthest thing from my mind as it was an awesome couple of days hanging out with a couple of my favorite people in one of my favorite places in the world.
A couple of weeks prior I had journeyed with the family to Calgary for a long weekend. We went to check out a Wings and Flames game and to spend some time checking out a city we've come to enjoy immensely. Prior to our going I had reached out to a fishing contact I knew in the area to ask about streamer fishing on the Bow.
Dana Lattery www.flyfishingbowriver.com had paid us a visit at Wolf Creek Angler last spring and had told me that if I was ever in Calgary I should look him up and he'd take me fishing. We all say this a lot in the business and it's usually sincere, but it rarely comes to fruition.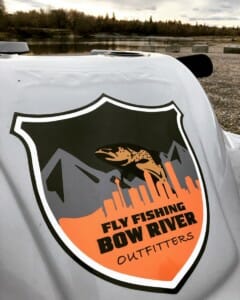 Dana responded as promised and we ended up spending a great day floating the Bow and getting to know each other. We talked shop and began to put together plans for future group trips going both ways. It seems everyone likes to visit different water on occasion and the relatively close proximity of the Bow River to the Missouri River make for the perfect fly fishing exchange.
Fishing was marginal but hanging out on new water with great company was a highlight of my fall fishing experience.
So a little bit of rambling on here but the point of all this is that in spite of less than ideal fishing conditions this fall I've had some great fishing experiences which I wouldn't trade for anything. A busier late season at Wolf Creek Angler would have been nice but these are the ebbs and flows of business and besides… it ain't over yet!