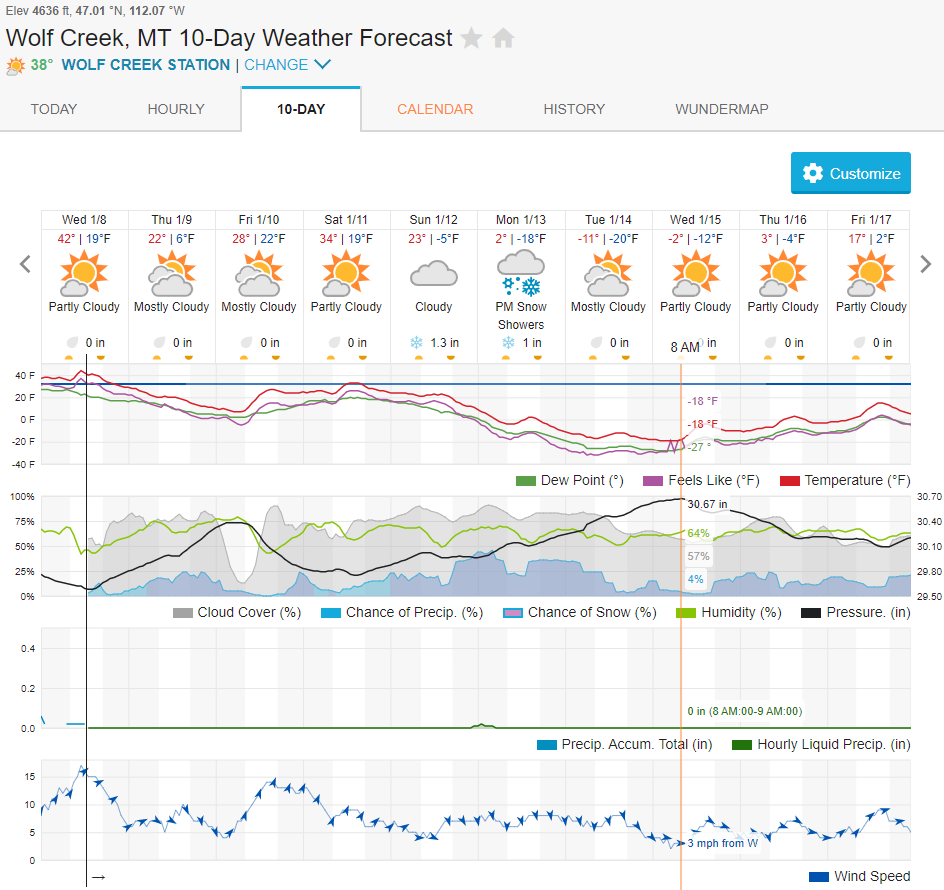 Well it had to happen sooner or later.
Following weeks of mild weather with well-above average temperatures winter is about to arrive in Western Montana.
The 40 degree days we've been enjoying are soon to be replaced with single digits so count yourself lucky if you were able to make it out fishing over these past several weeks and if you didn't you've got a couple of days left before the arctic blast hits.
Today looks to be the last best day but temperatures will linger in the 30's for the next couple of days before plummeting into the teens on Sunday and colder yet early next week. The coldest day looks to be Tuesday with a high of -8 and a low of -17. It starts to tick upward later in the week and looks to be back to around 20 by next Friday. We'll see if that turns into a warming trend or not but I wouldn't plan on doing any fishing next week.
We've been getting a lot of calls from folks wondering if there is any ice on Holter Lake (which there isn't) but that's likely to change next week. We'll keep you posted.
For those looking to make it out before the cold hits you need to know that the past couple of days have been the best nymphing action we've had in weeks. We can't promise you that this will continue to be the case over these next couple of days but I think there's a good chance it could be.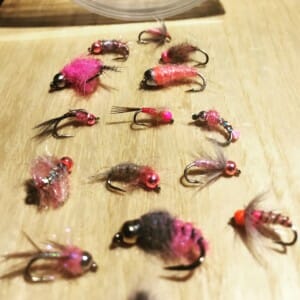 Winter bugs, winter water….as easy as it gets.
We did our first guide trips of 2020 yesterday and the day did not disappoint. This same group fished with us on January 3rd of 2019 and had a similar day so they really know how to hit it right.
Wolf Creek to Craig, deep buckets, pink bugs, hungry trout, and rods bent. That is the report from yesterday and the previous several as well.
Days like these make winter nymphing the worst kept secret on the Missouri. The wind can be a nuisance but outside of that, when it's on like this it doesn't get much easier. The choice of bug is typically not critical. Pill Poppers, Pederson's Sow, Amex, Bubble Yum, Cotton Candies, Tailwater sows, Caviar Scuds…all the same stuff we've been pushing for the past month or so. Again, when it's ON the specific bugs don't seem to matter all that much which makes it nice because you can roll with the same rig all day rather than feverishly swapping out bugs and racking your brain trying to figure out what they want.
Run deep in the buckets with a bb split or two and hot spot your way down.
We did see a few folks around yesterday but for all intents and purposes the river is VOID of traffic which is another reason winter fishing can be such a blast.
Again, we can't promise you great fishing every day but at just $400 for a guide trip  you can't beat the price and as is always the case with winter trips, if the weather turns or if you simply change your mind, no harm no foul…NO CANCELLATION FEE! You won't find a better deal ANYWHERE so why not book a winter day on the MO with us now? You've got absolutely nothing to lose.
If you prefer the wait and see approach that's ok too. We can generally accommodate your request with as little as a day's notice. Keep in mind we can also provide quality lodging at an affordable price so you can spend your time on the water, not on the road. $99 (plus tax) for a cozy bungalow with full kitchen and private bath. Bungalows sleep three very comfortably.
Hunker down for the coming arctic blast and then make a plan to get out and fish the Missouri this winter when things warm up.
We have shifted into our winter schedule at the shop. We're open from 8:00 AM – 3:00 PM Wednesday – Saturday and 9:00 AM – 1:00 PM on Sundays BUT there's a very high probability that we will be closed on days when the temperature is at or below 20 degrees so please call ahead on those really cold days if you're planning on us being open.
Accordingly, we will likely be closed most of next week or will just be here for limited hours.
That being said, we are open for lodging and guide trips EVERY day and calls are forwarded when the shop is closed so don't hesitate to give us a call any day to book.