And just like that summer (and big water) arrived.
Here we are with but a week left in the month of June which doesn't seem quite possible but alas, it is so.
These last couple of weeks have been as good as it gets for PMD's and the Caddis have been making a strong showing as well providing a wealth of opportunities daily for the dry fly angler. A week ago water conditions were optimal with flows at around 6500 CFS and no expectation of increases.
Fast forward to today and we're sitting at 9300 CFS with a couple more bumps on the way this afternoon and tomorrow which will likely take us to around 10,500 CFS. Needless to say, those here for the wade fishing are not pleased.
Thanks to a bunch of rain and a substantial snow event in the high country last week the SNOTEL chart is once again in play. Canyon Ferry Reservoir is currently 100 percent full so it doesn't look like there will be any shortage of water on the MO in 2020.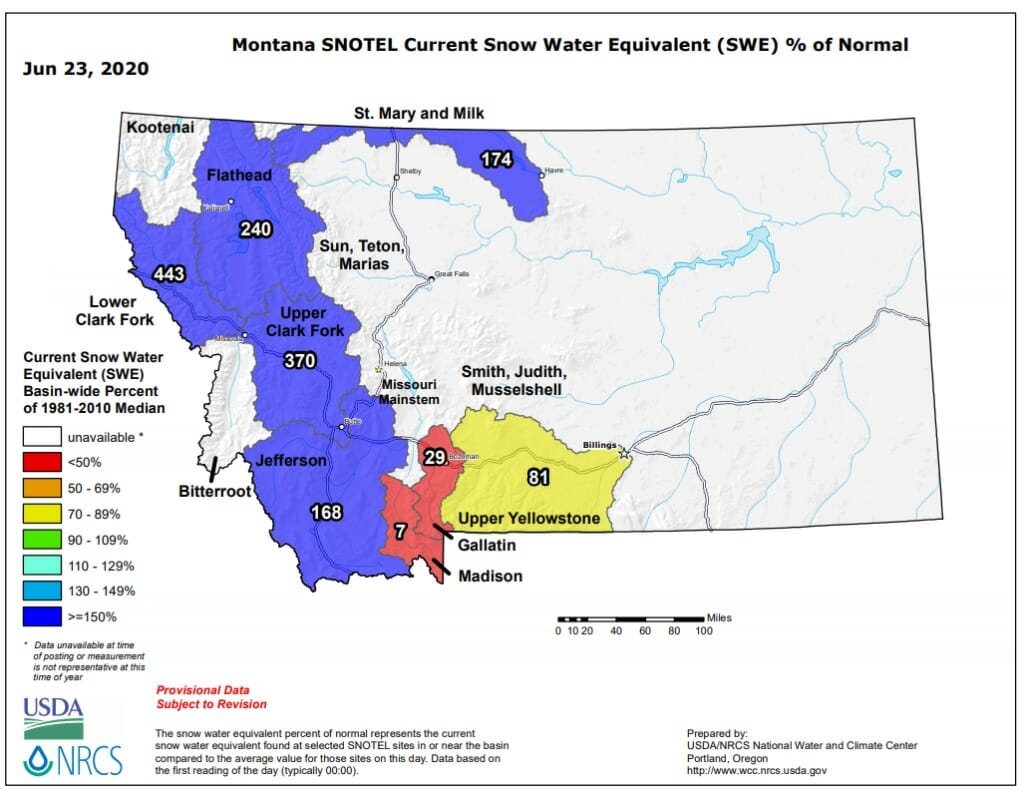 So what's that done to the fishing?
I haven't heard a report post 9000 CFS but with things on the rise yesterday we found ample dry fly opportunities in the Craig to Mid stretch and from what I understand the caddis in the canyon yesterday evening hearkened back to days of old. Hopefully more of this to come!
This past week also seems to have ushered in the Prime Time traffic and while it may be short of what we are used to seeing in late June it's a drastic change from what has been. The river is busy, the ramps are bustling with activity, the restaurants are full (by Phase two standards) and traffic in the shop is steady all day every day.
There are a lot of folks around right now coming from all corners and while we're thrilled to be doing something close to normal business we are mindful of the fact that the Coronavirus is still a thing and we're still having to operate with restrictions in an effort to prevent the spread.
Our "new normal" routine includes cleaning and disinfecting the shop throughout the day. We're masked up and we're strongly encouraging our customers to wear masks in the shop as well. Our housekeeping procedures continue to reflect the seriousness of the present circumstances and you should know that we are continuing to make the safety and health of our employees and our customers and guests our number one priority.
Our guides continue to take extra measures to clean and disinfect boats and equipment as well as their vehicles and while we're confident we can safely deliver you to and from the river in our guide rigs, you are always more than welcome to meet us at the put in and have your vehicle shuttled to the takeout if you don't feel comfortable riding in our vehicles.
We've definitely observed a softening of adherence to safety measures among the public over the past couple of weeks as things continue to open up and as we move towards what is actually beginning to feel like "normal" but we encourage you to remain vigilant. Case numbers continue to increase in many areas of the state, likely due in large part to the tremendous increase in testing but that being said, people are still getting sick so we're 100 percent committed to doing everything in our power to keep this thing held in check and keep our shop and lodge open and our guides on the water.
Hot and sunny summer days on tap this week through Saturday. We'll see things cool down again and likely some precipitation starting Sunday and into the first part of next week.
Lodging and guide trips are in full swing right now and the phones have been EXTREMELY busy with folks looking to book dates later this summer. We are approaching our busiest time of year but we do still have some holes in the schedule due to cancellations.
Give us a call if you're interested in a trip to the MO this summer and we'll see if we can make it happen.