The Pat Barnes Missouri River Trout Unlimited Chapter  hosted the annual State of the Missouri earlier this week at Montana Wild in Helena.
FWP Region 4 Fisheries Biologist Jason Mullen once again presented summary data for both the Missouri and Smith Rivers as well as updates on various special projects in the region.
This is always a highly anticipated and generally well-attended program which covers everything from fish counts to flow data to angler days.
A big thanks to Jason Mullen for his willingness to share this data with us. All data and graphics are pulled directly from his presentation.
Fish numbers were slightly down last year in both the Craig and Cascade sections. The Craig section is the 5.5 miles from Wolf Creek Bridge down to Craig while the Cascade section is from the power lines above Pelican Point down to Cascade.
The figures indicate fish greater than 10" per river mile. Craig rainbows came in at 2,860 while browns totaled 390 per mile. Both are slightly down from 2018 as well as slightly below the average of 3,391 rainbows and 568 browns per mile.
Cascade rainbows came in at 1104 with browns coming in at 238. These numbers were roughly on par with 2018 and below the averages of 1588 and 390 respectively.
Size wise we're still looking at pretty incredible average size with the majority of fish in the 16" – 19" range. In 2018 we saw an abundance of 12" and 13" browns in the Craig stretch, not much for those in 2019.
One of the most encouraging slides of the presentation every year is the one indicating Relative Weight or overall weight in relation to length and while I'm not exactly sure what comprises this figure the healthy target according to Mullen is in the range from 95-105 and as you can see the Missouri supports a very healthy population, and has for some time. This Relative Weight, more than anything, is what keeps you coming back. It's what makes that 16" bow take you into your backing.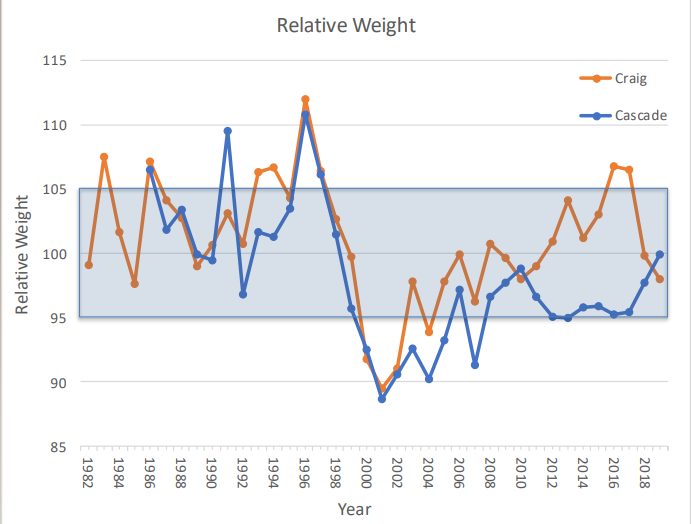 Switching to flows – we had a good water year in 2019 with flows peaking at around 11,500 CFS in April and holding nicely between 5 and 6,000 CFS throughout the summer season. The only thing that could have made this better would have been a couple of days of flushing flows at 15K plus but we're not complaining. 5-6K throughout the summer is just about as close to perfect as you can get.
How busy was the MO?
170,736 angler days (2017 data) ranked the Missouri River number two in the state behind the Madison which reported 207,334 angler days. Busy for sure but down from the 183,479 angler days in 2015 which ranked us number one in the state.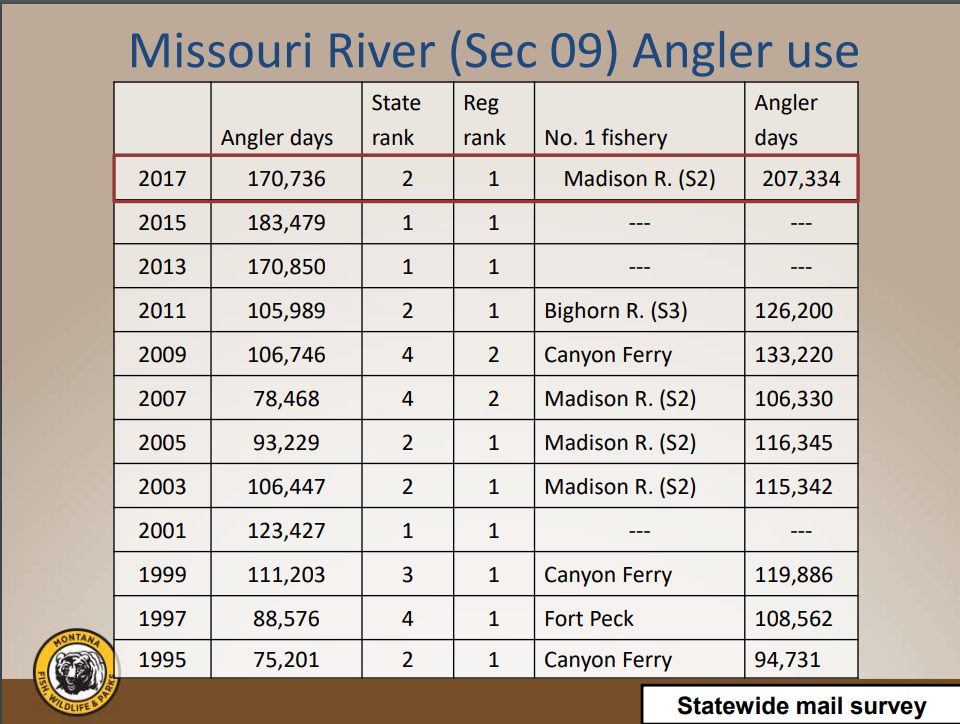 This was roughly a 50/50 mix of resident and non-resident anglers and generated an estimated $61,082,010 in revenue for trip-related expenses.
Fishing is, and will continue to be, a HUGE part of Montana's economy and we feel incredibly blessed to be a part of that economy.
That is why we take none of it for granted and we work overtime to protect and conserve the resource. We are so thankful to FWP and DNRC for the work that they do and we encourage everyone who enjoys and takes advantage of this incredible resource to join or contribute to organizations such as Pat Barnes Trout Unlimited, Missouri River Flyfishers and UMOWA.