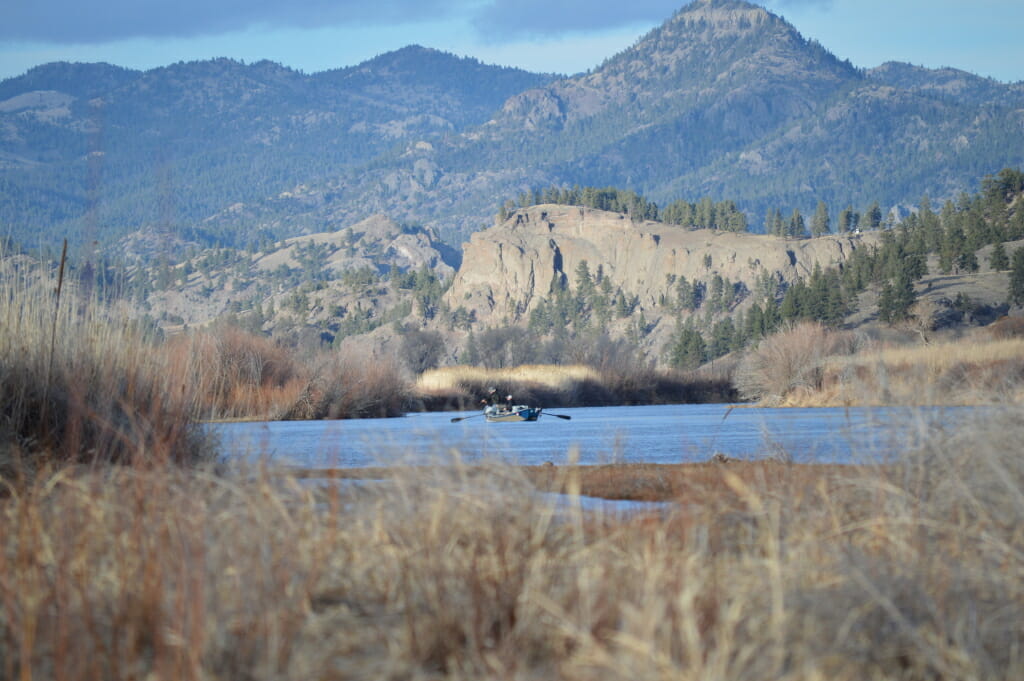 The January Thaw continues this week.
If you're looking for a Missouri River Winter Trout Fix this is your time!
Weekends have been busy by January standards and with temps expected to break 60 degrees on Saturday, I'd expect some company out there. That being said, as you might expect with that warm air usually comes wind and it sounds like that will indeed be the case on Saturday with a predicted southwest wind 18-22 mph, gusting to 47 mph.
Could make for tough fishing conditions but we won't likely feel 60 degrees again for quite some time, at least let's hope that's the case. Snow pack is still good, it could be better. Let's hope for some winter following this warm up.
Despite the warm air, it's 100 percent Winter Fishing on the MO right now with water temps still hovering around 34.5 degrees and flows holding steady at around 4600 cfs. The fish are holding in the slow, deep winter runs, though some of these are producing much better than others. Go pink, go deep and make sure you're covering the whole run. Sometimes, if you're lucky, the fish are widely distributed in the run and are relatively easy to locate. Other times they may be in the narrowest of slots and can often times prove almost impossible to find. That or they simply aren't eating but generally speaking, if you spend enough time picking these spots apart you should be able to get a few to eat.
We've gotten a lot of calls about streamer fishing this week and if you know me you know I'm going to tell you it's ALWAYS worth trying but stick to the nymph rigs if you're looking for numbers. Swinging the tailouts has been moderately effective as has a painfully SLOW strip with ample pauses through the slowest of the slow, lakey spots. Clouser type minnows, kreelex, buggers and polar leeches have all been effective. Not so much on the larger, flashier patterns but as always, fish the patterns you believe in. They'll out fish any HOT fly any day. It's amazing what a difference a little faith in your fly makes in the way you fish it. The fish notice and respond accordingly. Other times they don't.
Midges daily accompanied by sporadic rises but the seemingly ever-present Missouri River winds are shutting this game down more often than not. Keep the dry fly rig handy just in case.
What you need to know as you plan your rapidly approaching Super Bowl weekend…
Wolf Creek Angler is your winter one-stop shop on the Missouri…no need to go anywhere else. We've got you covered with the best winter lodging and guide trip deals on the river and a shop FILLED with stuff you need and deals you can't afford to pass up.
Lodging – $99 (plus tax) for a spacious bungalow with full kitchen facilities (pots/pans/dishes/utensils all included) and private bath. Two twin beds and a pull-out full size sleeper sofa sleep 3 extremely comfortably. A rollaway will accommodate a fourth but four gets a little tight.
Winter Guide Trips – Just $400 for a full day for one or two anglers. Book two days and we'll throw in a second night of lodging for FREE! Try to find a better deal than this….you won't!
Mid-Winter Sale
We're in the midst of our mid-winter sale in the shop. 25% off ALL RODS AND REELS and a FREE ARC fly line with purchase of any rod and reel combo.
30% off all winter sportswear including Simms Coldweather shirts and guide flannels.
50 % Off ALL REMAINING 2019 warm weather clothing. Guide pants, guide shorts, select sun hoodies and more.
It's late January in the fly shop and there are deals to be had!
Shop hours 8:00 am – 3:00 pm Wednesday – Saturday, 9:00 am – 1:00 pm Sundays. Those are the published hours but with this nice weather we've been in the shop every day. Full disclosure, we've not been able to run shuttles since Chewy broke his leg in December but we will ALWAYS make the call for you to book your shuttle with another shop so you don't have to make another stop prior to hitting the water.
As always, we're open for guide trips and lodging EVERY DAY.
PBTU Ice Bowl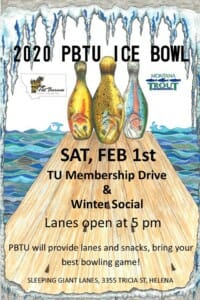 If you're in Helena and are looking for something to do on Saturday evening we invite you to join us for the Pat Barnes Missouri River Trout Unlimited Ice Bowl TU Membership Drive and Winter Social at 5 PM at Sleeping Giant Lanes. Pat Barnes TU will be providing the lanes and snacks for all in attendance.
Super Bowl Sunday
The shop will be open in the morning but we will likely be closing early as the festivities commence. Another NFL season soon to be in the books. Yet another struggle for my Detroit Lions. Maybe next year…in the meantime
Go Chiefs!