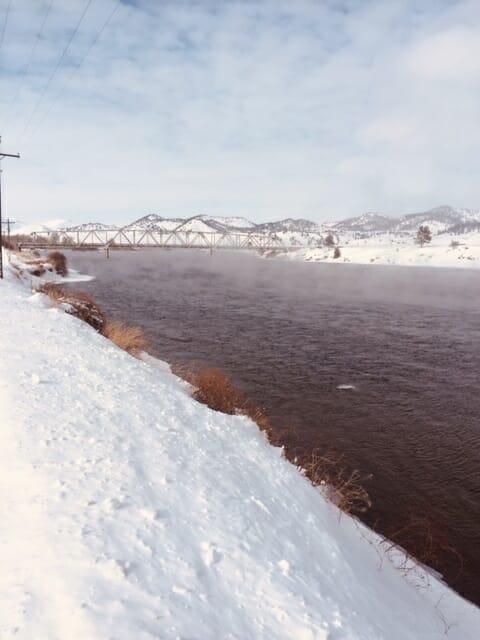 As we sit through our second winter storm of the fall today it seems like a good time to talk about trip insurance.
Early October is traditionally a great time to come fish the Missouri. Sometimes it's not!
We started the day yesterday at around 60 degrees and by early afternoon temps had dropped into the 30's. With a Winter Storm Warning in the forecast for Tuesday afternoon through midnight tonight it was quickly determined by clients and guides alike that it would be best to set this day out.
This isn't always the case however and unfortunately if the guide/outfitter decides the conditions are fishable then the clients are on the hook to either fish or forfeit their deposit.
With more snow, temperatures below freezing and a stiff north wind in the forecast today's conditions are bordering on extreme. And while there will undoubtedly be some folks on the water today I think most guides are more than happy to sit this one out but what if they weren't?
A couple of degrees warmer and a little less north wind and it's fishable….probably not pleasant, but fishable nonetheless.
This late in the season we're closing in on the home stretch and just like the roaming bears currently packing on calories in preparation for a long winter hibernation those who make their living in this business on this river are trying to stash as much money away as possible to make it through until spring.
Losing a day of pay is not optimal for any of us and while we understand not wanting to fish in adverse conditions the fact of the matter is we book dates well ahead of time and hold them and if we weren't holding them for client X we'd be holding them for client Y. Ideally those days come and go and they're all beautiful weather and perfect fishing conditions but we all know this isn't the case.
Cold and snow are always a possibility in the spring and fall and wind is ALWAYS in the mix, no matter what time of year. Summer days can be HOT and rainy and smoky and weedy. Water can be high, water can be low. Fishing can be hot, or not. We have zero control over any of these factors and while you can choose your dates based on historical data you simply never know what you're going to get.
Let me make one thing clear. There are conditions which are hazardous and client safety is our number one priority. We won't fish in lightning and we won't fish in extreme cold or extreme wind. Our guides have all been instructed that if there are any conditions they are not comfortable with then they are not to go, regardless of whether the client wants to go or not. We will make the call if we deem the conditions unsafe and in these cases clients will receive a full refund.
More often than not however the conditions are not hazardous, they're just not ideal. Rain, snow, wind, high water, low water, cold, heat, smoke…they can all make for tough fishing. We get a ton of calls from clients looking at the crappy forecast and asking if they can move their days. The answer is NO. Your guide is likely booked every day so it's simply not as easy as waiting for a nice day.
Again, we understand not wanting to fish in nasty weather and we probably wouldn't want to fun fish in these conditions either but the bottom line is we have a relatively short time in which to make our living each season and the nature of the beast dictates that we hold fast to our somewhat stringent cancellation policy. Sometimes we get clients who reluctantly fish through it, other times we get those who refuse to go and forfeit their deposit. There's not an abundance of joy and happiness in either situation.
But what if there was a way to insure against not only unforeseen emergencies but also crappy weather or just a change of plans? What if there was a way to make sure you wouldn't lose your deposit AND your guide/outfitter would get paid?
Well it just so happens there is such a thing. It's called Trip Insurance and we offer it to all of our clients whether they're doing guide trips and lodging through us or simply staying with us and fishing on their own.
It's the same story with our lodging as it is with our guides. We've got a limited number of rooms and they book up early which makes them unavailable. A last minute cancellation for a week of lodging during prime time can be devastating to us as the likelihood of re-booking the room with such short notice is minimal. Once again, if we're holding lodging dates we need to be paid for those dates.
Our travel insurance offered by IMG provides various coverages with three different purchase options which you can explore here. We recommend the premium Travel LX plan which covers up to 75% of the cost of the trip for cancellation FOR ANY REASON as outlined below and while the insurance is an additional expense it will cost you much less than losing your 50 % deposit.
As you can see, LX gives you blanket coverage for just about any situation but whether you purchase premium coverage or not we recommend you purchase some level of insurance for your sake and ours. Pricing is available here. Just enter your trip details and they'll take care of the rest.