Just when we were getting used to spring sunshine and temperatures in the 50's Mother Nature shows us again that she's in charge and she's not quite done with winter weather.
We're currently in the midst of a good soaking rain and under a WINTER STORM WARNING starting tonight, primarily for elevations above 5,000 feet where 6-12 inches of new snow is expected. We won't see that here but we're bracing for a cold, wet snowy day on the water tomorrow.
Lucky for you we've got plenty of Simms cold weather gear still hanging around the shop and better yet it's all 30 percent off!
And speaking of SIMMS – spring is definitely wader weather and there are no better waders in the world than Simms waders so if you're in the market for a new pair we'd love to sell them to you. We stock G3's, Freestones and Tributaries (something in every price range) and the boots to go with them and we're happy to order absolutely anything else you might want including boot foot models or G4's or G4Z's, which are the ultimate in wader technology and quality.
It's a busy week here at WCA in spite of the soggy weather. The west side blew out Sunday night bringing an influx of guides and outfitters and their clients in search of fishable water and it just so happens the Missouri fits the bill and we're happy to host the migration.
The river is fishing well, with the majority of traffic in the Holter Dam to Craig stretch. LPP and the Dearborn are adding some color but not so much that it's having a negative impact on the fishing. Most are opting to fish the clean side but don't be afraid to work the mud line with a worm and a sow bug or better yet a streamer if you are so inclined.
In my mind there is no better time to fish streamers on the MO than April and these soggy/cloudy/snowy days can be lights out. Sparkle Minnows, MK Ultras or Ultralites, Mojo minnows, Clousers, Skiddish Smolts…..angler's choice this time of year. Fish what you like and stick with it.
Nymphing the dam down is your best bet for numbers. The aforementioned worm and sow bug are key. Pill poppers, UV Crush, Caviar Scuds, Lucent Bead Rays, Soft Hackle Sows, Pinkalicious, Rainbow Czechs, Bubble Yums, Cotton Candies, Amex…..all good choices.
The water is still on the cold side at right around 37 degrees so the majority of the fish are continuing to hold in the deeper, slower water but we've picked plenty up in the transitional water as well so don't limit your options.
Flows have bumped to the 6500 range….we love 6-8K and the river does too.
It's game-time…are you ready?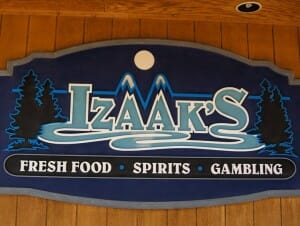 The Missouri River awakening continues this week as Izaak's opens on Thursday, April 11th for season number nine. We can't wait! Brisket Sandwich and Smoked Wings oh how I've missed you.
Izaak's will be closed on Mondays and Tuesdays for the time being but open for divinely delicious dinner offerings Wednesday-Sunday 4 PM – 9 PM. Dinner at Izaak's is a highlight of the trip for many and we are thrilled to have this world-class dining option here on the Missouri.
It's going to be a soggy week here on the MO but it looks like we'll see a return to more seasonable conditions by the weekend.
We've got lodging available for the weekend ($99 for a kitchenette, $75-$85 for non-kitchen rooms) and our $400 spring special guide trips are in full swing. Book yours today!