Following a week of subzero temps the forecast is calling for a bit of a respite these next few days with highs supposedly approaching the mid 30's today before dropping back into the 20's for the remainder of the week. Back to single digits on Sunday and then we're hoping for that warm up which will get us back on the water.
There's snow in the forecast for tomorrow and a chance of scattered showers and flurries throughout the week. The snowpack is moving towards average in most drainages so although it's still very early to say with any degree of certainty what the water situation will be this spring we're liking what we're seeing at this point.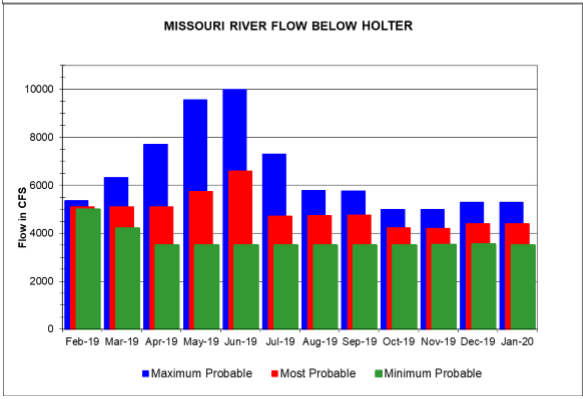 Current "most probable" flow predictions have us holding in this 5,000 CFS range for the next couple of months with a bump to around 6,000 in May and a peak of <7,000 in June and then back to around 5,000 for the summer season. If it plays out this way you really couldn't ask for better conditions for summer fishing. We wouldn't mind seeing a bit more of a flushing flow at the peak but following last year's 18-20K which kept the walk/wade crowd from coming and all but eliminated spring dry fly fishing, we're good with the busy spring that these flows would bring.
Max Probable predictions have us creeping up towards a peak of 10K before dropping into the 6-7,000 range for the summer while the Minimum probable has us dropping into the 3500 CFS range by April and holding there for the season. Fingers crossed that this won't be the case.
If you're brave enough to venture out this week wading is likely your best bet as the ramps and the parking lots have not been plowed. If you're wading there's a fair amount of shelf ice out there, mostly in and around that slow water you're going to want to be fishing so please use caution and also keep an eye out for those floating chunks of ice.
We're starting to do a brisk lodging business with the hard water crowd now that Holter is fishing well so if you do see a weather window coming and you think you'd like to come out and fish with us try to call well ahead of time as the weekend lodging tends to fill up by the middle part of the week.
The shop is open from 8:00 AM – 4:00 PM Wednesday – Saturday and 10:00 AM – 2:00 PM on Sundays, weather permitting. We're open EVERY DAY for lodging and guide trips and speaking of lodging and guide trips…don't miss our winter guide trip and lodging special. That's two nights of premium lodging and a full day guide trip for one or two anglers for just $500. You won't find a better deal anywhere.
It's been a lonely February so far at Wolf Creek Angler. Here's hoping for warmer weather and mild winter days on the water. We hope you make us your first stop on the way to the MO for lines, leaders, tippet and shuttles. Simms waders, boots and cold weather gear. Loop, Echo and Redington rods. Ross, Nautilus, Lamson, Echo and Redington reels and of course the largest selection of Missouri River flies ever assembled under one roof in Wolf Creek Montana.