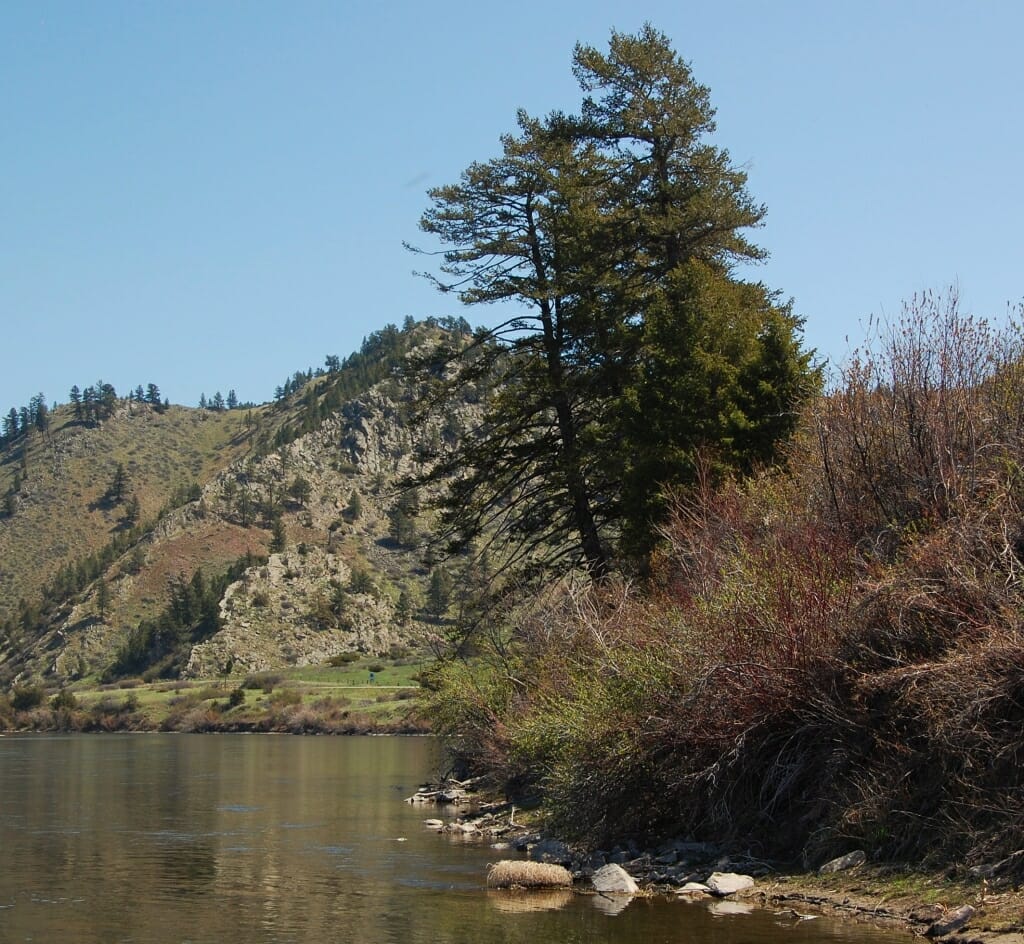 It's that time of year again when we take a closer look at current snowpack, long-term weather and precipitation forecasts, current flow conditions and current reservoir data at Canyon Ferry to come up with some kind of prediction of what you might expect to see for water conditions on the Missouri this spring and summer.
Five days into April we're still looking at snow on the ground in Wolf Creek, left over from last week's spring snow storm but heading into this week it looks like we'll be seeing some more spring-like weather with temps in the 50's through the middle of the week and possibly climbing into the mid 60's on Thursday before another cold front moves through next weekend. I would bet we haven't seen the last snowfall of the year but hopefully we're on our way to those warm, sunny spring days on the MO.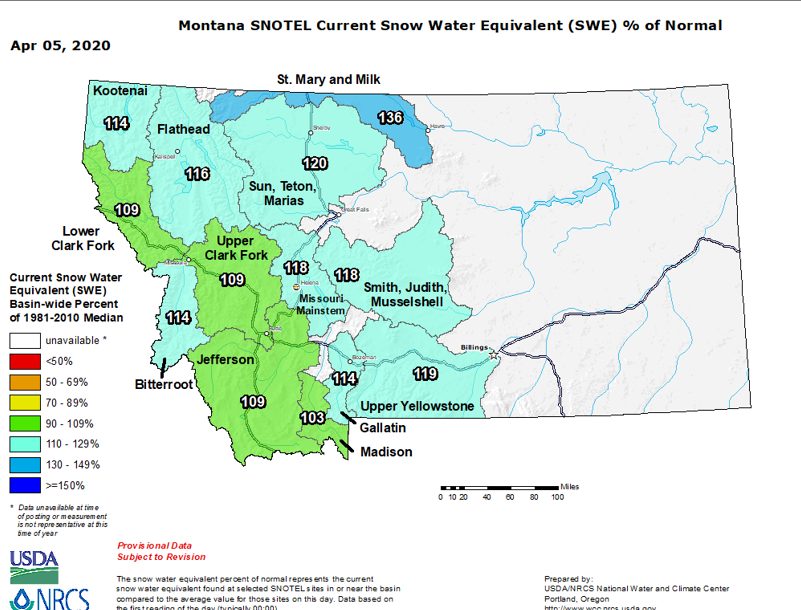 The snow water equivalent is looking good with everything in the region in the 100 to 140 percent of normal range and the majority or locations at right around 120 percent of normal. This is right where we like to see things at this point in the season though snowpack fails to tell the whole story. It looks good now but a sudden warm up could rapidly deplete that snowpack and leave us well below average and similarly we could still see plenty of high country precipitation accumulating and setting us up for the possibility of higher flows depending on what we see in the way of spring rains.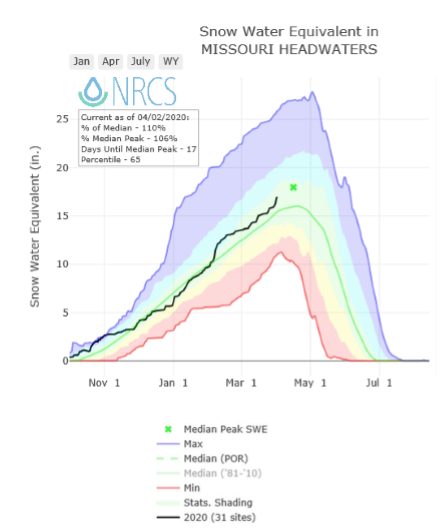 Missouri River flows below Holter Dam are currently at 5180 CFS and have remained relatively steady all winter in the 4500 CFS – 5000 CFS range. I would expect to see that pattern remain over these next couple of weeks and then tick up in late April as the spring flows begin to take shape.
Canyon Ferry is currently 73% full with inflows at 3395 CFS and outflows of 5283 CFS. March weather resulted in near normal precipitation, while cooler temperatures occurred throughout the Missouri River Headwaters.
The one-month outlook forecast, dated March 31st, is an equal chance for normal, above, or below normal precipitation and a 50 percent chance that below normal temperatures will occur during April in the Missouri Headwaters.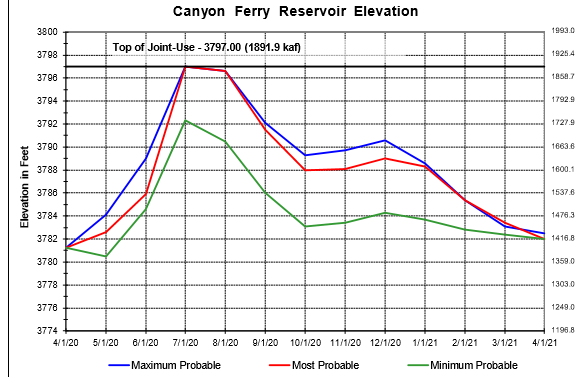 Based on these factors the current model for April is predicting most probable flows holding right about where they're currently at with the minimum probable at around 4500 CFS and the max probable at right around 6K. Not a lot of variation in April which will make for ideal fishing conditions.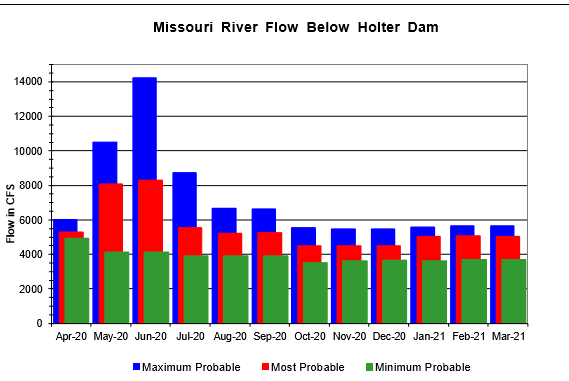 The show starts in May as run-off begins and while we're always hoping for at least a few days of flushing flows (over 15K) it looks like the most probable model has us bumping up to just 8000 CFS with the minimum being right around 4,000 and the maximum at just over 10,000 CFS which we would gladly take.
Looking beyond May this far out isn't all that practical but at this point the best guess is for most probable flows holding at that same 8K before leveling out in the 5,000 cfs range while the max probable peaks around 14K and the minimum probable holds steady at around 4,000 CFS. At this point it's really anyone's guess so we try to steer clear of making any bold predictions about June this far out.
It's all dependent on spring precipitation which we're assuming at this point will be at or slightly below normal but again, it's a bit like trying to predict what will happen with the Coronavirus, the models are only as good as the data that goes into them. The more data, the more accurate the model so we're content to just sit and wait and see and hold off on any prime-time predictions until we have more data. (For both the Coronavirus and the water conditions).
All that being said, I will make the same bold prediction I make every year. There will be water (how much or how little we don't know) and there will be fish (plenty) and we will be fishing.
Stay tuned for up to date reports and conditions from Wolf Creek Angler.