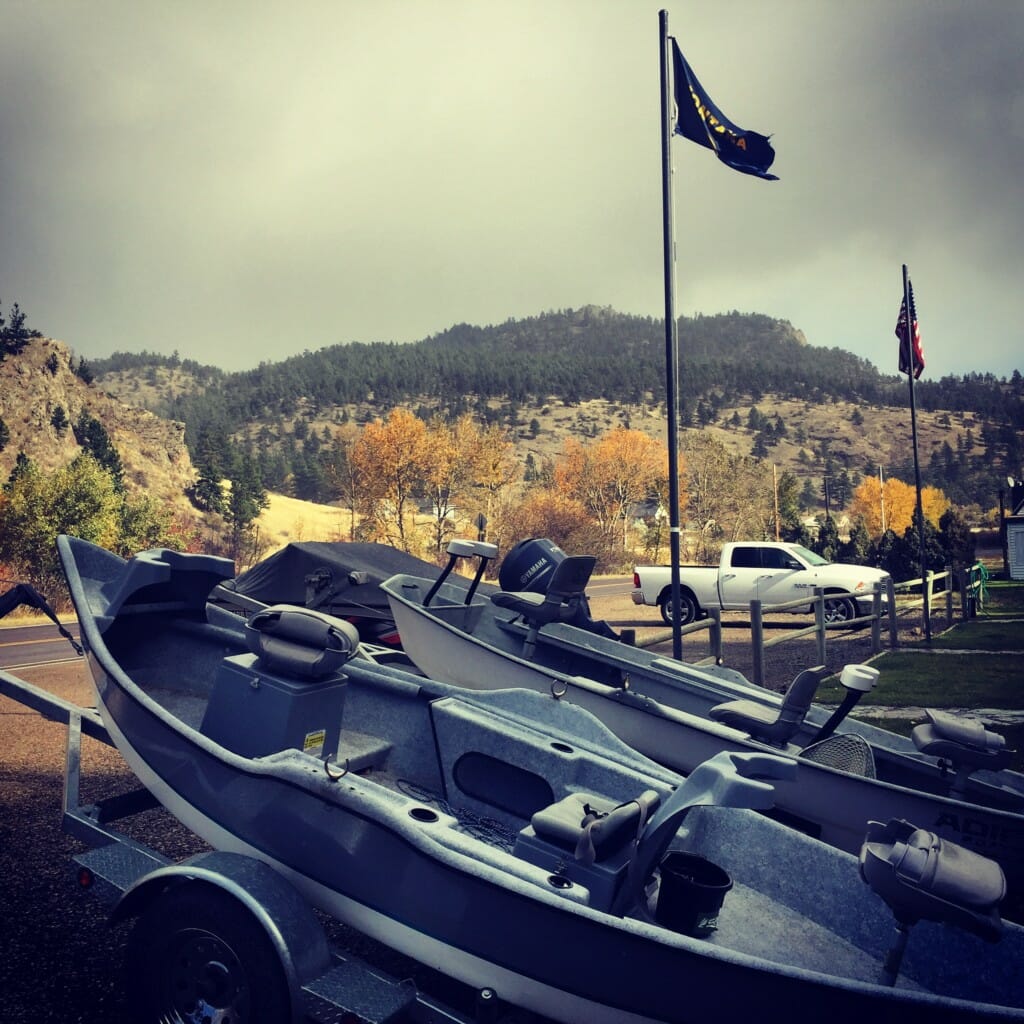 The second season is in full swing here on the Missouri on this second day of October and if the last few days are any indication we could be in for one phenomenal fall fishing season.
Cloudy skies and chilly temps (with the exception of yesterday afternoon when summer made a brief return) have made for ideal conditions. The bugs are going strong and the fish are feasting. These past several days have been a DFO's dream….a target rich environment to say the least.
Those focusing their efforts below on nymphs and streamers are finding success as well. Fall is definitely among our favorite times to fish the MO' regardless of the conditions but this fall feels like it has the potential to go down as one of the best in recent memory.
We do have some interesting weather on the horizon next week with the forecast calling for snow with highs in the 30's and lows in the 20's. Wednesday could be challenging with a high of 31, a low of 22 and up to 3" of snow. Thursday looks roughly the same. Will winter be here to stay come next week? I wouldn't count on it but be prepared for the elements if you're headed out there.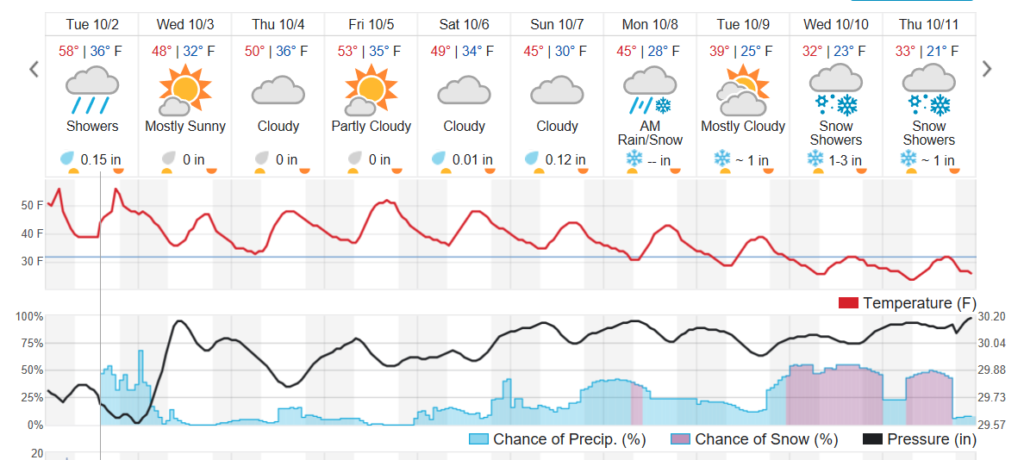 I hit the water a couple of days ago on a 40ish degree morning and opted for muck boots instead of waders and a flannel shirt and vest instead of a jacket. Bad call. The forecast was for highs in the mid 50's which I'm not sure we ever saw. I didn't bring gloves, I didn't bring a stocking cap. Thankfully my buddy had extras.
To be fair, I have piles of gloves and hats and jackets stashed in my boat so I'm used to having what I need when I need it, but on this day we were not in my boat and I didn't do a very good job of being prepared for the elements. Being cold will rapidly ruin a good day so layer up and bring an extra pair of gloves. Err on the side of too many layers….you can always remove the ones you don't need.
Along these lines we're stocked up in the shop with great base layers, outerwear and hats and gloves a plenty from Simms and waders and boots from Redington and Korkers. Stop by the shop for all the best cold weather gear.
With the exception of the chill in the air it feels a bit like July around here right now with close to a full house all month long. We have had a few cancellations from folks who didn't like the looks of next week's forecast so we do have a couple of rooms available should you decide to brave the elements. We do have guides at the ready as well who'd like nothing better than to get you dialed in to fall fishing on the Missouri.
Six weeks from now we'll likely be looking back at the awesome fall season that was. Don't let it pass you by. Give us a call and book NOW! We're open daily 7:30 am – 5:00 pm and we invite you to come in and discover what the buzz is all about. Wolf Creek Angler is the best Missouri River Fly Shop you never knew was here. Our mission is to earn your business, one customer at a time by providing you with exceptional customer service and the quality products and services you expect from your Missouri River fly Shop.
Come discover all that Wolf Creek has to offer. Not only is Wolf Creek home to THE up and coming Missouri River Fly Shop, Lodge and Guide Service, but it's also got great dining (and drinking) options with Shotgun Annie's and The Oasis; the best cell service for MILES AROUND; The Canyon Store which is the ONLY gas station/convenience store between Helena and Cascade and  all  closer to Holter Dam and Wolf Creek Bridge FAS than ANY  OTHER SHOP.
And speaking of Wolf Creek Bridge FAS – The FAS will be closed to the public starting tomorrow for a capital improvement project which will take approximately 30 days or less.
This will definitely be an inconvenience for the time being but it sounds like we'll soon also be closer to the NICEST and NEWEST FAS on the MO'.