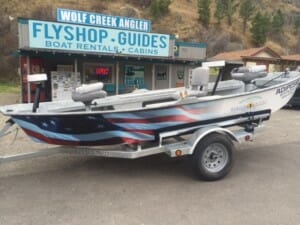 We are pleased to announce that starting this weekend we will have a brand new Project Healing Waters Adipose Flow Drift Boat available to all US Military Active Duty and veterans FREE of charge.
Wolf Creek Angler has partnered with Montana Project Healing Waters, Adipose Boatworks and Headhunters Fly Shop to expand this popular program which up until now has been administered exclusively through Headhunters in Craig.  Now with one boat at Wolf Creek Angler in Wolf Creek and two at Headhunters in Craig we will be able to accommodate even more vets.  If you are a vet or an active duty US Military member you qualify for a free rental boat courtesy of Project Healing Waters, Helena Chapter.
The boat is available every day of the year and can be reserved by giving us a call at 406-235-4350. You should bring your own vehicle with a hitch and 2″ ball. The use of the boat does not include your vehicle shuttle. If you need the boat launched and retrieved, you can make arrangements with us for a small fee.
We are proud to participate in this program and we fully support PHW and the outstanding work they do to serve all of those who have served all of us. We encourage you to take a minute and check out the Project Healing Waters web site. They do amazing work dedicated to the physical and emotional rehabilitation of disabled active military service personnel and disabled veterans through fly fishing and associated activities including education and outings and they are always looking for help.