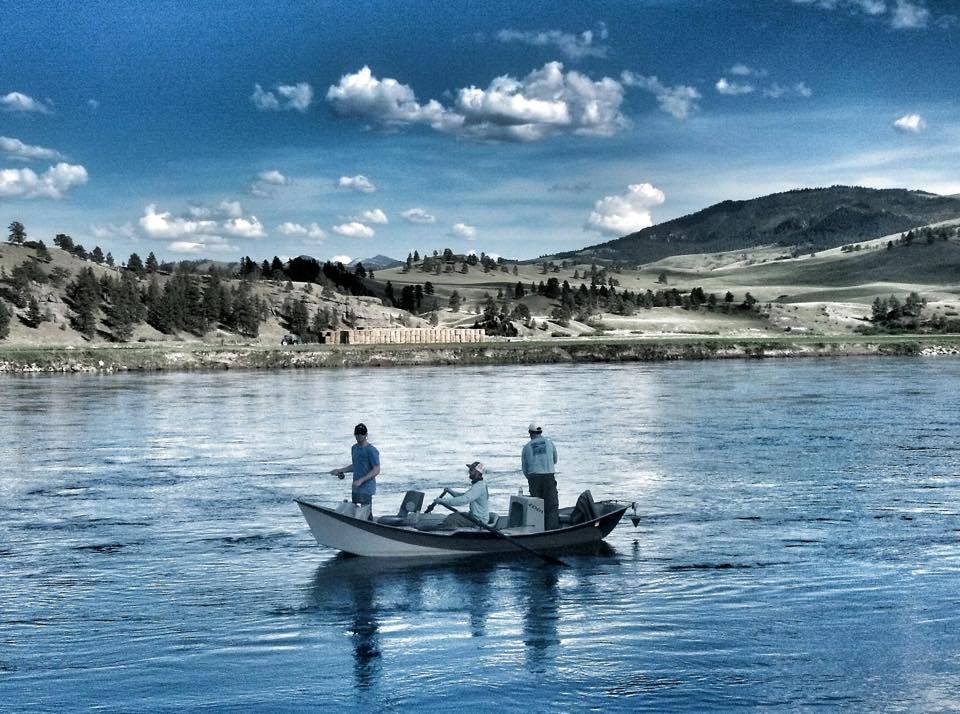 As we close out the month of May this week I dare say things around here are actually starting to feel something close to normal.
There's no doubt, the seemingly parallel universe of life under Covid19 has thrown all of us off. It seems like yesterday we were doing our late winter plotting and strategizing in anticipation of the coming season and then, just like that, time stopped but at the same time accelerated to the point where we're now looking back at spring and wondering where it went as we begin to approach prime time on the Missouri River.
We got a taste these past couple of days of what's hopefully to come with holiday traffic streaming into Wolf Creek and Craig. Nice weather, good fishing and the unofficial start of summer brought the crowds to the river this weekend.
A perfect way to end the week which brought us the best news we've heard in a long time as Governor Bullock announced that Phase II of Montana's reopening would begin on June 1st. Included as part of phase II is the lifting of the mandatory 14 day quarantine for out of state travelers which was cause for celebration amongst not only fly shops, fishing guides and outfitters but also amongst the collective outdoor tourism industry in Montana. We spent last week passing the good news on to our out of state clients who've been anxiously awaiting a verdict on their summer travel plans.
Mind you we're not abandoning safe practices and social distancing measures but the continued downward trends in the numbers along with news from the CDC late last week that the virus does not spread easily on contaminated surfaces as had previously been thought, is cause for optimism and yet another step closer to normalcy.
In keeping with the good news, it looks like it's going to be an absolutely beautiful week on the MO' and with the Dearborn and Little Prickly Pear on the drop we'll look forward to spreading out again and seeing what's happening in the canyon once the mud clears.
The Holter Dam to Craig beat was busy over the weekend but traffic has been light during the week. Make it a point to get out there this week and enjoy the Montana solitude before the out of state traffic returns next week.
Mid 70's to mid 80's on tap all week long with plenty of sunshine and highs near 90 on Saturday. I expect we'll see a busy river again this weekend.
BWO's and March Browns in the rear view but there have been caddis around and PMD's won't be long.
Nymphing has been good to great most days with the best action in the faster water, medium to shallow in depth. The Tailwater Sow Bug continues to rule the day but we've also had good action on worms, Rainbow Czechs, Pill Poppers and Little Green Machines. I've been cycling in some PMD standards like the Magic Fly and Crack Back PMD but we're not quite there yet. Keep them in the mix but don't spend too much time on them it they're not producing.
Streamer fishing has continued to be inconsistent but could be good this week as things start to clear. Water temps are in the low 50's and will be on the rise this week so don't be afraid to move those bugs. Mix it up with short, fast strips with plenty of pauses and a few long strips thrown in for good measure. Switch up your bugs, your colors and your retrieve until you find what works (or until you hit the takeout, whichever comes first)! We've got a few weeks left before the aquatic vegetation becomes an issue. Enjoy it while it lasts.
Per the Covid retail protocol we've been trying to run as lean as possible but we're stocked up on essentials with our focus on flies and terminal tackle this season. Plenty of Simms waders, boots and sportswear on the shelves and a workhorse lineup of rods and reels from Loop, Echo, Redington, Ross and Lamson. We're also stocked up on sun protection from Blackstrap, Buff and Simms (which double nicely as masks) and we've got enough packs, tools and accessories to meet most, if not all of your needs. Anything we don't have we're more than happy to order for you.
We've got plenty of lodging available these next couple of weeks and guides are standing by. We're happy to be resuming our out of state bookings next week but we have had substantial cancellations and we'd like nothing better than make up some of that ground and get some folks back in our guide boats and cabins. Give us a call if you're interested in booking lodging, guides or drift boat rentals for PMD season…I think it's going to be a good one!