A couple of weeks ago I shared a blog on our Facebook page from HATCH Magazine that asked the question "Which Anglers have influenced your Fly Fishing?" The post got a good response and got me thinking about my own fly fishing history and remembering all of those who played a role in my journey from curious observer to reluctant participant to sell it all and move to Montana to be a fly fishing guide and fly shop owner.
While I don't have any TITANS of the industry in my history, there are a couple of individuals who come to mind when I ponder this and I'll likely treat this in a couple of installments in order to do it justice.
Mike Lenahan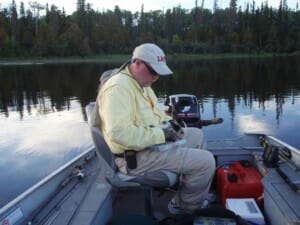 When I was attempting to make the transition from fishing conventional gear to fly fishing I stalled out because I was afraid of making a fool of myself on the water trying to cast a fly rod. My casting work on the lawn was coming along but my fear of being seen on the river flailing away kept me fishing conventional gear more often than not until I met Mike Lenahan.
Mike was CEO at Resource Recovery Corporation of West Michigan where I served on the board and he and I would get together and fish occasionally. I told him I wanted to learn to fly fish and he was happy to oblige. I don't know that it was his favorite thing in the world but our next trip to the Pere Marquette River he convinced me to leave the spinning gear in the truck and then proceeded to spend the majority of that outing teaching me to fly cast and to mend.
I don't believe there were fish caught on that trip but what I do remember about it was finally feeling like I could actually cast and just being so excited that I was really fly fishing after years of flailing around and being too embarrassed to take my fly rod on the water if there was even a remote chance that someone would be there who might see me making a fool of myself.
Mike and I fished a few times after that and he was there when I caught my first brown trout on a fly. It was a glorious experience! And while I don't recall exactly what all Mike taught me about fly fishing I can say that had he not taken the time to go with me that day and had he not convinced me to leave my spinning gear in the truck I might still be fishing gear!
Paul Drewry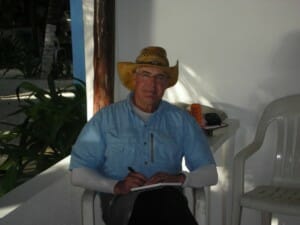 Once I started to develop some proficiency at fly fishing for trout I decided it was time to give Steelhead fishing a try.
Our veterinarian Paul Drewry was an avid fly fisherman and we spent a fair amount of time at dog appointments talking fly fishing. The subject of steelhead fishing came up and Paul told me exactly what setup I should purchase.
I drove to my local fly shop and bought a 9'6" #7 St Croix Avid and a Solitude reel. It was the sweetest rig and compared to my Cabelas trout setup, my first foray into what at the time felt like high dollar gear. Little did I know this was just the gateway drug but it was a great way to ease in to it.
I'd spent enough time fishing dry flies on a #5 that this #7 felt like a whole different world to me. At that time most of the folks fly fishing for Great Lakes steelhead were indicator fishing which was a completely foreign concept to me. Sure, I'd dropped a hare's ear off of a hopper before but this was a whole different animal and while I was excited to learn something new, I could feel myself sinking back into intimidation paralysis. Paul was able to help!
We spent a few early spring days wade fishing the Pere Marquette where I had grown up fishing worms for trout and spawn bags for steelhead. Paul clued me in to how to nymph a steelhead run.
Those days were filled with snags, re-ties, bad casts and more bad casts and while I caught plenty of tree branches both on the river bank and the river bottom, after three or four outings I had yet to hook into anything that felt remotely like a fish.
And then everything in my fishing universe changed….
Paul invited me to float with him one spring day. I'd never set foot in a drift boat and wasn't sure what to expect.
Nothing has had a bigger effect on my fly fishing life than stepping in that boat that day. The change in perspective from standing in the water to standing in the bow of that drift boat was life altering for me. That was the day I knew I'd be buying a drift boat and that was also the day my psyche underwent a transformation from reluctant participation to obsession.
As we made our way down the river I was captivated by every log jam, deep bend and shallow riffle. I'd spent more than my fair share of time on a boat on Lake Michigan and I'd been down the river a time or two in a canoe but this, this was something different. We floated probably 5 miles that day, a relatively short float, but it really struck me when I recognized a bend in the river as the start of the 1/2 mile or so of water I'd fished since I was a little kid. This short stretch of river was my entire fishing world for so many years. It WAS the Pere Marquette to me. Now, floating through my "world" in just a few minutes time I discovered just how small my world was and the idea that stepping in that boat opened up an entirely new frontier completely blew my mind.
I fished a bit that day but the fishing was not what was significant on that trip. It was all about the journey from wade fishing with all of its limitations to a new world of opportunities I'd never even considered.
Following that trip I immediately started looking into boats. I didn't think I could afford to buy a drift boat so I bought a pontoon but as I assembled that boat all I could think about was how awesome that day in the drift boat was. All that room for all the gear you could possibly need. I disassembled the pontoon, put it back in the box and returned it and headed to Newaygo to order myself a drift boat.
I picked up my brand new Hyde in November and began to plot the future. However, one big obstacle did remain…I had no idea how to row a drift boat. I figured the best way to learn was to dump the thing in the water and figure it out. Looking back, launching the boat at Rainbow Rapids (the only stretch of water on the Pere Marquette even remotely resembling a rapids) was probably not the wisest decision but it did reinforce the fact that I had absolutely no idea what I was doing, as if there was any doubt.
I think we ran into or over every boulder in the rapids but spun our way through without sinking the boat and once below the rapids, just when I was feeling like I was getting the hang of it I ran the bow of the boat into two steel posts while trying to power forward through a bend leaving a permanent reminder on the bow of my shiny new boat of that maiden voyage.
Following that trip I invited Paul to fish with me, asking him if he would give me some tips on rowing. He obliged, sitting behind me most of the day and teaching me with taps on the shoulders and audible commands of "push" or "pull". It was slow going but by the end of that day I felt like I had at least a rudimentary understanding of rowing.
The Pere Marquette was a great river on which to learn to row a drift boat. Not much in the way of rapids but plenty of log jams and tight bends offering ample opportunities to sink a boat (which thankfully I've yet to do, though I've had a couple of close calls).
I'm eternally grateful to Dr. Paul Drewry for his excellent care of our pets during those years as well as for opening the doors to a new world for me.
Fred Davison
At 30 years old I was not really looking to make friends. I was busy with work and had a kid on the way and even though I was enjoying fishing it was something I enjoyed doing on my own.
I met Fred when he was doing drywall work in our house as we prepared a room for the coming baby. Fred's wife worked in the same office as my wife Sheila and they arranged for him to do the drywall as he was running his own drywall company at the time.
The first day I talked to Fred was just for a couple of minutes when he was working on the house and I came home from work and grabbed my gear, heading for Canada for solo steelhead fishing.
I told him where I was headed and he mentioned that he liked fishing but didn't like it THAT much, that he'd drive 8 hours to do what he could do in our back yard. I assumed he must not really be into it. Little did I know we would end up spending the next 11 years on a fishing odyssey, both trading in our conventional gear for fly gear and getting to know the Pere Marquette and other local waters intimately as we indulged our habit which turned us both into streamer junkies and eventually led us to leave what we knew behind and start a fly shop in Montana.
Fred is one of those people who is really good at everything he does and seemingly everything he tries and he seems to pick up most of what he tries on his own with very little formal instruction. Over those eleven years Fred picked up fly fishing, fly tying, hockey, home brewing, boat building…just to name a few, and was pretty damn good at all of them. The boat building may have been a stretch but it did float and even made it down the river a few times!
The first time I fished with Fred was on the Pine River with conventional gear. He pulled a 17" brown off the bank on one of his first casts with a gold Panther Martin and I noticed he could read the water better than most anyone I'd seen.
I don't know how much we discussed the idea of fly fishing but we were definitely on the same page. I called him one day to tell him I had bought a fly rod…he had as well.
I was given a guide trip on the Pere Marquette for my birthday that summer and I asked Fred to join me. It was a fun trip though not one I would say had much of an effect on my fly fishing history. Neither of us was crazy about the guide and I can't say that I learned much on that trip but what I do remember was an after-dark explosion on a mouse pattern, followed by a second which I actually connected on. I lost that battle much to mine and the guide's disappointment but the after-dark thing grabbed hold and would eventually become an obsession. I also remember a thunder storm rolling in and the guide having to row out the last couple of miles through that storm which wasn't pleasant for anyone involved but it was an experience to be sure.
The following spring I convinced Fred to go to Canada with me on the steelhead trip. If I recall correctly we stuck to conventional gear on that trip but on the way home we caught the BWO hatch on the Holy Water of the Ausable near Grayling and shortly thereafter we discovered the Gray Drake hatch on the Pere Marquette and went night after night. Then it was Hexagenia in the swamps, hoppers through the summer and salmon fishing in fall.
At that time we hadn't yet attempted to fly fish for steelhead but we booked a guide trip that winter and each caught our first steelhead on a fly rod. We'd both been bitten hard by the bug though as was typical the obsession took hold in different ways.
I was attracted to the gear, the boats, the brands, and the destinations….everything about fly fishing. Fred liked tying flies and catching fish and could care less about Simms or Sage or Hyde or Orvis or any of it. He just wanted to fish and as was usually the case when he tried something new, he was rapidly becoming a very good angler and fly tier.
When I bought my first drift boat it opened up a whole new world of adventure for Fred and I and we spent countless hours on that boat, both of us developing proficiency on the sticks as well as learning the addresses of many a hefty brown as we picked apart the PM with sinking lines and streamers.
We fished every month of the year and covered the entirety of the PM.
During the summer months we would fish all night frequently, developing different patterns and techniques for fishing mice and learning to row and cast in the dark.
We would occasionally float the Ausable or the Upper Manistee but most of our time was spent on the Pere Marquette. It was an education by immersion.
We fished through a lot of life events during those years. There were good times, bad times, sad times, dark times… and the river was always there for us even when we were blind to it.
My focus started to turn towards going and fishing other places including Montana which I first fished probably around 2008. Once I'd done that my dreams got big and my mission became figuring out an exit strategy and a way to move to Montana.
Long story short we left Michigan in 2012 and I bid farewell to Fred and while I was thrilled to be in Montana it was tough losing my fishing partner of the previous decade.
As doors opened in Montana I got in touch with Fred to see if he would be interested in going into the fly shop, lodging and outfitting business. With nothing really holding him back in Michigan, he agreed to join us as a partner in Wolf Creek Angler.
His plan was to spend the seasons in Montana and go back to Michigan in the winter to be with his family though the year we bought the place he spent a good part of the winter here doing the remodel on the shop. It seemed like the perfect arrangement but things being what they are and adding up like they do, we opted to go our separate ways after a couple of seasons.
Times change, people change, circumstances change and ultimately things happen as they're supposed to but that being said, regardless of how it turned out for us at WCA, I'll always cherish those years Fred and I spent learning to fly fish and honing our skills while developing a wonderful friendship.