The shortest month of the year feels like it's been the longest as winter drags on with no end in sight.
March will pick up right where February left off with single digit temps through the weekend and into the first part of next week but then it looks like something might just be starting to happen. Things could change between now and then but at this point it looks like we'll be bathed in sunshine Sunday through Tuesday and while the temps will be far from warm we all know how good that late winter sun feels.
We'll climb into the 20's on Wednesday and Thursday and near 30 on Friday. Is it a warming trend? Here's hoping so!
We're thankful to have made up for winter's slow start with plenty of precipitation throughout the last month but I for one have had just about enough. I've had enough of shoveling snow. I've had enough of fighting ice dams on the roof. I've had enough of NOT FISHING!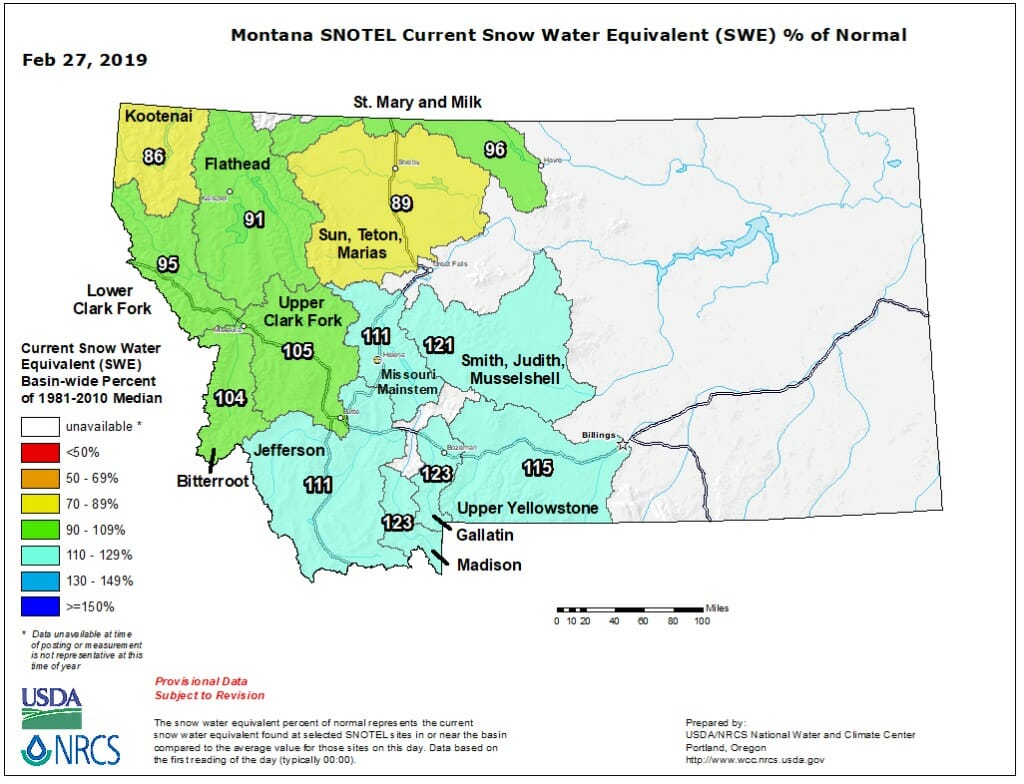 Snowpack has edged up to 110 – 120 percent of normal in our region and most of the state looks good right now at or near 100 percent of average. Only the Kootenai and the Sun, Teton and Marias drainages are lagging behind but  are currently right around 90 percent of average. We like the looks of this map and we're remaining cautiously optimistic that high water will not be an issue however Mother Nature always gets the final say on this so no guarantees here.
Ideally we'd see a return to normal temperatures sooner rather than later. The average high for February is 39 degrees, we've seen highs in the single digits or below zero more days than not this month. The average high for March is 47. We obviously won't see that the first week of the month but sooner or later it has to warm up and when it does we're expecting an extremely busy spring as the throngs arrive to satisfy that long-delayed Missouri River Fix.
And speaking of spring fishing, don't forget it's time to buy your 2019 Montana fishing license. 2018 licenses expire tomorrow.
Sadly we still have no fishing report to share but as you look towards the eventuality of spring fishing here's what you need to know.
Water temps are currently holding in the 33 degree range….COLD! We would expect much of March to be full on winter fishing as far as the nymphing goes. Slow, deep water is what you'll want to target with winter fare. Pink should be in the mix along with firebeads, tailwater sows, Yum Yums, Caviar Scuds, Zebra Midges, Rainbow Czechs, Soft Hackle Sows, Lightning Bugs, Ray Charles etc. Fish deep with weight (tungsten bead nymphs or split shot or both) and cover the water from the inside out, shortening the depth of your rig until you find where they're at.
Warming water will get them moving at which time we'll start to key in on the traditional spring hot spots, typically a little faster current with a little less depth. We like to run sowbugs all season long as they're a constant food source but as we move into spring we will typically swap out the winter fare for mayfly nymphs and maybe even a dirt snake. Little Green Machines and the like tend to shine as the water conditions hit the spring prime.
Spring is brown trout time as the spawning rainbows become scarce. Watch those redds and please don't target spawning fish. Late March through April and into the first part of May are the prime weeks for streamer fishing on the Missouri. We can't wait!
Spring is also dry fly time as the Midge Machine churns out piles of bugs. We typically start fishing midges in late February but since nobody has been on the river harassing and educating the fish this year, those first few fishable days could be lights out with relatively easy pickings.
Don't care for fishing midges? Spring is also Skwalla time so if throwing big dries is your thing don't miss this opportunity. Many of the larger browns we catch each spring fall for the Skwalla.
I think we could be in for one phenomenal spring if this weather ever breaks and while it's tough to shift gears to fishing mode while winter continues to have a stranglehold, it's coming soon so there's no time like the present to prepare.
It's time to dig out your gear and get it organized. It's a great time to replace those old, worn fly lines and this is the spring you should treat yourself to a new pair of Simms waders and boots. We'd be happy to help you with that!
How about a brand new Lamson, Ross or Redington reel or maybe a new LOOP, Redington or Echo rod. We've also got a limited supply of Nautilus reels we're clearing out at 25% off. Once they're gone they're gone.
Great deals on Simms winter wear including Cold Weather Pants and Shirts and guide flannels….all 25 % off. Help us make space for the new gear arriving daily.
Remember spring is also time for the WCA Spring lodging and guide trip special….we guarantee it's the best deal you'll find on the MO' and it's happening right now!
$500 for two nights of premium lodging at Wolf Creek Angler and a full day guide trip for one or two anglers through the end of April. This same package will cost you over $800 starting May 1st so don't miss this opportunity.