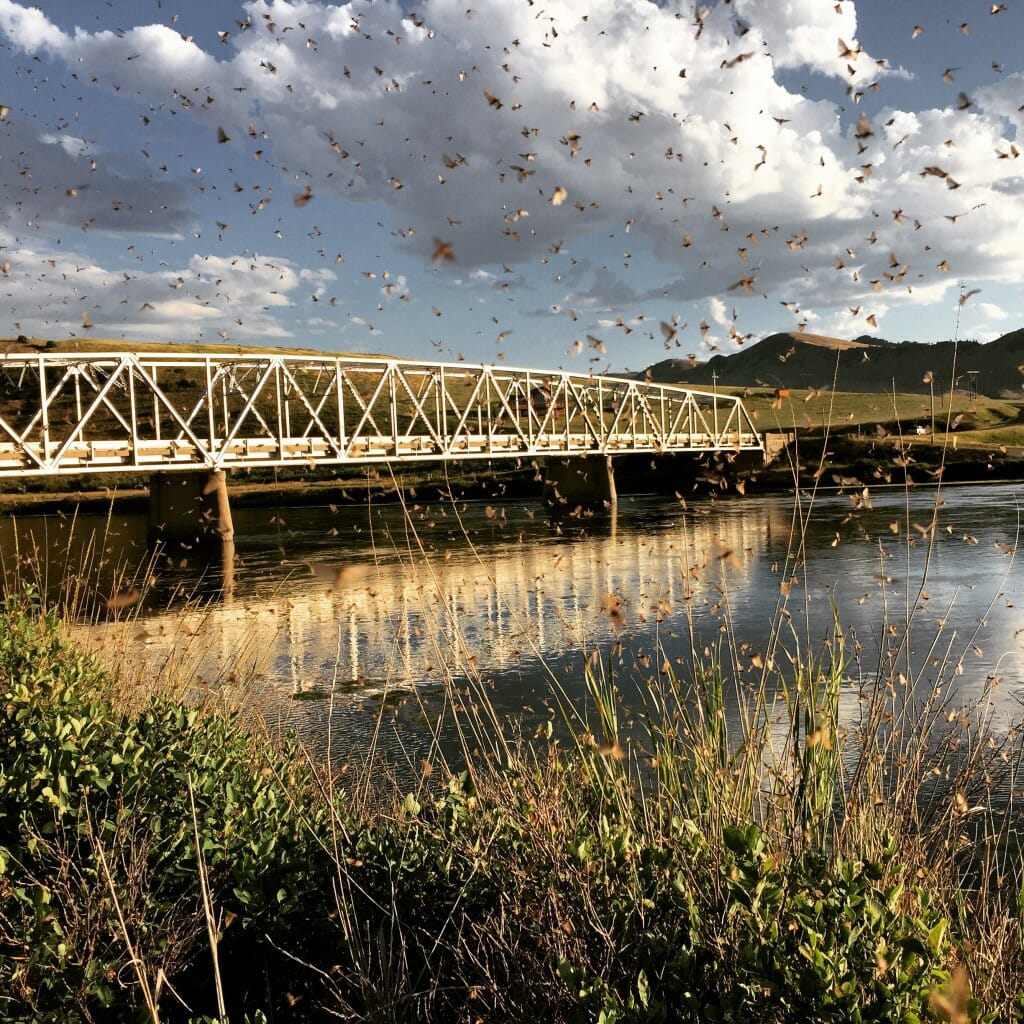 Ten days into July and we can finally proclaim that the summer season is indeed in full swing. We still haven't felt summer heat (though it appears to be on the way) but the dry fly droves have arrived and the river is abuzz with activity from first light until dark.
Boat rental drop offs and pick-ups have us on the pre-dawn and post-dusk run which has ushered in The Blur, the time of the season when we lose all sense of time and the days blur into one another. Autopilot kicks in and the next thing you know its August and the crowds have disappeared.
Traffic is at its peak right now. Boat traffic, pontoon traffic, wade angler traffic, recreational floaters….all living in perfect harmony right now on the Missouri River. Or maybe not exactly…but the river is here for everyone to use so let's all make our best effort to treat each other with kindness and respect out there.
The flows have bumped a bit to 5700 CFS which is maintaining a good separation between wade anglers and boats but with traffic at its height your bound to run into situations where things are getting crowded. Boat anglers should do everything within their power to give wade anglers a wide berth and wade anglers should realize that when they're standing in the middle of the river several deep across a flat that it sometimes makes that wide berth difficult for boats to execute. All anglers should realize that much of that recreational traffic has no concept of what it is we're doing out there. Generally speaking I think they do their best to avoid the anglers but floating unicorns and the like are tough to steer so if they happen to run over your rising fish why not extend them some grace and just give them a smile and a wave. The fish will come back.
Tensions tend to run high this time of year but they really don't need to. There are inconsiderate jerks who will intentionally run over your fish but they are few and far between. Most simply don't know any better so the best thing we can all do as stewards of the resource and ambassadors of the sport is to be on our best behavior and practice good river etiquette whether that same courtesy is being extended back to us or not.
There's a lot of water out there and fish live in ALL of it. Spread out. Start early before the crowds or wait until they've cleared out. Go out and explore some sections of river you're not familiar with. There's so much great water on the MO and if you've been fishing the same stretch forever then you've barely scratched the surface.
But enough of the soap box. If you're reading this you're probably more interested in how the fishing is than in the traffic dynamics of the high season.
Well, the bugs were a long time coming this year but with several weeks of phenomenal dry fly fishing behind us, suffice it to say that 2019 has in many ways restored the reputation of the Missouri River as THE dry fly destination in the west.
PMD action has been consistently good, though some days are better than others and while we've heard plenty of "back in the day" talk regarding the caddis hatch as is typical for this time of year our real time here and now assessment is that there are plenty of bugs around and there are plenty of fish willing to eat a well-presented caddis imitation.
#16 PMD and Rusty Spinners have been in demand, to the point where we've sold out of a couple of different patterns. The bins will magically refill as always but following a 2018 where high water pretty much completely shut down the PMD event I couldn't be happier to see empty PMD bins on the dry fly side of the bins. I've pushed #18's after selling through #16's in a couple of different patterns and the feedback has been good. I've personally been running more #18's than #16's for two weeks now and doing just fine.
I get the sense that PMD action may be waning but in the meantime the aforementioned Rusty Spinners, PMD Spinners, Knock Down Duns, Film Critics, Drowned Spinners, Sprout PMD's and Hackle Stackers have all been getting it done.
Best Caddis patterns for me have been the Outrigger Caddis, Blooms Parachute Caddis, Cornfed Caddis, Front End Loader and the legendary and recently restocked CDC Caddis Emerger, perhaps rivaled by only the Parachute Adams in the sheer number of fish fooled over decades of fishing.
I'm continuing to hear talk of Tricos, I've yet to see any but it won't be long and it could be the kind of season where Tricos run well into September.
Ants are getting eats and hoppers will soon be a legitimate part of your arsenal.
Its Dry Fly Prime Time on the Missouri. Loved by many both in theory and in practice and hated by others who've been beat down and frustrated by the challenge of micro-currents and picky fish. They've seen it all by this point of the season and they won't tolerate your sloppy casts and skating flies. This is the BIG show. You've got to bring you A Game.
Stop by WCA to restock bugs, leaders, tippet, floatant or anything else you need to maximize Dry Fly Nirvana on the MO. The most professional and least pretentious guides on the river, Adipose Drift Boat Rentals, Shuttles, Simms Waders and boots, sunglasses from Smith and Suncloud, fishing licenses, ice, LOOP fly rods, Lamson and Ross reels, Fishpond nets and so much more. We are your one-stop Full Service Missouri River Fly Shop far removed from the madness.
Make Wolf Creek your new Missouri River Fly Fishing Destination.