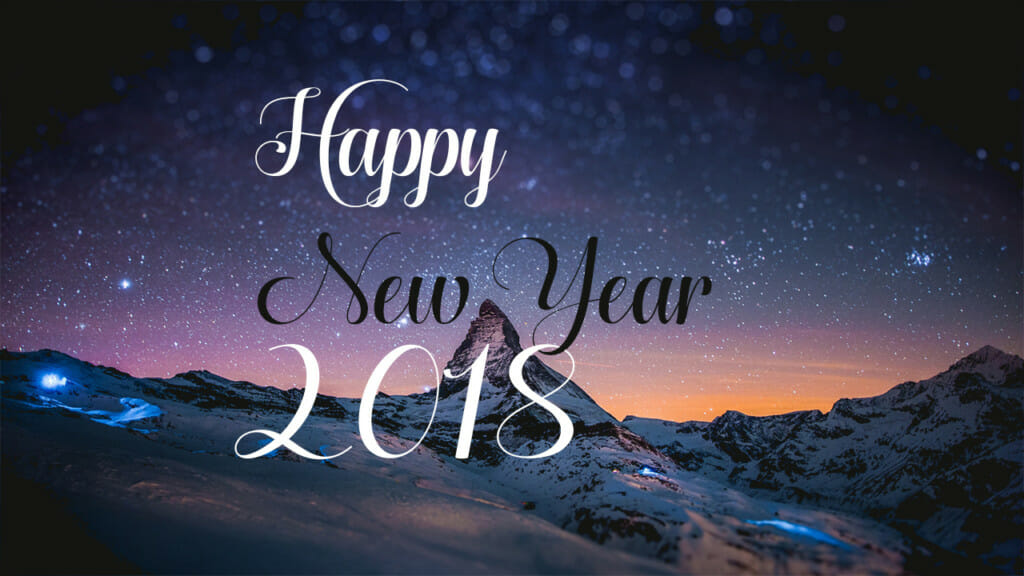 Another year and another season in the books.
As we sit through the latest round of winter weather we can't help but think back to those warm sunny days on the water. And while winter is barely a week underway we know that spring will be here before we know it, at least we hope it will!
Looking back over posts from the year it looks as though 2017 started out much as 2018 will, in winter's icy grasp. With any luck however it won't be long until we see that first January warm-up and get back to fishing the MO'. In the meantime, the ice has formed and the hard water anglers have started booking rooms for the days ahead, a welcome development after a slow and quiet December.
The early months of 2017 were quiet around the shop, as they always tend to be with the biggest story of the winter being the renovations to our motel.
Unit number eight received a much needed makeover and our guests loved it. Look for a similar transformation in number 9 this year. A paint job in Cabin #2 and new flooring in Cabin #3 were also welcomed changes.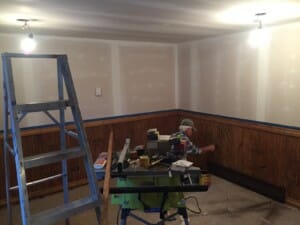 River life resumed normalcy in late February as the winter weather began to retreat. March and early April brought phenomenal fishing on the Missouri and elsewhere and things got off to an early start at WCA with many eager anglers descending on the MO'. Run off began in mid May and kept things busy as the Missouri was the only fishable water in the region for a time.
We announced our new guide lineup in April, welcoming Kelly Harrison and Jeff Jennings to our team. Both were, and continue to be a great fit and will resume work for us in 2018. Prime dates are filling quickly so don't miss your chance to fish with Kelly or Jeff or any one of our other amazing guides.
The spring fishing was nothing short of spectacular with the hatches coming off right on schedule and plenty of healthy Missouri River bows and browns willing to play.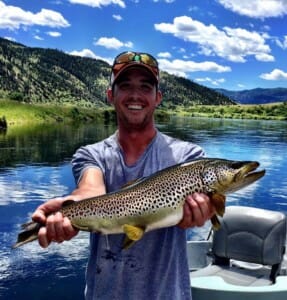 The idyllic spring season soon transitioned into an equally idyllic summer and then around the 4th of July things got a little weird. On July 5th I experienced my first earth quake, a 5.8 mag centered near Lincoln which rattled much of the west central part of the state. It was Montana's biggest quake in decades and did not go unnoticed by many.
By mid July the heat and lack of precipitation brought Hoot Owl closures to many rivers around the region and also opened the door to what ended up being one of the worse fire seasons in our history with over a million acres burned state-wide.
Smokey skies, poor air quality and evacuations were the story for the remainder of the summer. Fishing was fine but the poor air quality led to a noticeable drop in business as we awaited the cooler weather of fall and prayed for precipitation which we finally got in mid September  in the form of an early winter storm which delivered rain and snow and effectively brought the fire season to an end.
October brought with it more winter weather along with some of the best fall fishing in recent memory. We had a handful of awesome BWO days throughout the course of the fall and streamer fishing was as good as I've seen it since I've been in Montana.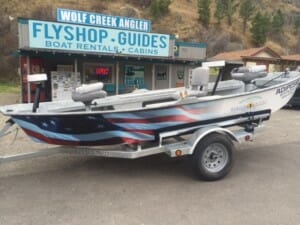 The BIG news in October was that after a couple of seasons of trying to make it happen,  Wolf Creek Angler received a brand new Project Healing Waters Adipose Flow Drift Boat available to all US Military Active Duty and veterans FREE of charge.
Wolf Creek Angler has partnered with Montana Project Healing Waters, Adipose Boatworks and Headhunters Fly Shop to expand this popular program which up until now had been administered exclusively through Headhunters in Craig.  Now with one boat at Wolf Creek Angler in Wolf Creek and two at Headhunters in Craig we will be able to accommodate even more vets.  If you are a vet or an active duty US Military member you qualify for a free rental boat courtesy of Project Healing Waters, Helena Chapter.
Of course the other BIG news of October in Wolf Creek MT was the much anticipated Grand Opening of Shotgun Annie's Eatery and Tavern.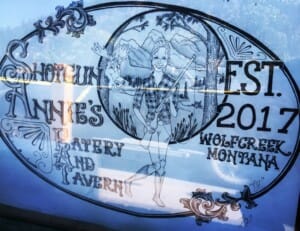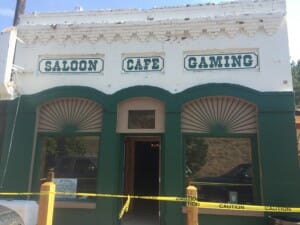 The wait was worth it and we are so pleased to be dining and drinking in this establishment again. It was the topic of conversation all summer long amongst our guests, most of whom were unable to experience Shotgun Annie's during their 2017 visit. We're pleased to announce that dining has returned to Wolf Creek…breakfast, lunch AND dinner.
It appeared as though it was going to shape up to be an excellent late season on the Missouri with some off-the-charts fishing action and a brand new eatery and tavern in town. We were fully stocked with cold-weather bugs and gear and ready for that coveted last gasp of the retail and lodging season but alas it was not to be.
Mother Nature had different plans and early November brought snow and arctic air, essentially bringing the 2017 season to a close. The weather improved and the fishing stayed hot through the month of November and the first half of December but aside from local traffic the river was empty.
Christmas brought more winter weather which brings us back to where we are today. Two days remain in 2017 and we are in the midst of a significant winter storm. I've fished my last day of 2017 (over a week ago) and it looks like it will be mid week next week at the soonest before I fish the new year.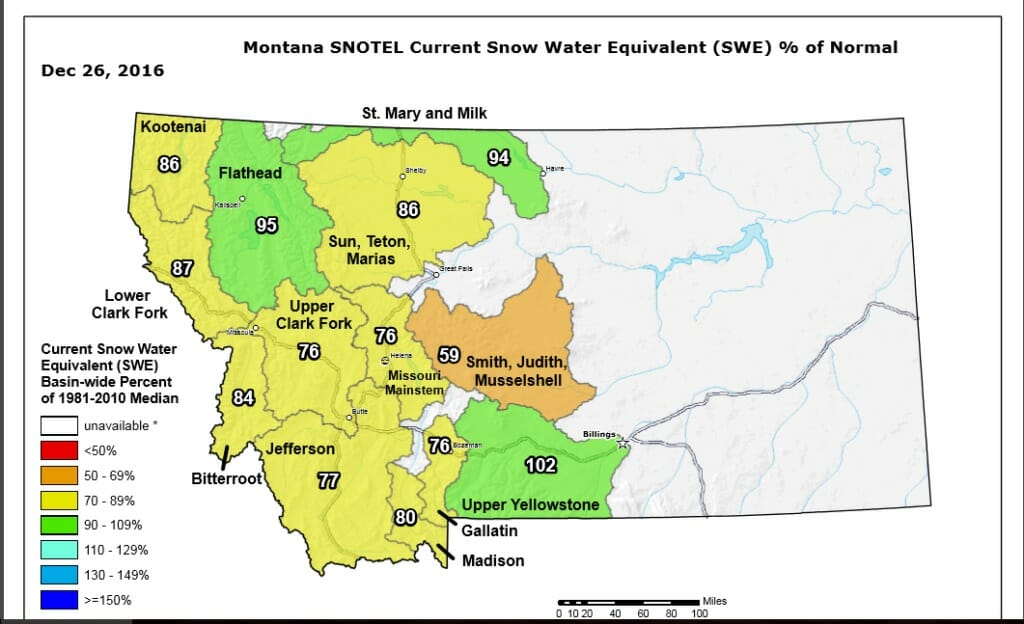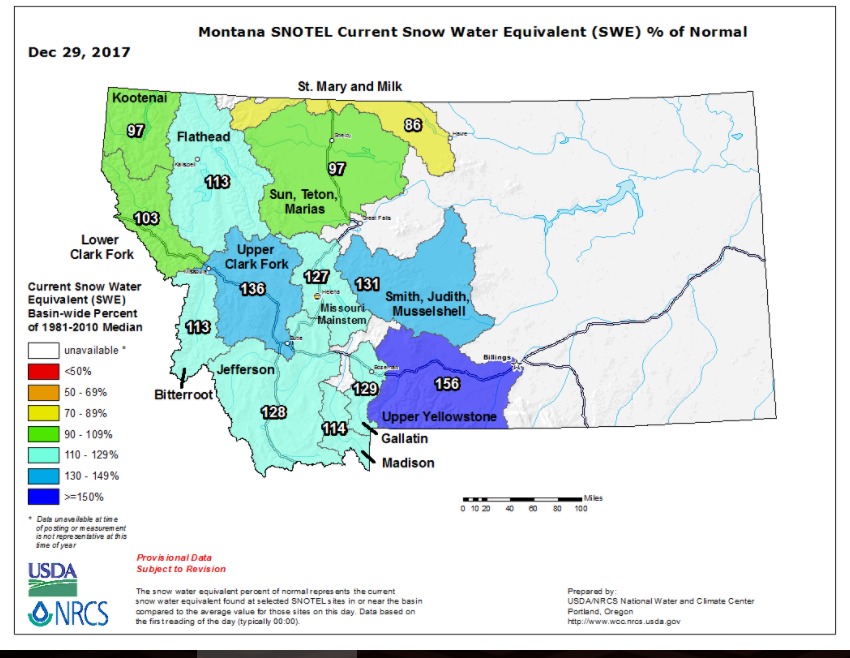 Snowpack is in great shape and the season forecast is for below average temps and above average precipitation so all is well but watching the snow pile up outside I can't help but dream of spring.
Happy New Year from all of us at Wolf Creek Angler.  Thank you for making 2017 our best yet. I have a feeling 2018 will be even better!