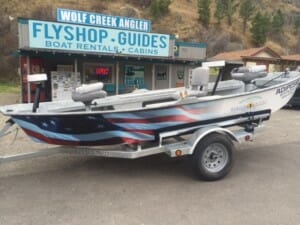 Wolf Creek Angler is proud to be the exclusive host of the Montana Project Healing Waters drift boat rental program which provides free drift boat rentals on the Missouri River to all vets and active duty military personnel.
The shop hosts and maintains three custom Adipose Flow drift boats available free every day.  The boats can be reserved by logging on to montanahealingwaters.org and using the Reserve A Drift Boat link to select dates and boat options. Two of the boats come equipped with removable knee braces, the third has no braces and can be fitted with custom wheelchair platforms if necessary.
The boats are typically hauled by the user  (2″ ball required) but can be dropped off and picked up by Wolf Creek Angler for a fee. Vehicle shuttles are also available for purchase if needed.
"When the opportunity arose for Wolf Creek Angler to host all three of the PHW boats it was a total no-brainer" commented Jason Orzechowski, owner of Wolf Creek Angler. "We'd been impressed with the program from the start and had been lobbying PHW to place a boat with us since we opened the doors".
They got their wish last fall when the board elected to add a third boat to the program and place it at WCA. Earlier this spring the other two PHW boats were relocated from Craig to Wolf Creek Angler, making WCA the exclusive host of the program.
"It was our privilege to finally get a chance to host a boat last fall" explained Orzechowski. "Having all three of the boats here this season has been awesome. We've met so many great people and the vast majority of them are so appreciative of the program. We owe these vets and active duty military a huge debt of gratitude and I feel like this is the least we can do to say thank you to those who are willing to serve."
Montana Project Healing Waters Fly Fishing, Inc., is dedicated to the physical and emotional rehabilitation of active military personnel and veterans through flyfishing, fly tying education, and outings, and education on the conservation, restoration, and improvements to Montana's fisheries and their habitats.
Please consider donating your time or resources to this exceptional organization to help fund the outstanding work they do for veterans here in Montana.