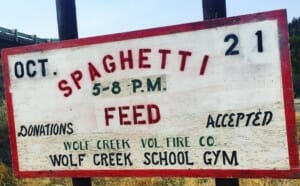 Should you happen to find yourself in Wolf Creek or Craig next Saturday, October 21st and you're looking for a place to eat, get over to the Wolf Creek School for the annual Spaghetti Feed.
It's a great dining option and a great cause with the proceeds going to benefit the Wolf Creek Volunteer Fire Department.
There will be auction items to bid on and donations are always accepted and very much appreciated.
Volunteer Fire Departments make up the vast majority of the fire fighting force in the state of Montana with close to 94% of registered departments made up of all or mostly volunteers according to the U.S. Fire Administration.
We owe a huge debt of gratitude to those who volunteer and these fund raising events are a perfect opportunity to support the local efforts.
The Spaghetti Feed will take place on Saturday, October 21st from 5 pm – 8 pm at the Wolf Creek School gym. Please come out and support our local volunteer fire department if you are here.